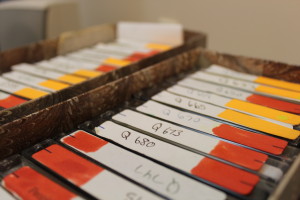 In the last several years, Special Collections in the Library at San Diego State University (SDSU) had begun its process to preserve the collection of audiotapes which the FBI recovered from Jonestown following the deaths in 1978. As recently as last year, we reported that "much has been accomplished thus far (200+ tapes) … [even as] hundreds of tapes remain to be transferred and made accessible."
Within the past year, the process has taken a giant leap forward. Not only have more than 350 tapes been digitized and made accessible, we see the completion of this audio preservation project in the very near future!
The tapes we are working with are the ones obtained by the Jonestown Institute from the FBI more than a decade ago under the Freedom of Information Act (FOIA). As such, they are second-generation quality, transferred by the FBI from original reel-to-reel tapes to cassettes. The recordings span the years of Peoples Temple's existence, from the 1950s through November 1978. They contain sermons delivered by Jim Jones, conversations between Jones and his followers and various public figures, Jonestown meetings discussing ideology and issues within the settlement, Jones' news broadcasts to the people of Jonestown, shortwave radio conversations between Jonestown and Temple offices in Georgetown and the US, even some recordings of Russian language lessons.
The cassette tapes are transferred as uncompressed digital .wav files that are stored on Library servers backed up to ensure their preservation. Mp3 use files, also stored on Library servers, are derived from the .wav files and made available on the Internet to users from a streaming media server. The .mp3 sound files of the cassette tapes can be accessed at either of two websites: the collection at SDSU or on a multi-part file here.
Unfortunately, many of the tapes have extremely poor sound quality and only minimal sound restoration – sound level adjustments, tape speed correction – is possible with equipment available to SDSU. However, we have identified a restoration vendor and hope to implement a plan to restore sound quality to many tapes that are presently inaudible.
(Robert Ray is head of Special Collections at San Diego State University Library. His other article in this edition of the jonestown report announces the creation of a Jonestown art repository. He can be reached at robert.ray@sdsu.edu.)
Originally posted on October 13th, 2013.
Last modified on February 1st, 2023.