SDSU Announces Creation of Jonestown Art Repository
by Robert Ray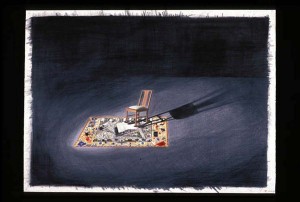 In addition to its continued efforts to digitize all of the FBI Jonestown tapes, San Diego State is embarking on an ambitious Jonestown preservation project in collaboration with the Jonestown Institute – a sustained campaign for the Special Collections Department of the SDSU Library to become the national repository of artistic interpretations of Jonestown. The Peoples Temple movement of the 1960s and 1970s and the Jonestown tragedy which ended it have informed and influenced artists working across a range of media to interpret the event. These works of art need to be preserved, and SDSU will strive to be the preservation agent as well as provide the means to allow these works to reach a broader audience.
Toward this end, the SDSU Library is constructing an exhibit of artistic interpretations of Jonestown, scheduled to be unveiled in early 2014. The anchor of this exhibit will be the Jonestown Carpet, which was donated to the Library by the artist who created it, Laura Baird. Her generosity also served to inspire this art preservation project, and we are hopeful that this will be the first of numerous such donations of artistic interpretations of Jonestown. We have already received one additional donation, a 1974 untitled work by Jonestown artist Nancy Virginia Sines.
(Robert Ray is head of Special Collections at San Diego State University Library. His other article in this edition of the jonestown report reports on the progress of tape digitization efforts. He can be reached at robert.ray@sdsu.edu.)
Originally posted on October 13th, 2013.
Last modified on April 26th, 2018.