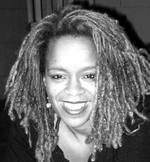 Carmen Gillespie was a Professor of English and the Director of the Griot Institute of Africana Studies at Bucknell University, and the author of a poetry collection, Jonestown: A Vexation. She was also the organizer of a class and semester-long lecture series entitled Jonestown 35 Years Later.
Dr. Gillespie died on August 30, 2019. A remembrance by Rebecca Moore appears here.
Originally posted on November 21st, 2013.
Last modified on October 18th, 2019.