When I first saw the news on Tim Carter's FaceBook page about the cremains found in Delaware, I immediately thought it was a joke, that someone had hacked his page. How cruel this was, I remember thinking. How could someone be so cold and heartless as to write this. I actually wondered if it had come from one of those tabloid magazines whose lure is in shocking headlines and exaggerated rumors.
But then I noticed my Jonestown family was commenting on the article. That was when I decided to read it. Like so many others, I was completely astonished. It was like reliving November 18, 1978 all over again. Nine sets of cremains from Jonestown had been discovered abandoned in an old funeral home in Dover. What a shock after all these years. But greater shocks were still to come.
I did wonder who they were. I pondered whose families would be personally touched by this discovery, and how they would react to it. Even though the remains of my mother, brother, sisters and cousins had never been officially identified, I had assumed they were all sent to Evergreen Cemetery in Oakland, and – after all these years – I had found peace with that understanding.
Still, I was hesitant to read the list of names that Laura Johnston Kohl emailed to everyone. Then I thought, what am I afraid of? This list is going to bring closure to a lot of families.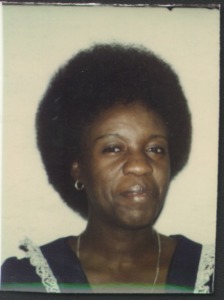 Imagine my surprise to see my cousin Wanda Bonita King listed as number 5. My first reaction was incredulity – it can't be! – but then I had this overwhelming sense of bitterness. How, after all this time, all these years, had these cremains been hidden away? I cried, then I laughed. Once I composed myself, I thought about my family. How would I tell them? What would their reaction be?
Wanda's closest living relative was her sister in Cleveland, Ohio. Their mother, Ida King, who had been a Temple member, but who had not yet gone to Jonestown when the tragedy happened, passed more than 10 years ago. How could I tell her sister?
Wanda's sister and I have another cousin, Carmelita, who had also been a member of the Temple at one time, but who left before the Jonestown journey began. Her only brother, Benjamin Keith Newsome, had died in Jonestown. I decided to call Carmelita. Maybe she could pass on the news to Wanda's sister.
Carmelita was just as shocked as I had been when I told her, and I think she was as dismayed as I was when Wanda's sister said she did not want to have anything to do with it, that she didn't want the cremains sent to her. I was very confused. I thought it would have helped her bring closure to a long-open question. Then I realized/ remembered/ intuited – there may actually not be a word for this – that even though it has been 35 years, still not everyone can not bring themselves to handle the Jonestown events any better than they could in 1978, and Wanda's sister was one of them. So with that understanding, I decided to contact the Chief Medical Officer in Delaware myself and arrange to have the cremains sent to the Oakland cemetery on behalf of my family.
I know my cousin will have a proper place, a place that we can visit, close to where so many of our family members are buried. Maybe, in time, this knowledge will bring peace to those in our family – Wanda's sister, niece and nephew and their children – who are still living.
(A second story about Wanda King is here.
(Dawn Gardfrey was in Georgetown with her grandmother on November 18, 1978. Her complete set of writings on this site may be found here. She can be reached here.)
Originally posted on October 5th, 2014.
Last modified on July 25th, 2018.