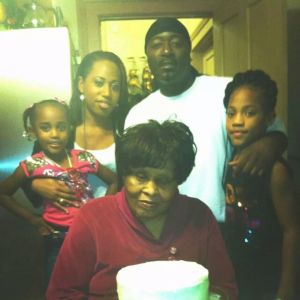 Sammie Jones was a pillar of Peoples Temple. She was wonderful in so many ways, and everyone knew her or knew of her. She was even in our dreams at night!
The first thing you noticed about Sammie was that she was both tall and formidable. She would look you right in the eye, and smile the broadest smile you ever saw, filled with her appreciation that you were in her life. But it was genuine, and really, her exuberance overflowed. Standing there, with that look in her eye and that smile on her face, she was pleasure personified.
The next thing you noticed was this fantastic and mouth-watering food that she had cooked. There was no better cooking in the Temple than Sammie Jones' cooking. That was why she was in our dreams. After our Peoples Temple services in San Francisco, she would set up a food stall downstairs as her continuing fundraiser for the church. But you needed to get there early with your coins and dollars in hand. We actually saved our allowance to buy just a slice of her sweet potato pie or a fried chicken plate. And if you didn't buy some of her cooking, you had to take the long way around not to be tempted. Otherwise it was torture. Her cooking made her famous and popular.
The final thing you would notice – but only because they were down at her knees – were these two darling munchkins. One was black and one more Asian-looking. You could tell by their smiles that they knew they had a good thing going. They were not going to let her go. Sammie would serve folks, then hug the little guys, then serve, then hug. As the kids got older, they would run around a bit more. But they were so happy to be there, close to Sammie and her food, they didn't go far.
Sammie was proud of her contributions to the heartiness and happiness of the members of her Peoples Temple family. She was delighted to cook and serve us the awesome food, and she was tireless in all her efforts.
As a beloved member of Peoples Temple for many years, she continued to be a real role model, even after 1978. Her son, a wonderful young man, Fayzo Medea Sirkas, is testimony to that.
Sammie died this past summer. Those who were lucky enough to have her in their lives know how great a loss that is.
(Laura Johnston Kohl, who had lived in Jonestown but was working in Georgetown on 18 November, died on 19 November 2019 after a long battle with cancer. She was 72. Her writings for this website appear here.)
Originally posted on October 7th, 2014.
Last modified on November 20th, 2019.