The cremated remains of nine bodies from Jonestown were discovered in August 2014 in a Delaware funeral home, nearly 36 years after the tragedy that took their lives. Less than three months later, the sets of cremains had either been sent to their relatives for private burial, or transferred to Evergreen Cemetery in Oakland for an interment service, which took place on October 20, 2014.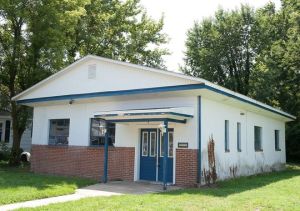 The remains of the nine were among 38 located within the Minus Funeral Home in Dover, one of several mortuaries which processed bodies for burial after they had been identified by military personnel at nearby Dover Air Force Base. The military had flown the bodies to Dover as part of its operation to remove the remains of the 918 people who died in Guyana on November 18, 1978. The funeral home closed after the original owner, Edward Minus Sr., died in 2012. The co-owner and Edward's widow Doretha, passed the business to their son, Edward Minus Jr., but he was unable to continue the business.
All of the Jonestown bodies found in the mortuary had been identified in the immediate aftermath of the tragedy, and relatives had authorized the funeral home to process the bodies for burial. The reasons that the victims' families did not take possession of their relatives after the cremation process are unknown, although the costs of shipping remains 3000 miles to California was known to have been a factor in the decision for other families.
"The discovery of unclaimed remains is not unique to the Minus Funeral Home," said James Patton of the state Medical Examiner's Office. "Almost any time a mortuary closes, there are likely to be unclaimed cremated remains [left behind].
"What made this a news story – and a national news story at that – was that nine of [the bodies] were from Jonestown, Guyana," he said.
The names of the dead were initially withheld from release while efforts were made to locate next-of-kin. A combined effort by Delaware agencies, the California Historical Society, the Jonestown Institute, Temple survivor Laura Johnston Kohl, and Houston Press reporter Craig Malisow resulted in contacts with families for six of the nine. A relative of a seventh victim came forward when the remaining names were released to the press. Despite these efforts, which lasted three months, the campaign did not achieve complete success.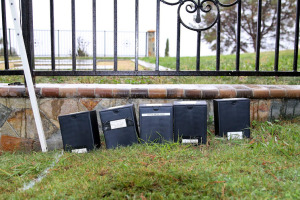 The relatives for seven of the victims were located.  Families of four of them – Maud Ester Perkins, Katherine Martha Domineck, Mary Johnson Rodgers, and Irra Jean Johnson – worked directly with the state of Delaware transfer the cremains for their own disposition. The families of three people – Irene Mason, Tony Gerard Walker, and Wanda Bonita King – requested that  the cremains be interred adjacent to the existing Jonestown memorial at Evergreen Cemetery in Oakland, California. Efforts to locate relatives of the final two – Ruth Atkins and Ottie Mese Guy – were unsuccessful, and the medical examiner's office made arrangements with Evergreen to receive them as well. The cremains of all five were interred at a service on the morning of October 20, 2014.
The story of the unclaimed remains did make national news. Among the articles which appeared online:
August 7, 2014
Cremated Remains of 9 Jonestown Victims Found in Old Dover Funeral Home, by Michael Chesney, WBOC, August 7
3 decades later, remains of Jonestown bodies found, by Randall Chase, Associated Press, August 7 (also here and here)
Cremated remains of mass-suicide victims in Guyana found in US funeral home, Demerara Waves, Caribbean News Desk, August 7
Jonestown victims' cremated remains found in Delaware, by Matt O'Brien, San Jose Mercury News, August 7
Remains of Jonestown Massacre victims found at Delaware funeral home, by James Queally, LA Times, August 7
Remains of nine victims of 1978 Jonestown cult massacre found in empty Delaware funeral home, Associated Press report in Daily Mail of London, August 7
Jonestown Massacre victims among cremated remains found at Delaware funeral home decades after 1978 mass suicide: police, by Nicole Hensley, New York Daily News, August 7
Remains of 9 Jonestown mass-suicide victims found in Delaware, New York Post, August 7, Associated Press Report
Delaware police just found the remains of nine Jonestown victims, by Mark Berman, Washington Post, August 7
Delaware officials find remains of 9 Jonestown victims, Fox News/AP, August 7
August 8, 2014
Jonestown Massacre Remains Discovered, by Sky News US Team, August 8
Ashes from '78 Jonestown Massacre found in Dover by Jon Offredo, The News Journal, August 8 (also here)
35 years later, remains of Jonestown victims found, by Randall Chase, Associated Press, August 8 )
Remains of California victim of Jonestown Massacre found in Delaware, by James Queally, Los Angeles Times, August 8 (also here)
Antioch Man Shocked Wife's Remains Found 35 Years After Jonestown Massacre, Sacramento CBS, August 8
Antioch Man Notified That Wife's Remains Have Been Located 35 Years After Jonestown, KCBS, San Francisco, August 8
Jones' ashes scattered over ocean decades ago, by Jon Offredo, The News Journal, August 8
Remains of Jonestown Massacre victims found in Delaware funeral home, Kaieteur News, August 8
Local Jonestown Massacre survivor speaks out amid new discovery of victim remains, by Michael Chen, KGTV, San Diego, California, August 8
August 9, 2014
Jonestown remains' discovery reopens wounds in Bay Area, by Henry K. Lee, SFGate, August 9
JONESTOWN SURVIVOR Helps Find Homes for Cremated Jonestown Friends, by Laura Johnston Kohl, Jonestown Survivor blog, August 9
Jonestown remains' discovery reopens wounds in Bay Area by Henry K. Lee, The Houston Chronicle, August 9
Doctor who lost 27 family members at Jonestown massacre speaks out about discovery of unclaimed ashes of 9 victims, North Dallas Gazette, August 9
August 10, 2014
Discovery of cremated remains brings closure for families of Jonestown Massacre victims, by Nicole Hensley, New York Daily News, August 10
September 2014
Names associated with cremains found in Dover released, by Nichole Dobo, The News Journal, Dover, Delaware, September 15
Del. Forensic Science Discloses Unclaimed Dover Funeral Home Remains, WBOC-TV, September 15
October 2014
Five more Jonestown victims buried in Oakland mass grave, by Matt O'Brien, Contra Costa Times, Walnut Creek, CA, October 21. Story includes photo gallery.
Five Jonestown victims buried in Oakland, CBS Sacramento, October 21.
It should be noted that the Minus Funeral Home processed the remains of Carolyn Moore Layton and Ann Elizabeth Moore on behalf of their family, including the women's sister Rebecca Moore and brother-in-law Fielding M. McGehee III, the managers of this site.
Originally posted on October 11th, 2014.
Last modified on December 26th, 2022.