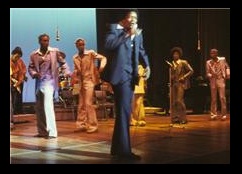 A number of musicians, writers, dramatists, and filmmakers have completed – or are still working on – many creative projects which consider the people of Peoples Temple and the events in Jonestown. The articles below describe those projects, introduce the creative forces behind them, and consider how they perceive their own work.
The Art of Peoples Temple

Peoples Temple Art Exhibit Opens at SDSU, by Robert Ray
A Review of the Art of Jonestown, by Edward Cromarty

Books and writing projects

Performing arts

Heaven Down Here: Peoples Temple chamber opera, by Andrew Jamieson
Words Fail: Reflections on Writing Jonestown: A Multimedia Chamber Opera, by Evan Williams

Film & documentary
Originally posted on October 13th, 2014.
Last modified on June 27th, 2021.