The Love You Have For Your Mother
by Herbert Newell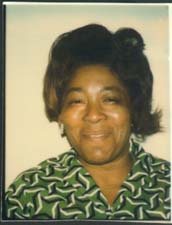 As I think back on my life, I was blessed to have my mother for the twenty short years that she was in it before November 18, 1978. I loved my mother very much; she was one of the reasons I went to Jonestown.
When I went to Guyana in March 1978, I was the last family member to arrive in Jonestown. My four brothers, two sisters and mother had gone the previous year as part of the mass migration from California. I remember how happy I was to go over to be with them.
My mother was a very beautiful woman inside and out. She was always willing to help family members and friends alike. She always made sure her kids were dressed neat and clean at all times, and that we respected our elders. And when we ate together – when all 13 members of the family sat down at breakfast or dinner – the food was made better by that strength of family.
My father was not pleased when my mother decided to move to Guyana. He warned that Jim Jones was going to take us over there and kill us, but she thought it was best to get her children away from the trouble she could see every day in the neighborhood. And even though a couple of my siblings in Jonestown had returned to the States by November 1978, I was still happy to be there. I remember telling my mother, just before Clifford Gieg and I went to Port Kaituma on November 18 to take the Temple boat upriver, that I would see them the next day. So when the Guyanese police told Clifford and me that more than 400 people were dead in Jonestown, it was utterly unbelievable.
I am glad to have the opportunity to return to Guyana after all these years. I want to go back to Jonestown to pay my last respects to my family – especially my mother whom I loved so much – and to return to tell my story in a better way. I want the people of the world, not just to remember Jonestown itself, but also to learn its lessons of the dangers of following a man the way we followed Jim Jones.
(Herbert Newell was on the Temple boat, the Cudjoe, on November 18, 1978, but more than a half dozen of his relatives died in Jonestown. His other stories for the jonestown report may be found here. He can be reached at Herbnewell58@gmail.com.)
Originally posted on October 27th, 2015.
Last modified on April 15th, 2021.