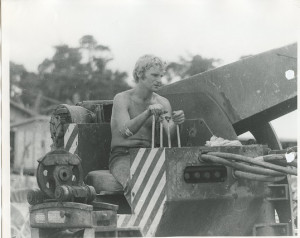 We have a wonderful resource to look at photos of our families and loved ones from Peoples Temple. Although the Gallery page has been part of the website since its creation in 1999, it wasn't until 2010 that its founders opened a Flickr account and asked me to manage it. I have added hundreds of pictures since – including the most recent batch of 250 photos this summer – and we now have 2,280 photos uploaded and arranged in numerous albums.
Since 2010, there have been 5,467,916 views of photos on the site. On one day alone – July 26, 2015 – there were 17,114 views.
We have collected many photos from all parts of the life of Peoples Temple over the years – beginning with a few from Indiana, continuing all the way through Guyana – as well as the lives of the survivors. The newest album I added is from the current San Diego State University Special Collections Exhibit on Jonestown and Peoples Temple. The exhibit, which has a vast collection of everything from cassette tapes to art and hooked rugs to books to video clips, will run through the end of 2015.
There are other photos from Peoples Temple at the California Historical Society in San Francisco, and more scattered across the website, especially in the biographical boxes on the Who Died? page. You can access them online or by visiting the California Historical Society at 678 Mission Street, San Francisco; phone 415-357-1848.
I am continually reminded that the whole story of Jonestown does not belong to a single person or even to 100 survivors. It is a historical event that is researched by relatives, scholars, secondary school and college students, and artists who seek some understanding of what happened and why. The photos add the human element to this historical tragedy, and tell the story better than any individual.
But for me, the photos tell a different story, one I recall every time I work on the Flickr page: the collection of thousands of photos already on the site and the anticipation of acquiring thousands more in the years to come, represent a widening window of our tribute to the families and friends we lost on November 18, 1978. It is a window that will always remain open.
(Laura Johnston Kohl, who had lived in Jonestown but was working in Georgetown on 18 November, died on 19 November 2019 after a long battle with cancer. She was 72. Her writings for this website appear here.)
Originally posted on October 28th, 2015.
Last modified on November 20th, 2019.