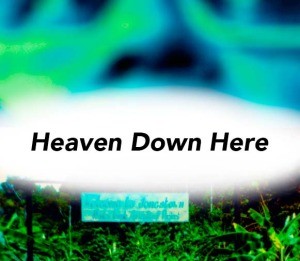 Heaven Down Here, a 90-minute chamber opera by Andrew Jamieson, is staged as an imaginary last day at Peoples Temple. It is composed for 25 performers, including singers, instrumentalists and dancers. It combines sounds of Pentecostal worship, gospel music, operatic oratorio and recitative singing, contemporary choreography, and experimental improvisation into a three-act musical patchwork narrative. The elements weave together into Jamieson's unique musical language of avant-gospel. Source material for the work includes sermons and on FBI tapes and transcripts from this website, the 1974 album He's Able by the Peoples Temple Choir, other songs associated with their worship tradition, and the 1977 New West article that exposed abuses of Peoples Temple. It was performed on June 25 and 28, 2014 in Oakland, California. A recording of the work was featured on the June 4 and July 1 episodes of The Cutty Strange on WGCX in upstate New York.
Following are three perspectives from artists involved: choreographer, singer and staging director Megan Meyer, conductor Katie Harrell, and composer/pianist/lead director and visionary Andrew Jamieson.
Katie Harrell
In working with Andrew Jamieson, I realized the extent of how emotionally infused he is with this effort. Jamieson has extensive experience as a gospel pianist and church musician, and through this work, he vicariously placed himself in the pews of Peoples Temple. Through Jamieson's rich arrangements of familiar gospel tunes, we can imagine ourselves among the energetic congregation. However, surrounding the gospel melodies is a dense and chromatic sound world, symbolizing the conflict of individuals in the congregation (and possibly the composer), as well as Jones' mental derangement and tyranny. Conversely, Jim Jones' aria reflects his own brief moments of calm and introspectiveness.
Heaven Down Here more than represents the events leading to the Jonestown massacre; it is a lens into how the average person could easily find themselves among the congregation. Through the eyes of Ann, the protagonist, the audience is drawn towards Jim Jones' values and persona, then realizes too late of his malicious ambitions. Ann was looking for a community who shared her values, and under similar circumstances, I may have followed the same path as her.
Megan Meyer
Working on Jamieson's opera came at a time when the themes of manipulation, control, and coercion were at the heart of all my work. While a great deal of media attention focuses on more apparent social disorders like greed and violence, we must dig deeply to find explanations for how well-meaning individuals find themselves in horrifying situations seemingly of their will.
One of the many aspects of Jamieson's skillful composition that appealed to me was his seamless transitions between the uplifting, nurturing character of American spiritual music and the latter's decay into chaos and corruption. This juxtaposition speaks to moments where we may find ourselves thrown completely off-course by placing trust in leadership that only too late reveals a moral system counter to our own. My goal as the production's stage director and choreographer was to harness and communicate the visceral sensations of being psychologically bound, of futile resistance, and of grappling with ideological dilemmas.
Andrew Jamieson: Creating Heaven Down Here and beyond
As a left-leaning Christian familiar with worship traditions of the black church, everything I learned about Peoples Temple hit close to home. I could easily see myself joining Peoples Temple if I were alive at the time. Even more, as a white person who has worked in majority-black churches, I became all too familiar with the privileged position that allowed Jones to abuse his community.
And as an experimental musician, Peoples Temple seems even more unsettling. My work boldly challenges prevailing musical conventions and authority through dissonance, unusual sounds, and new ways of playing. Jim Jones' sharp words and defiant actions also challenged prevailing authority and conventions. This independence allowed both Jones and artists like myself to present a radical new world.
For me, the kind of experimentation that envisions a new world is profoundly hopeful. Few experiences offer me a truer sense of freedom than playing and hearing the free and spontaneous improvisation in the piece. The hope and excitement I feel when I hear the protest song "I shall not be moved" quoted and reinterpreted in this piece is real. I even experience genuine inspiration in hearing Jim Jones' own defiant call to create "Heaven down here," rather than "Heaven up there."
But as we know, Jones' experimentation and challenges to the system also allowed him to carry out the unthinkable. Could there be unintended consequences for experimentation in other arenas? As an experimentalist, how do I know my work truly empowers those on the margins and is not facilitating pain or abuse? How can experimentalists in art, spirituality, activism, ideas or ways of living, examine how easily this independence hides abuse and destruction? It was fascinating and disturbing for me to find myself unable to tell where hope and inspiration end, and where abuse and destruction begin in Heaven Down Here.
I took great care preparing for the logistical demands of putting on a chamber opera. I gave myself years to research and compose the music, and we had months to rehearse the work. However, I underestimated the emotional demands on myself, my collaborators and the audience in approaching a difficult subject. A would-be cast member pulled out during the rehearsal process, citing emotional difficulty with the subject. The final cast of performers worked hard and demonstrated clear talent, but remained challenged by the material.
The audience responded in two different ways simultaneously. On one hand, they were clearly moved and provoked by the work. Many who knew victims of the Jonestown massacre thanked me for my work. Nearly everyone who saw the performance or earlier workshops of the piece learned something about Peoples Temple they did not know and were often compelled to research more. Spontaneous discussions began during intermissions and after the performance. On the other hand, few seemed invested in any continuation of the project after the 2014 performances, and the primary reason seemed to be the emotional difficulty of the work.
Personally, I had more energy once I allowed myself distance from such a difficult theme. Nevertheless, Heaven Down Here will always be a part of me. My fascination by the intersection between the aesthetics of black worship and experimentalism has only grown. Both challenge an unjust system, and envision new ways forward. Both are essential to my own musical background. I still want to combine the spiritual and political power that each contains. It is rare to find them together, and Heaven Down Here helped me break ground in integrating them.
New Musical Project
My current work explores ways to strengthen this integrated "avant-gospel" style. In August 2015, Edgedone Records released Heard the Voice, a piano album of my avant-garde solo arrangements that are "in dialogue" with various African American spirituals, a few of which also appear in Heaven Down Here. I am continuing the project under the name "Spirituals in Dialogue," consisting of duo and ensemble arrangements. The next scheduled performances are January 25, 2016 at Studio Grand in Oakland, California and February 12, 2016 at the First Congregational Church of Berkeley, both collaborating with the poet/spoken word artist Schmian Evans. I am beginning to arrange an East Coast tour for the summer of 2016. More information is available here.
(The website for Heaven Down Here is here. DVDs of the work are available here. Short clips may be found on YouTube, including: the Opening Scene, both here and here; a Temple healing in Scene 2; Jim Jones preaching in Scene 4 here and here; the departure of Peoples Temple to the Promised Land here; and Jim Jones making his case for staying in Jonestown. Andrew Jamieson may be reached at AndrewBarnesJam@gmail.com.)
Originally posted on October 28th, 2015.
Last modified on December 29th, 2021.