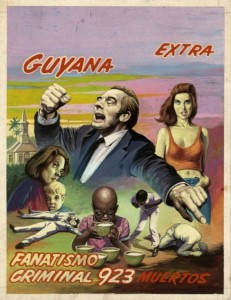 A number of musicians, writers, dramatists, and filmmakers have completed – or are still working on – many creative projects which consider the people of Peoples Temple and the events in Jonestown. The articles below describe those projects, introduce the creative forces behind them, and consider how they perceive their own work.
The Art of Peoples Temple

SDSU Art Display Nears End, But Collections Continue to Grow, by Robert Ray

Books and writing projects

Redefining Jonestown, by Kathryn (Tropp) Barbour, author and publisher

Channeling the Pioneers, by Kathryn (Tropp) Barbour
Take a Picture of This, by Craig Foreman

Legacy Warrior, by Jordan Vilchez
Bitter Cup Fills to Overflowing, by Jeff Guinn
On the Journey with Laura Woollett

A Search for Grace in Jonestown, by Sara Brody
Reviews, author descriptions, and critiques of recent Jonestown fiction

Performing arts

Peoples Temple Chamber Opera Performed, by Andrew Jamieson
Christine Miller Opera Taking Shape, by Perry Townsend
Review of Jonestown Tragedy in Iran, by Mohammad Javad Ghasemi

Film and photography

Researching Peoples Temple, by Richmond Arquette
Navigating Trauma: A Photographic Exploration, by Kevin Kunishi

Music

Music of Q 932 Speaks to Real Cult in American Life, by Sergey Tretyakov
Originally posted on October 27th, 2015.
Last modified on November 4th, 2015.