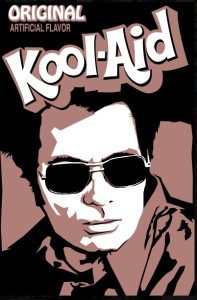 The expression "drinking the Kool-Aid" is now deeply embedded into American slang. While its origins are painfully understood by most of the people who visit this site, it's also true that no one knows when or in what context it first entered our slang lexicon. As time passes, two other characteristics of slang will occur: its earliest meaning will morph into a multitude of derivatives – indeed, that has already begun to happen – and fewer and fewer people who use it will know where it came from.
This past year saw the publication of several commentaries on the use of the phrase, including:
Don't drink the Kool-Aid on the phrase 'Drink the Kool-Aid'
by Matthew Hansen, Omaha World-Herald, August 7, 2015
http://www.omaha.com/columnists/hansen/hansen-don-t-drink-the-kool-aid-on-the-phrase/article_96e4c976-7f19-59a4-adcd-9c65848a08dc.html
This column analyzes the expression "drinking the Kool-Aid" as "one of the strangest, most horrifying and oddly unjust pieces of slang in the English language." Quoting Rebecca Moore – the co-manager of this website – the column points out that "The passing years drained the horror out of the event that birthed the phrase, and it was this distance from the event that made it possible for a politician, a business exec or a regular Joe to utter it without guilt."
The Science Of Brainwashing, Big And Small
by Chris Weller, Medical Daily, May 21, 2015
http://www.medicaldaily.com/seen-tv-science-brainwashing-big-and-small-334280; also at https://favisonlus.wordpress.com/tag/kool-aid-drinking-cults/
Beginning with the issue of whether the deaths in Jonestown should be considered as suicide or murder, this article points out that, "The question matters." Primarily a review of a book on brainwashing, the author applauds its insights "into how easily our brains can change, and how those changes actually happen on a daily basis…

"Day to day, our fragile psyches might never face the threat of brainwashing on the scale of parental coercion or Kool-Aid-drinking cults, but it may still be in our interest to stay keenly aware of when we're being influenced to feel or think a certain way."
A logical approach for religion living
by Rev. Buddy Herrington, The Spectrum, St. George, Utah, April 24, 2015
http://www.thespectrum.com/story/life/2015/04/24/logical-approach-religion-living/26328073/
In discussing his path to his religious faith, this United Methodist minister writes in a column, "Even as a young child, I had some difficulty just buying into many ideas just because somebody else told me they were best. I loved my parents, but just because they believed something didn't mean that I had to believe the same exact ideas.… At the religious level, I wanted to actively think about what I was being told. I definitely did not want to "drink the Kool-aid" as the followers of that terrible proclaimer Jim Jones. He fed his followers bad religion, and then he poisoned them with spiked Kool-aid. Many of them just followed blindly to their deaths."
Are we entering World War III?
by James Baker, Cincinnati USA, March 4, 2015
http://www.cincinnati.com/story/news/local/indian-hill/2015/03/04/column-entering-world-war-iii/23736301/
This guest column consider how we create our own belief systems as articles of faith, influenced by family and society, then suggests "we are engaged in an escalating war with people who have been taught a different set of beliefs.… [Recruits to ISIS] are being taught that if they die, it is as a martyr. They believe they would die as heroes; they are taught that this is a religious duty. They are drinking the Jonestown Kool-Aid of a political cult. They have been swindled by deceptive recruiting practices."
Don't Drink the Kool-Aid
Concretized Christianity, February 24, 2015
https://concretizedchristianity.wordpress.com/2015/02/24/dont-drink-the-kool-aid/
After expressing surprise that people under 40 have no idea where the Kool-Aid expression originates, the unidentified writer on this Christian website gives a somewhat distorted history of Peoples Temple – complete with such loaded words as "sociopathic," "slavish" and "predator" – and compares Jim Jones to Charles Manson. The writer then suggests that the best safeguard is "our unwavering conviction that the sole source of absolute truth is God's word…

"Who in your life and where in your life is the Kool-Aid being offered?" the column concludes. "Are you aware of it? Do you know it? And what is your response to it?"
Is It Kosher to "Drink the Kool-Aid"?
by Katy Waldman, Slate.com, January 30, 2015
http://www.slate.com/blogs/lexicon_valley/2015/01/30/is_the_phrase_drink_the_kool_aid_offensive_because_of_jonestown.html
In a column that "reflect[s] on certain words or phrases that lie in the margins of acceptability," the author explores the expression's transition "from simple murder weapon to symbol of cultish complicity" and – given that few people know its origins — considers whether it has lost its power to convey any sense of tragedy.
A few things to work on in 2015
Editorial, The Herald, Everett, Washington, January 1, 2015
http://www.heraldnet.com/article/20150101/OPINION01/150109926
In its annual column of its recommendations for New Year's resolutions that celebrities and newsmakers could make, the editorial board of the Everett Herald concluded with one for itself. "[T]o demonstrate that we're not above self-improvement, we'll make a resolution ourselves. Forthwith, we resolve not to use the following clichéd words and phrases in editorials." Among the dozen words and phrases was "drink the Kool-Aid."
The phrase 'drank the Kool-Aid' is completely offensive. We should stop saying it immediately.
by James Richardson, The Washington Post, November 18, 2014
https://www.washingtonpost.com/posteverything/wp/2014/11/18/the-phrase-drank-the-koolaid-is-completely-offensive-we-should-stop-saying-it-immediately/
The guest column by a former California reporter and cuurent Episcopal priest in Virginia describes the use of the phrase as "flip" and "annoying," then continues with a description of the events that gave rise to it. "Many of us have not forgotten the nightmare of Jonestown," the article concludes. "The rest of you need to clean up your language."
Remembering Jonestown And Why We Should Stop Saying 'Drink The Kool-Aid'
by Jay Barmann, sfist.com, November 19, 2014
http://sfist.com/2014/11/19/remembering_jonestown_and_why_we_sh.php
Written at the anniversary of the deaths in Jonestown – and quoting the Richardson article immiediately above – the author admits, "It's probably impossible to scrub away an idiom that's so ingrained in American culture, as Richardson suggests. But nevertheless people should revise their thinking about what truly happened at Jonestown, and how one man's drug-induced delusions and megalomania ended the lives of 909 people."
If I ever use the phrase "Drink the Kool-Aid" again, please do me a favor and kick me in the teeth
by Mark Maynard, markmaynard.com, November 18, 2014
http://markmaynard.com/2014/11/if-i-ever-use-the-phrase-drink-the-kool-aid-again-please-do-me-a-favor-and-kick-me-in-the-teeth/
"I remember the fact that over 300 of the dead were children. It made a huge impact on me as a kid. And, when I think of Jonestown, it's always the first thing to come to my mind… I'm not sure if it's a phrase I've ever used here, but, if it is, I'm sorry. … And I promise not to ever do it again."

The blog includes several comments, including one defense of the continued use of the expression. "Black humor is a survival skill… Also as a metaphor, 'don't drink the Koolaid' works, whether willingly done [or] forced. One often does things and supports things because one thinks one must, not because one believes. For me the implication, is 'you know better.'"

The expression has found new venues outside of the linguistic. Rich Mnisi, a South African clothing designer, presented a collection in 2014 called Don't Drink the Kool Aid Kid during a show of African Fashion International in Johannesburg, which included a male model wearing a Kool-Aid placard hanging from his neck.
And finally:
Demonstrating that entrepreneurs can continue to find new and offensive ways to market the expression, the T-Shirt company Better Than Pants has conjoined the Kool-Aid man with an image of death (Warning: The image on the shirt is graphic).
Originally posted on October 28th, 2015.
Last modified on May 6th, 2020.