In collaboration with the Jonestown Institute, Special Collections at the San Diego State Library has acquired several works of art, photography, sound, documentary film, theater, poetry, fiction and non-fiction texts, many of which are currently on display as part of the Peoples Temple at Jonestown exhibit at San Diego State. Several other important new collections of Peoples Temple material have also been donated recently.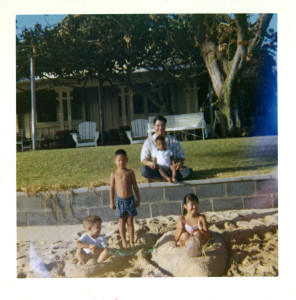 One of the highlights of the Peoples Temple at Jonestown exhibit is a Jones Family Photograph Album, one of two family albums gifted recently by Stephan Jones. Stephan has also generously donated another collection of photographs to Special Collections, along with several other items of family memorabilia. The Jones Family Memorabilia Collection (1962-2002) contains photographs, correspondence, and school records collected by Stephan Jones. The collection consists chiefly of photographs originally housed in photo albums and scrapbooks. Notable family items include poetry written by Stephan's grandmother Lynetta Jones, a letter from his mother Marceline, drawings by Stephan when he was young, and of course, photos of the family. The collection also includes photographs of Jim Jones in the context of working with Peoples Temple and the Peoples Temple Agricultural Project at Jonestown.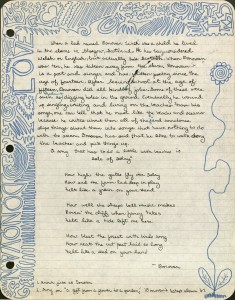 A very important new collection donated recently to Special Collections is the Ann Elizabeth Moore Papers (1954-1978), a collection comprised of her correspondence with friends and family, her school records, artwork, and collected memorabilia. The largest amount of material is correspondence, and within that category most letters are written to Ann from her friends. The earliest letters date from when Ann was only eight years old, and most correspondence continues until after her high school graduation, making the letters exceptionally noteworthy as a window into Ann's girlhood and adolescence. Her friends wrote to her about boys, school, music, and other topics. Her schoolwork spans her years in junior high and high school in Davis, California. One of her school reports about the 1960s pop musician Donovan is particularly notable, not only for its contents but also for the detailed marginalia that Ann drew. The collection contains a significant amount of her artwork, including small books she assembled and illustrated as well as her sketches and drawings. Letters written from Ann to her parents after she immigrated to Jonestown in 1976 are especially significant.
The collection shows that Annie was a kind and loyal person with a great sense of humor and an even bigger heart. Her papers are important as a record of her youth, adolescence, and young adulthood. They also have a special significance because Ann Elizabeth Moore was an intimate member of, and true believer in, Peoples Temple.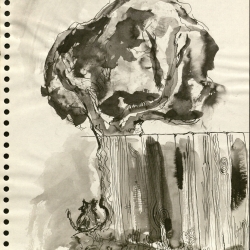 Annie Moore was one of those who died on November 18, alongside her sister Carolyn Layton and her nephew Jim Jon (Kimo). As Jim Jones' personal nurse, Annie's role in the events of November 18 is both important and impossible to determine. She may have been responsible for mixing the cyanide drink that fatally poisoned hundreds. She evidently was the last person to die at Jonestown and, according to various speculations, she may have shot Jim Jones. There is no question that she played a part in the tragedy, both as a victim and as a perpetrator. We ask, "What kind of person could do such terrible things?" But we must also ask "Who was Annie before she joined Peoples Temple in 1972? How did she spend the first eighteen years of her life? What was she like as a little girl?" These questions are important too.
Ann Moore's papers are significant not only because they capture the experience of a young girl in the 1960s but also because they create a more complete picture of someone who was involved in an often misunderstood and misconstrued tragedy. Having public access to these papers provides not only a memorial to her life before and during membership in Peoples Temple but also broadens the scope of perceptions of her personality, motivations, and intentions. Collections like the Ann Elizabeth Moore Papers can provide much needed historical context for understanding and humanizing the lives of the individuals who were so much more than the bitter legacy the tragedy of Jonestown left behind. The collection was gifted to Special Collections by her sister, Dr. Rebecca Moore, and Fielding M. McGehee III of the Jonestown Institute.
Another very significant collection of Peoples Temple related material donated recently is The Rebecca Moore Papers (1951-2013) consisting of correspondence, drawings, school records, news clippings, research materials, research papers, publications, and audiovisual materials.
The Correspondence series contains letters from Rebecca to her parents John and Barbara Moore. Noteworthy letters include those written in 1979 in the wake of the tragedy at Jonestown. The series also contains letters from various members of Rebecca's family, including her sisters Carolyn and Annie.
The collection contains a series of materials that belonged to John Moore, Rebecca Moore's father. Most of the files contain documents relating to Peoples Temple and Jonestown, and some collected family materials are also included. Related materials include drawings, school records, writings, and manuscript chapters. One noteworthy item is a birthday card for John Moore illustrated by Annie Moore and signed by her, Jim Jones, and Carolyn Moore Layton.
Dr. Rebecca Moore is one of the most notable educators, researchers, and writers on new and alternative religious movements throughout the world. The Professional Materials series contains her lectures, research materials and research papers. Highlights include Dr. Moore's collected research on varying religious organizations and her research papers written throughout her academic career.
(Robert Ray was head of Special Collections at San Diego State University Library. The SDSU library's announcement about the exhibit is here. His other story in this edition of the jonestown report is SDSU Art Display Nears End, But Collections Continue to Grow.)
Originally posted on October 30th, 2015.
Last modified on December 26th, 2022.