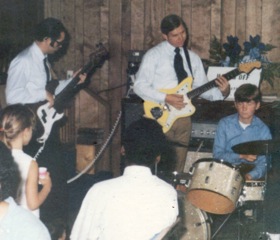 A number of musicians, writers, dramatists, and filmmakers have completed – or are still working on – many creative projects which consider the people of Peoples Temple and the events in Jonestown. The articles below describe those projects, introduce the creative forces behind them, and consider how they perceive their own work.
Books and writing projects

Film and Documentaries

Performing arts

An Image That Thinks, by Mohammad Shojaei
Jonestown: A Soundscape for Low Brass and Electronics, by Jacob Elkin

Art

The "Trouble in Jonestown" Painting, by Mary Lou Springstead
Jonestown Art as Therapy for Emotional Abuse, by Beth Houghtaling

Podcasts

Historians' Podcast Opens Temple Story to New Audience, by Ailsa Lung
Transmissions From Jonestown: New Podcast to Feature Raw Audiotapes, by Shannon Howard
Originally posted on October 21st, 2016.
Last modified on October 31st, 2016.