Kwayana Book Captures Guyana – and Worldwide – Perspective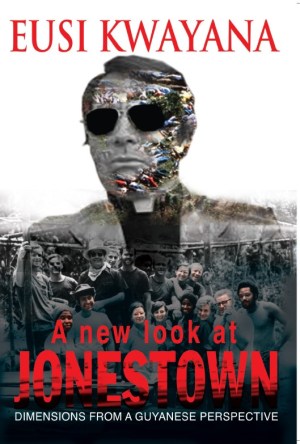 A New Look at Jonestown: Dimensions from a Guyanese Perspective
A Review by Laura Johnston Kohl
I first met Eusi Tchaiko Kwayana in 2005, more than ten years ago. By that time, I'd already reconnected with scores of Temple friends – Jonestown survivors, other former members, and relatives of those who died – and these interlocking relationships helped all of us in the healing process. But Eusi Kwayana was the first person I met who took a look at Peoples Temple from a different perspective than I had ever considered, not only from a Guyanese point of view, but in reality, from a worldview.
Eusi Kwayana was born as Sydney King in 1925 in what was then known as British Guiana, when the country was still a colony of Great Britain. He became a teacher at 15, and a principal at 26, but became better known for his example of speaking and working for his "Truth". As a political being – representing native Guyanese interests and urging independence – Kwayana was considered a threat to British colonial rule, and was arrested on numerous occasions for his activism. Over the years, he has continued the fight by creating or joining political organizations and by writing about current issues affecting Guyana, and reaching out to the wider world. His several books include Next Witness, The Bauxite Strike and the Old Politics, Scars of Bondage, Guyana: No Guilty Race, Buxton in Print and Memory,Morning After, Genesis of a Nation: The Indo-Guyanese Contribution to Social Change (in Guyana) and Walter Rodney: His Last Days and Campaigns.
A New Look at Jonestown, his book on the Peoples Temple tragedy, is a continuation of that work. It is a distillation of years of research, interviews with Temple survivors, and interactions with numerous Guyanese scholars and writers.
The best way to describe the book is that it took Jonestown from under the microscope and walked us out to looking at it from a telescope from the universal understanding. The inclusion of other wonderful articles considers Jonestown in the scope of Guyana's history as a way to look at other Third World countries manipulated by special interests, and purchased politicians.
Jonestown is often referred to as the greatest loss of lives of non-combatant Americans other than 9/11, but the conversation often stops there. For Kwayana, that was just the beginning of what we need to look at and learn from. He chose the brightest spokespersons – himself included – to explain that this was not a unique event, because the same kind of exploitation exists today, and he has brought scholarly witness to it.
Eusi Kwayana's book is a must read for anyone who wants to understand Jonestown, to understand Guyana and the dynamics that made it so available, and to understand the larger universe that has some similar conditions. It is a thoughtful and well-researched book that adds a very wise Guyanese scholar's perspective that is not embraced enough.
(Laura Johnston Kohl is a regular contributor to this site. Her other articles in this edition of the jonestown report are Who is the Voice of Peoples Temple?; I Am a Cultist, Two Times Over; Was Jonestown a "Millennial Intentional Community"?; and A Memorial to John F. Heneka. Her collected works may be found here. Laura may be reached at ljohnstonkohl@gmail.com.)
Last modified on October 21st, 2016.