Drinking the Kool-Aid 2016
While the expression "drinking the Kool-Aid" is now deeply embedded into American slang – often as throwaway and/or commonly-understood lines in sports, business, and popular culture – its most frequent use in the past year was in the political sense, especially in the national campaigns for the presidency. Here are a few samples.
Hillary Clinton, the Democrats, and Their Supporters Drink the Kool-Aid
Jon Voight: Hollywood colleagues 'drinking the Kool-Aid'
Fox News, September 27, 2016
http://www.foxnews.com/entertainment/2016/09/27/jon-voight-hollywood-colleagues-drinking-kool-aid.html
"Jon Voight talked politics on 'Your World with Neil Cavuto' on Monday, calling Donald Trump 'an extraordinary fellow' but admitting that many people in Hollywood don't feel the same way. 'They're buying the Kool-Aid,' he said. 'They are buying whatever Democratic Party puts out… They don't have much reputation for the truth. But the people in Hollywood on the left are loyal to Hillary.'"
African-American Church Fighting for Trump
Citizens for Trump, August 16, 2016, http://citizensfortrump.com/2016/08/16/african-american-church-fighting-trump/ [Editor's note: This URL was defunct in November 2018.]
"We are no longer drinking the Democrat Kool-aid."
Dems lap up Hillary Kool Aid at their own risk
by Stephanie M. Jason, TheHill.com, August 1, 2016
http://thehill.com/blogs/pundits-blog/presidential-campaign/289815-dems-lap-up-the-hillary-kool-aid-at-their-own-risk
"Why is it that intelligent and kind-hearted people can succumb to the deceptive practices of politicians and drink their proverbial "Kool-Aid"? To many Americans, this may seem like madness, but I recall a time when I, too, succumbed and drank the Kool-Aid… Like so many Americans, I bought the mainstream media's portrayal of him and his intentions. I drank the 'Obama Kool-Aid.' I believed what he said, and I voted for Obama in 2008 because I wanted to be a part of the historic wave of Americans electing the first African American President. This is a mistake I regret and I learned my lesson."
The Many Gun Lies of Hillary Clinton – Don't Drink the Kool-Aid
Nothing Before Coffee, undated (likely June 2016)
http://www.notb4coffee.com/the-many-gun-lies-of-hillary-clinton-dont-drink-the-kool-aid/
The Democratic Kool-Aid On Guns Perfectly Explained
The Federalist Papers Project, June 2016
http://thefederalistpapers.org/us/the-democratic-kool-aid-on-guns-perfectly-explained
Democratic debate drinking game: How much Kool-Aid can you take?
The Auditor (New Jersey), October 13, 2015
http://www.nj.com/politics/index.ssf/2015/10/democratic_debate_drinking_game_how_much_kool-aid.html
Drinking the Clinton Kool Aid
by expat4evrdr
https://steemit.com/hillary/@expat4evrdr/drinking-the-clinton-kool-aid
Donald Trump, the Republicans, and Their Supporters Drink the Kool-Aid
Don't drink the anti-Hillary Kool-Aid
by Stephan Lesher, News Times, Southbury CT, Sept 2 2016
http://www.newstimes.com/opinion/article/Stephan-Lesher-Don-t-drink-the-anti-Hillary-9198332.php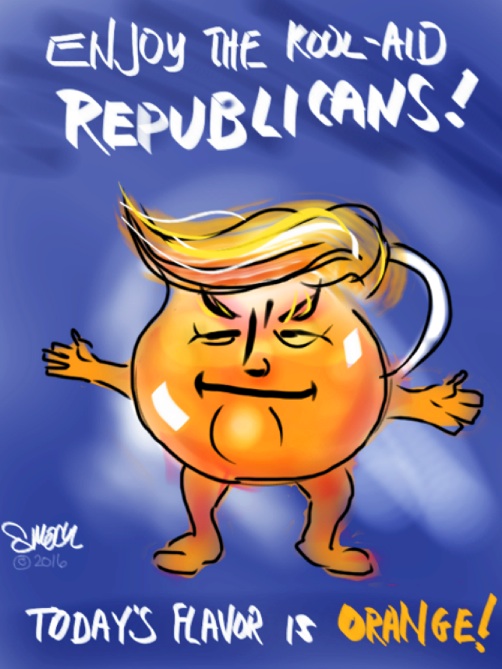 The Cult of Trump
by Rebecca Nelson, GQ, August 31, 2016
http://www.gq.com/story/the-cult-of-trump
Under the subhead, "Don't Drink the Orange Kool-Aid" the author says, "[W]e can reasonably assume that [Trump] does not have plans to kill his supporters by giving them cyanide-laced Kool-Aid, as the Rev. Jim Jones did at his Guyana compound in 1978. Still, his ascendency could very well start a nuclear war. "We're not talking about a compound with a thousand people," Ross says. "We're talking about a nation with over 300 million people. So the consequences of Trumpism could affect us in a way Jim Jones never did." Especially if you don't drink the Trump Kool-Aid."
The GOP will drink the 'Toxic Trump' Kool-Aid and commit mass political suicide in Cleveland
Blog for Arizona, July 18, 2016
http://blogforarizona.net/the-gop-will-drink-the-toxic-trump-kool-aid-and-commit-mass-political-suicide-in-cleveland/
The damn fools are going to do it. They really are going to do it. Tea-Publicans are willingly going to drink the "Toxic Trump" Kool-Aid and commit mass political suicide in Cleveland. Will Cleveland be the GOP's Jonestown?
The Trump Kool-Aid: A Proliferation of Mis – and Missing – Information
by Joseph Amodeo, The Huffington Post, June 28, 2016
http://www.huffingtonpost.com/joseph-amodeo/the-trump-koolaid-a-proli_b_10703858.html
"The notion that a man prone to lying, name-calling, poor business decisions, and a complete lack of knowledge when it comes to policymaking is able to be a major party's candidate for president of the United States is utterly terrifying. However, even more frightening than Donald Trump's lack of knowledge and playground-bully approach to campaigning is his ability to get people to actually drink the Trump Kool-Aid."
Roll Call: Who Drank the Trump Kool-Aid and Who's Still Sane?
The Paradox Project, June 20, 2016, http://theparadoxproject.org/blog-1/2016/6/18/trump-kool-aid [Editor's note: This URL was defunct in November 2018.]
Brutal Numbers Show Many Not Drinking Trump's Kool-Aid
Joe Gandelman, The Moderate Voice, June 19, 2016
http://themoderatevoice.com/brutal-numbers-show-many-not-drinking-trumps-kool-aid/
"Trump's political Kool Aid is a sacrilege of America's political process and norms with a just-short-of overt appeal to stir up and enable bigotry, racism, and bringing up nutcase, extremist conspiracy theories. And the question remains among some: is this really how he feels or is he doing a shtick that gotten out of control? … The [Washington] Post now presents numbers that show that not only are many Americans not willing to drink the toxic mix of hatred, paranoia, crudeness, and lack of preparation in policy that Trump (and those in the conservative media who are promoting him) is peddling — but his campaign is in tatters on other fronts."
Wasserman Schultz: 'Kool-Aid' The Republicans 'Drink Of Choice'
by Al Weaver, The Daily Caller, June 15, 2016
http://dailycaller.com/2015/06/15/wasserman-schultz-kool-aid-the-republicans-drink-of-choice-video/
Another View — John H. Sununu: Don't drink the Trump Kool-Aid
Manchester Union Leader, January 3, 2016, http://www.unionleader.com/Another-View-John-H-Sununu-Dont-drink-the-Trump-Kool-Aid [Editor's note: This URL was defunct in November 2018.]
Kool-Aid Commentaries
This past year also did see less-heated considerations of the phrase in several commentaries, including:
Both sides drink the Kool-Aid
by Peter Lemiska, Renew America, August 13, 2016
http://www.renewamerica.com/columns/lemiska/160226
While appearing on a conservative website, this column acknowledges that partisans on both sides of debates – including in presidential choices – often form opinions based on "raw emotion," rather than thoughtful analysis.

"Invariably during political arguments today, someone is accused of 'drinking the Kool-Aid.' It refers to blind loyalty, based on emotion, not reason, and originated from the 1978 murder/suicide of 900 people living in a commune in Guyana. They were all fiercely loyal to their cult leader, Jim Jones, and on his orders, took their own lives by drinking a fruit beverage laced with cyanide. That incident showed how blind loyalty can deprive otherwise rational individuals of free will and common sense."
A crazy lunatic and the deadly story behind drinking the Kool-Aid
by Tom Peracchio, The World of Questly, February 25, 2016
http://questy.com/content/crazy-lunatic-and-deadly-story-behind-drinking-kool-aid
This column considers whether people who use the phrase "drinking the Kool-Aid" know anything about "the very ugly event" associated it. After giving a brief history of Peoples Temple and the Jonestown tragedy, the column concludes "Maybe as you learn more about the origin of the phrase, and the gruesome details of the event, you will think of coming up with a new phrase to describe a mindless follower of an idea."
Drink Your Own Kool-Aid
by Jeffrey Hazlett, "The Blog," Huffington Post, November 30, 2015
http://www.huffingtonpost.com/jeffrey-hayzlett/drink-your-own-koolaid_b_8682264.html
As opposed to almost every other analysis or use of the phrase that appears in print or online, this column puts the expression in a positive light, arguing that you should take stock of yourself and recognize your talents.
Don't Drink The Kool-aid
by Jeff Drinan, No Room at the Inn, November 2, 2015
http://noroomintheinn.org/wp/2015/11/dont-drink-the-kool-aid/ [Editor's note: This URL was defunct in May 2020.]
This column considers Jim Jones as an extension of the "decadent… nihilistic" 1960's and 70's – when popular culture seemed to turn away from God and toward cults – and describes Jonestown as the "perfect example [i]f people don't follow the true, unadulterated Word of God [and] don't have solid values."
Originally posted on October 20th, 2016.
Last modified on May 16th, 2020.