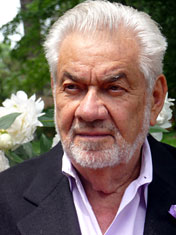 Mark Lane — Jonestown survivor, activist lawyer, and conspiratorial gadfly — died of a heart attack on May 10, 2016. He was 89.
Lane was directly relevant to Peoples Temple as he was one of the fortunate few who walked out of Guyana alive after the 1978 Flavor Aid finale. Earlier that year he'd worked himself into Jones' orbit — and was getting a monthly stipend of $6,000 — to represent The Temple against potential litigation against Uncle Sam. He'd even visited Jonestown a month before The Morbid Meltdown to give an ingratiating oration for the congregation that compared Jim Jones to Martin Luther King. Lane then swung a redux visit with Congressman Ryan and crew That Fatal Day. By his own account, he was the one who prevented Don "Ujara" Sly from slicing Ryan into a past-tense Representative, and later (again: his retrospective testimony) used his silver tongue to grease egress from The 'Town once The Vat with the C stencil got brought out for public consumption. Thanks to some quick thinking and shredded underwear — Lane claimed — he was able to escape the fatalities and make his way to safety. According to an FBI interview with him nine days later, Lane had already written his account of The Event in a 49-page manuscript, and "[w]hile many adjectives are used in the statement and while Lane pictures himself as 'a hero,' it is nonetheless apparent that in many instances he has accurately portrayed the events as they occurred."
That draft manuscript served as the outline for his autobiographical saga of Jonestown events, called The Strongest Poison.
Now, The Strongest Poison was hardly the only tome Lane ever penned, of course. Ten years previous he hit the NY Times best seller top-slot with his self-styled exposé on the Kennedy assassination: Rush To Judgment. Lane had actually given testimony to The Warren Commission, though in the final Report Uncle Sam chose to ignore his opinions in favor of what witnesses actually said. Obviously, this did not deter Mr. Lane. If one wants to be generous, feel free to concede that Rush To Judgment was his Just Asking Questions.
When not pondering JFK, Lane represented MLK assassin James Earl Ray during the 1978 House of Representatives Select Committee on Assassinations investigation hearings, as well as defending American Indian Movement survivors after the Wounded Knee shootout.
Love him or loathe him, one must at least acknowledge Lane had led an interesting life. In 1960 he was (successfully) elected to the New York state legislature; in 1968 he was (unsuccessfully) a candidate for Vice President on the Peace and Freedom Party's ballot. His ticket got about 50,000 votes.
There is photographic evidence of Lane rubbing elbows with the likes of Eleanor Roosevelt, Bertrand Russell, and — ironically — JFK. Per his autobiography, he once had an intimate dinner with W.E.B. DuBois. Lane also claimed that he had a cozy sit-down with

Paul McCartney. Sadly, the restaurant menu which The Walrus Himself supposedly/spontaneously autographed as "Paul McCartney, friend of Mark Lane" has yet to appear anywhere beyond Lane's memoir.
In Lane's later years, he formed his own publishing company (The Lane Group, LLC) where he seemingly regurgitated earlier works with updated copyrights but — unfortunately — substandard proofreading. His last work-in-progress seemed to be an "update" of suspicions concerning JFK's demise. It (as of this printing) is unpublished, so it is unclear how much "new" material is included. Rather mercifully, the Interwebz /Clogosphere remains (again as of this printing) bereft of conspiracy theories that Lane had finally come too close to The Truth™ and had to be silenced.
Lane's life was actually turned into a movie, Citizen Lane, a documentary directed by Pauley Perrette (most famous as "Abby" on NCIS) that mixes archival footage with contemporary interviews. Jonestown gets, ohhh, maybe one or two moments in it, and that's stock footage.
Whatever the case, there is one final Lane/Jonestown legacy that seems to be conspicuously missing from all his own biographies plus most other résumé profiles. Debatably during — and certainly after — J'Town, he and Temple defector Terri Buford had romantic relationship that resulted in the birth of a daughter, Vita… the paternity of whom Lane finally acknowledged a year before his death.
(Matthew Thomas Farrell is a regular contributor to this website. His other article in this edition of the jonestown report is Marked for Death: A (jumping over the) Cliffs Notes review. His earlier writings for this site are collected here. He can be contacted at saint@extremezone.com.)
Originally posted on January 22nd, 2017.
Last modified on June 27th, 2021.