I was a student at Capuchino High School in San Bruno, California, from 1957 until 1961. Two of my classmates were Robert H. ("Bobby") Houston and Phyllis Tuttle. Bobby and I became best friends, although I lost touch with him after graduation. I knew Phyllis only casually, and never really had anything other than incidental contact with her. As best I can recall, Bobby and Phyllis were simply friends in high school, and their attachment to each other occurred later, after graduation. Bobby went to Cal to become a music teacher and later went to San Francisco State. He and Phyllis married while he was a student at Cal and had two daughters, Patty and Judy, whom I never met.
Phyllis was a tall, quiet, rather introspective person, and did not project a very happy personality. I seem to recall she was in the Capuchino marching band, as were Bobby and I for the full four years.
Capuchino was a typical suburban California high school in the 1950's. The student body was very middle class, with few poor or wealthy students. It was predominantly Caucasian, with a few Asians and Latinos, and even fewer African American students. I believe that Phyllis came from one of those middle class families, which – in retrospect – were very conventional and rather boring. I perceived that Phyllis's relationship with her parents and siblings (if any) was all right, and I don't ever remember hearing any complaints from her about how she was treated.
In his book Raven, Tim Reiterman relates that Phyllis and Bobby eventually experienced marital difficulties, which led to their divorce. Phyllis apparently became very involved in Peoples Temple, and she strongly rejected her parents' attempt to talk to her about leaving. Since Phyllis had always been rather moody, this behavior came as no surprise to me.
After Bobby's death, his parents – the grandparents of Patty and Judy – also tried to intervene, to prevent Phyllis from sending the children to Jonestown. Since she was their mother and sole surviving parent, and had no inclination to take their advice, they had little recourse but to observe what happened.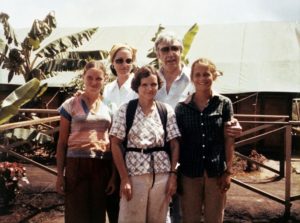 Phyllis' final trip to Jonestown came in November 1978, when she flew to Guyana a few days ahead of Congressman Leo Ryan's entourage. We know that Ryan's interest in the Temple began when Sam Houston – Phyllis' former father-in-law and a constituent of Ryan's – met with the congressman over his concern about his granddaughters. While there is no proof of this, it is almost certain that Phyllis was summoned to Jonestown to stand alongside her daughters when they spoke with Ryan and were interviewed by the NBC News crew.
Phyllis, Patty and Judy all died in Jonestown.
(Kenneth A. Odell is a retired attorney. His other two stories in this edition of the jonestown report are Memories of My Best Friend, Robert Houston, Jr. and The Death of Robert H. Houston, Jr. He may be reached at kodell1729@yahoo.com.)
Originally posted on October 24th, 2017.