The Black Hole of Guyana, by John Judge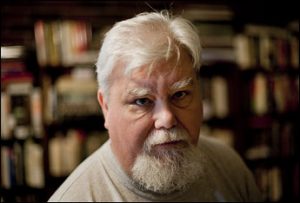 In 1985, John Judge, an author who was already well known for his alternative theories to the popular canon on such events as the assassinations of President John F. Kennedy and civil rights leader Martin Luther King, published a similar work about the history of the Peoples Temple movement and the Jonestown tragedy. Several such theories had already been explored – the deaths were the fallout of a CIA hit on the agency's bête noir, Leo Ryan; the deaths were the fallout of a CIA hit on their rogue agent, Jim Jones; the deaths resulted from a test of the neutron bomb – but The Black Hole of Guyana offered the deepest and most comprehensive analysis of several of these theories, as well as attempts to document links between the Jonestown tragedy and earlier seemingly-unrelated government plots.
The article eventually became the foundational source for other theories, as different authors presented minor tweaks or full-scale expansions upon Judge's work.
In 2018, Matthew Thomas Farrell wrote a comprehensive rebuttal to Judge's piece. Titled "Escaping the Event Horizon," Farrell catalogs the misinformation Judge used (writing in 1985), along with the misrepresentation of facts Judge made.
The Black Hole of Guyana, by John Judge (1985)
Original article
PDF
Text
Judge's 1985 work was in fact the second piece he had written about Jonestown. The Jonestown Banks, written in August 1982, offered "a review of the holdings known to the public in the Jonestown affair [that] may reveal to serious researchers what connections exist between the financial operations." As with his later, more ambitious piece, Judge saw links – and asked questions – that no one had articulated before. After describing recent banking scandals involving the Vatican, Italian financiers, and the same Panamanian banks that had once held Temple assets, judge concludes the piece by asking: "The unanswered question remains. Was the Jonestown empire built with the same dirty money that came from the Banco Ambrosiano, the Nugan-Hand Bank and other international conduits of cash for the men who trade in narcotics, espionage, human flesh and death?"
The Jonestown Banks, by John Judge (1982)
Original article
PDF
Text
Originally posted on February 25th, 2018.
Last modified on December 21st, 2018.