Why BlackJonestown.org?
by Sikivu Hutchinson
Over the past forty years since the 1978 Jonestown massacre occurred, there has been a wealth of information and analysis on the event. Scores of articles, books, documentaries, student research papers, films, and other treatments have been produced with the ostensible aim of explaining the "mystery" of Jonestown.
Though Peoples Temple was a predominantly black church, and the majority of those who died in Jonestown were African American women, the sociopolitical and historical issues that compelled black women to emigrate to Jonestown have not received widespread attention. In fact, only two books among the dozens of published book length works devoted to Jonestown on Goodreads were authored by black women, The Onliest One Alive: Surviving Jonestown, Guyana by Hyacinth Thrash, and Slavery of Faith by Leslie Wagner Wilson.
Dissatisfied by this erasure, Jonestown survivors Leslie Wagner Wilson, Yulanda Williams, and I decided to create the website Blackjonestown.org. Although by no means exhaustive, the site is designed to examine, reflect on, and memorialize the impact of Jonestown on African American people in general and African American women in particular. We'd like for it to serve as a platform for an evolving body of work on the black experience in Jonestown and Peoples Temple, in order to assert black agency within a narrative that has long been framed as deviant and pathological. In an era in which African Americans continue to struggle with religious idolatry against a backdrop of socioeconomic and political disenfranchisement, Jonestown illustrates the steep price black folks paid to pursue what they believed would be a path to liberation. Jonestown remains compelling to a cross-section of African Americans as both a cautionary tale and a symbol of black struggle, amidst the ashes of the civil rights and Black Power movements. Hence, Blackjonestown.org is an effort to both document and contextualize the contemporary relevance of Peoples Temple and Jonestown for the black diaspora in the 21st century.
Our inaugural event occurred on September 27, when we co-hosted an introductory panel event commemorating the 40th anniversary of the massacre in partnership with Rice University's Center for Engaged Research and Collaborative Learning, the African American Religious Studies Forum, and the School of Religion. The panel featured Wilson and Williams speaking on their experiences in Peoples Temple and the legacy of Jonestown. The panel also featured a screening of my short film White Nights, Black Paradise, which is based on my 2015 novel, chronicling the interlocking experiences, politics, and social histories of black women in Peoples Temple and Jonestown.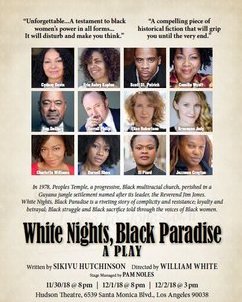 On November 30, the stage play adaptation of White Nights, Black Paradise – which I wrote about in my 2017 piece Memory Thieves for this publication – will debut at the Hudson Theatre in Los Angeles with a predominantly black female cast.
These are the first two of many events which will occur in the months to come. I encourage all readers of the jonestown report to follow and learn of our activities by visiting our site on a regular basis.
(Sikivu Hutchinson is a regular contributor to the jonestown report. Her complete writings for the site are here. She may be reached at shutch2396@aol.com.)
Originally posted on September 28th, 2018.
Last modified on December 30th, 2021.