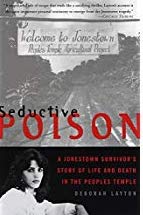 Deborah Layton joined Peoples Temple at age 18. As a trusted aide to Jim Jones, she became embroiled in the upper-level workings of the Peoples Temple. Four weeks after her escape from Guyana, Deborah's affidavit became front-page news across the country. Her memoir, Seductive Poison has been required reading at major universities. She can be reached through her website.
Looking Back (2018)

Chasing Serenity (2008)
Originally posted on October 15th, 2018.
Last modified on May 28th, 2020.