If I close my eyes, I can hear my mother wailing and screaming in her bedroom. I can still feel the goosebumps on my arm, and the tingling from the root of my hairs. The sound was so piercing, so painful and scary, it frightened me. I remember hiding under my bed because I couldn't think of safer place to be.
We had just settled down that evening after hearing the names of the deceased on the radio. I'm not sure why that was, although after thinking about it over the years I just assumed it was probably easier not to have that vision in their head. There were so many names being read, it felt like forever… but when my granny's name was called out, everything else fell silent. Nothing moved. It was such an out-of-body experience and emotional moment that I knew I'd never forget.
At first, there was still some hope we could cling to. My brothers and I huddled together, waiting to hear our sister's name, but it wasn't on the list. What did that mean? Maybe, just maybe, was she still alive, and we would get her back? Of course, the reason her name wasn't called was that her body hadn't been identified yet.
For the first time in my short existence, I knew life would never be the same. In hindsight, I realized how right I was, and the experience I went through was one that no ten-year-old child should ever have to go through. I grew up pretty fast after November 1978, and I have only my memories of those that I lost. There would no longer be the annual picnics or the water fights by the fire hydrant, or our pretend-to-be-a-celebrity nights when my brother was Sonny and I was Cher. Today we are far apart and broken.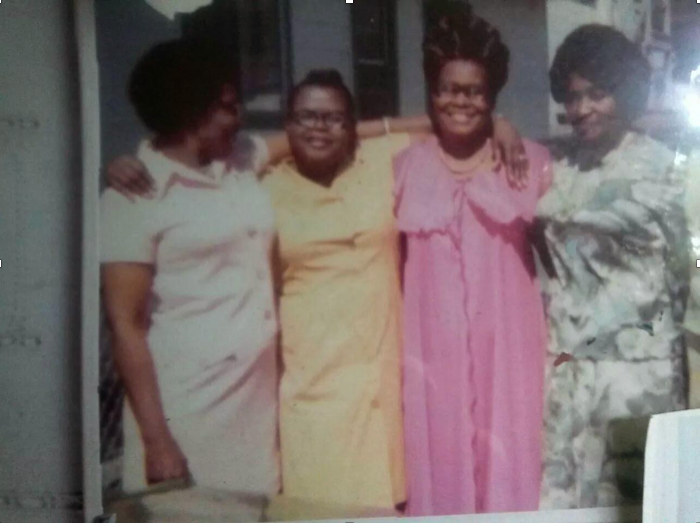 This photo the last time the sisters were all together at one time. It was also the last time I saw them like this. l was eight years old at the time, and on that day, we had all just returned from what my granny called girl shopping. That's my granny Mary on the left, the one not looking at the camera. She was already a member of Peoples Temple. She was the baby sister, and she loved her big sisters very much. They were – from left to right – Athaleen, Australia, and Louise. I cherish this photo, even as it symbolizes the loss we continued to feel many years to come.
Originally posted on September 18th, 2019.
Last modified on September 23rd, 2019.