(Editor's note: This article was originally on the Libertynet website.)
This Marriage is the Symbol, The Lives of FATHER and MOTHER DIVINE
and every True Follower are the Reality.
Accounts of Celebrations of the 19th Anniversary of the Marriage of FATHER and MOTHER DIVINE, tell the Sweetest Story ever told:
GOD is here and has Unified HIMSELF with All Mankind bringing Heaven and Earth together.
FATHER and MOTHER DIVINE Personally celebrate Their Marriage in 1946 on April 29 each year . It is one of the important religious holidays of the Peace Mission Movement and is celebrated internationally. Although people come from all over the world to feast materially and spiritually with FATHER and MOTHER on this Holy Day, Anniversary celebrations are held in every Peace Mission Church and and gathering internationally where the Presence of FATHER DIVINE is recognized as an actual reality. (Accounts of several of these celebrations are printed here, at FATHER DIVINE'S request, for the pleasure of our readers. The Editor.) 
CIRCLE MISSION CHURCH VANCOUVER, B.C., CANADA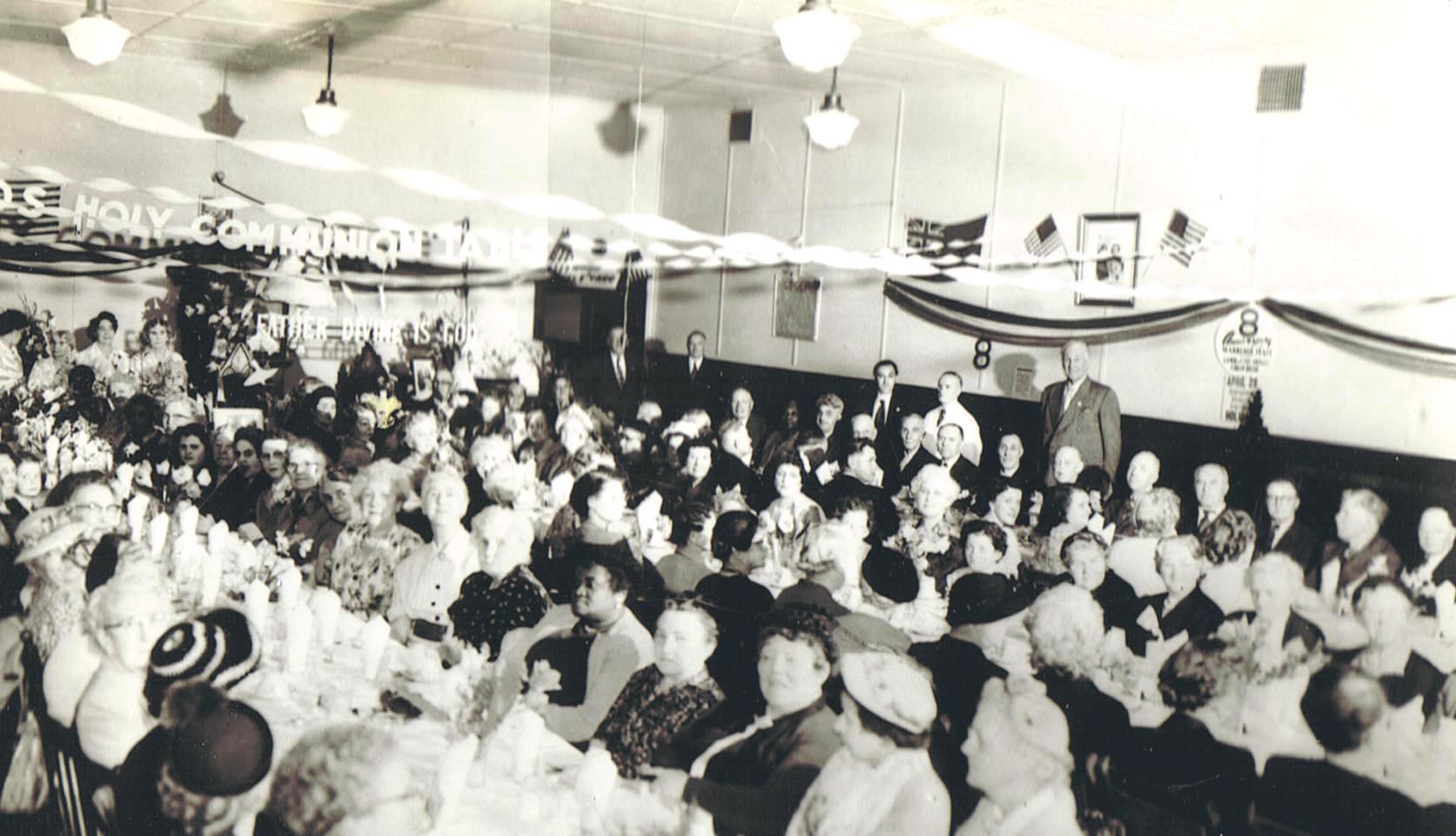 Followers in Vancouver, Canada
Peace FATHER MOTHER GOD:
Thank YOU for a lovely wonderful Anniversary Celebration of Your Marriage, the Lamb and the Bride, held in Vancouver, B.C., Canada on Thursday, April 29, and thank YOU for the privilege of writing to YOU.
The day was beautiful. The sun shone and the earth was given a little shake due to the earth-quake in and around Seattle, Washington. Everything was done in harmony, with the thought uppermost that Your Name must be praised.
The new Canadian flag was up in the banquet hall. The tables were nice with a strip of turquoise colored paper down the center of the tables, with both fresh and artificial flowers. The flowers on the head table were tulips, carnations and daffodils. The tulips were fresh from the little church garden. Tulips and daffodils were the fresh flowers down the tables. There was a rosebud boutonniere for YOU, FATHER, and a gardenia for MOTHER. Fancy serviettes were at each place for the guests. The place cards were cards with FATHER'S and MOTHER'S picture on the cover and FATHER'S words inscribed inside.
*****************
Behold the Lamb of GOD, the Marriage of the Lamb.
Excerpts from an Office Talk given by FATHER DIVINE, May 10, 1946, Time 6:40 P.M.
'For this cause shall a man leave his father and mother, and shall be joined unto his wife, and they two shall be one flesh.'
'This is a great mystery: but I speak concerning CHRIST and the CHURCH.' Ephesians 5: 31-32
'You see, it is the whole thing. It is the whole thing right here. They were not supposed to know it because it has been enough brutality and savagery expressed in and through matrimony, therefore, they could not know it definitely because they were living in mortality and selfishness. But oh, how glorious it is to be living in the fulfillment of it which was predicted:
'Behold the Lamb of GOD (John declared) which taketh away the sins of the world!' FATHER DIVINE
******************
The Marriage of the Lamb 

Pearls of wisdom from an Office Talk given by FATHER DIVINE, Friday, May 10, 1946 A.D.F.D. Time 6:40 P.M.
'After going through many different trials and tribulations, persecutions, as being called prosecutions, after His Crucifixion and thence the Resurrection and the Ascension, the disappearing of the CHRIST from among the children of men, He declared: Behold, I come quickly and My reward is with Me to reward every man according as his works may be.'
'One said: Come up hither, and I will show you the mystery.' It is wonderful! The Bride, the Lamb's Wife' One said about the great Marriage Supper of the Lamb!
Therefore, the Brides are married to the Lamb! It was plural but considered singular; the Brides, the Lamb's Wife! The mystery was revealed. Therefore, CHRIST is truly married to the Church. And it could not have been until now when it is actually fulfilled. The symbol of the reality has been established, depicting the Perfect Picture. Now isn't it beautiful?'
**********
I want the whole world to love YOU just as I do. – MOTHER DIVINE.
Excerpts from Office Talk given by FATHER DIVINE,
May 10, 1946 A.D.F.D. Time 6:40 P.M.
Subject: The Marriage of the Lamb.
(FATHER says:)
'The Spirit automatically called the Bride I did not personally premeditate it as a person, My Spirit automatically, and to ME without premeditation and without pre consideration, went out and brought it. Here It Is! (FATHER refers to Mrs. Divine.) This day it is fulfilled; the beauty of it, it is unselfish! MOTHER had that thought conceived and delivered through HER. I want the whole world to love YOU just as I do!' It was universalized, transmitted and reincarnated. It returned back, and again I hear My Spirit say it without premeditation. Then I could not deny that of which was predestined to be. It is wonderful, wonderful, wonderful, wonderful! Therefore, here SHE is, having come from a far country!"
********
Circle Mission Church, Vancouver, Canada.
Visiting guests were present from Victoria and Comox, B.C. The atmosphere was lovely and some of the children expressed how beautiful it was on this wonderful occasion, giving praise and love to our most High and Holy GOD and His Spotless Virgin Bride, FATHER DIVINE and MOTHER DIVINE.
The three-tiered wedding cake, decorated with pink roses and silver leaves, placed on the head table, was inscribed with these words: 'Peace and Love, FATHER and MOTHER.'
A variety of meats, vegetables, breads and rolls, pickles, desserts, tea, coffee and hot water was served. All dined sumptuously.
Thank YOU, FATHER and MOTHER Dear, for the wonderful privilege of sharing this Wedding Feast as it is celebrated universally! Peace and Love, FATHER and MOTHER Dear!
Circle Mission Church, Vancouver, Canada
*********
CIRCLE MISSION CHURCH PANAMA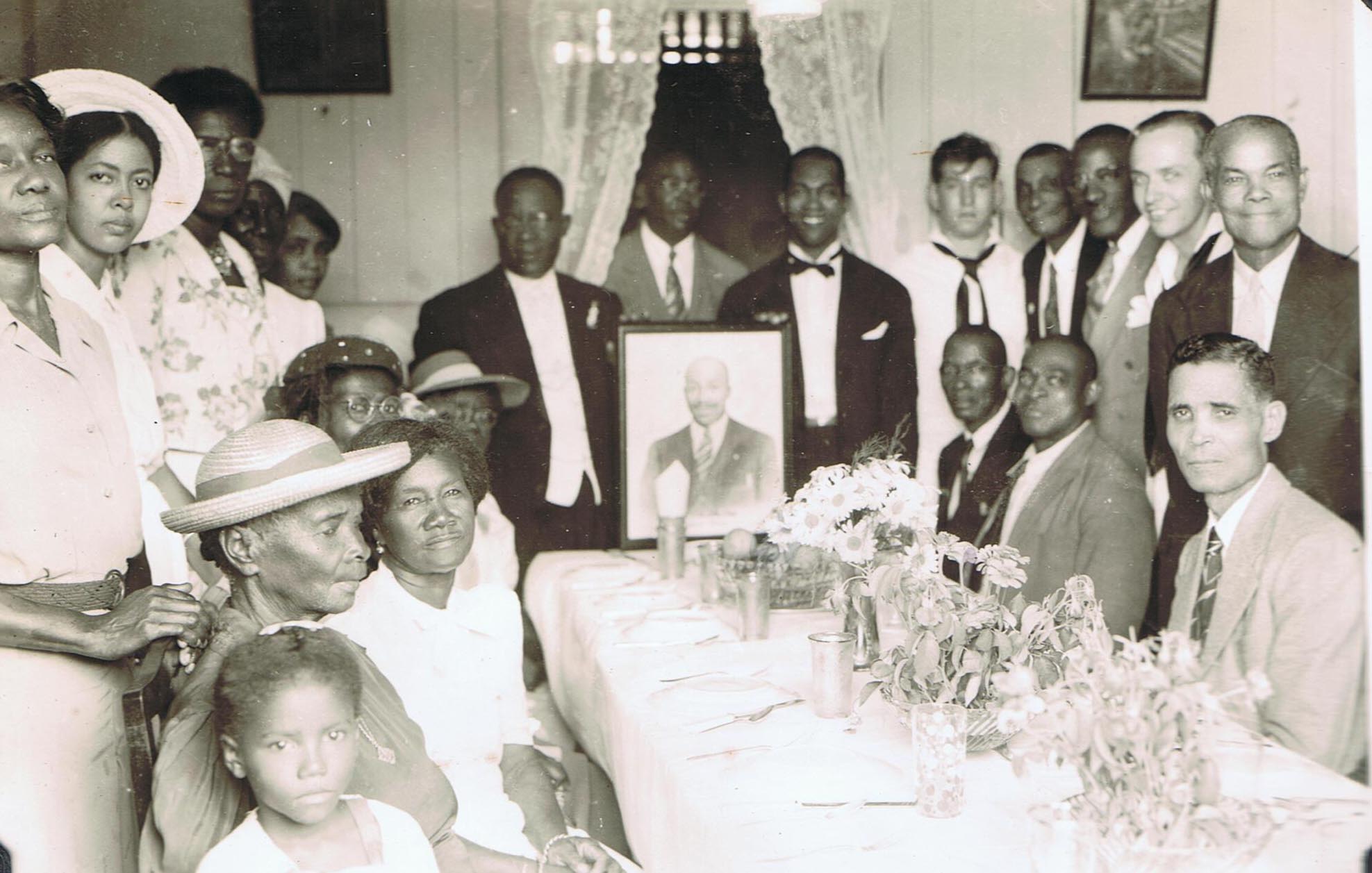 Followers in Panama.
Peace FATHER! Peace MOTHER!
'It was a glorious day, CHRIST married to His Church!'
YOU gave us a bright sunny day on the celebration of the 19th Anniversary of Your Holy Marriage. Followers and visitors from Colon, also of Panama City, united in this glorious celebration. The 19th chapter of Revelation, verses 1-16, was read for consideration.
Your Holy Spirit was glorious among us. Praises and Thanksgiving rolled from Your fountain of Love. Music, sweet strings of love, dancing, joy, happiness and material blessings as well, were in abundance.
Visitors sitting at Your Holy Communion Table were drawn into this mighty holy Love of FATHER and MOTHER DIVINE, with their eyes sparkling and clapping their hands as Your Divine Spirit caressed each one. It was wonderful, wonderful! One of the neighbors told that as she looked up on the number 19 hanging over YOUR and MOTHER'S chairs, she felt a glowing and a pulling within her. Oh it is wonderful! the atmosphere was so sweet that it could never be explained, only felt, as all are welcome to come and taste this Holy Love.
A visitor testified of being not able for years to see anything, but while sitting and looking up at the light over Your Holy Communion Table he was blessed to see the word 'Table', then, 'God's Holy Communion Table'! He said he was told of Your marvelous Work for humanity and did not believe, but on entering, he could feel Your Holy Spirit; that made him realize he was in a place different from anywhere else he had ever been. 'Having this wonderful opportunity', he said,
'I must arise and give thanks to Your Holy Name!'
At this the vibration arose beyond our control, as all joined in singing, 'Healer, Healer Divine!'
This Marriage so Holy and sweeter each year, we give YOU thanks for Your beautiful Body, FATHER Dear!
The white-iced square fruit cake, decorated with silver beads, had four white bows of satin ribbon at each corner of the square and represented this Life of Purity, Righteousness, Virtue and Truth that Your sacred Marriage is establishing to the four corners of the world, for it reaches north, south, east and west. On top of this square cake is a small round cake, with three white swans with a cluster of white icing buds. With evergreen ferns, the decorative wreaths and rosettes all around the cake symbolize the jewels of Righteousness, as Your Holy Love surrounds the world and brings these precious jewels for Your crown. At the corners of the bottom of the square cake, clusters of evergreen ferns and white buds stand majestically, as this Truth stands firm eternally.
On Sunday, the second of May, FATHER Dear, YOU blessed us to continue our celebration. At that time there was another fruit cake in the form of a white swan with outstretched wings; it was attached to the square cake with a white silk cord, all ready for the Master's use. Oh it is so sweet for us all to allow Your Righteous Governmental laws to take form in us. Use these wings in our consciousness to flee from the world and all of mortality's versions, that we may be fit angels to sing praises to our King and Queen!
The American beauty red ribbon that is strung across the head of Your Communion Table and along the center of Your Church depicts the thought; may we take our sacred vows again to live this Holy Life to the letter, and as we go from place to place we will display Americanism, which is true Democracy!
Thank YOU FATHER Dear to say that a table was also set outside where breakfast was served as everyone desired to partake as they arrived, and there were refreshments at everyone's disposal. Banquet was also served there for children, also to anyone that could not wait for another setting. We are thanking YOU to say there was the abundance of the same things for all. Our menu was as follows:
Ice water, rice and peas, carrots, mustard greens, succotash, baked spaghetti, fricassee chicken, sliced pot roast, gravy, rolls, butter, potato salad garnished with sliced tomatoes and sweet green pepper rings, green olives assorted pickles mustard ketchup hot pepper sauce strawberry Kool Aid with pineapple juice fruit cake cherry ice cream assorted candies.
Praise GOD from Whom all blessings flow! Thank YOU, FATHER and MOTHER Dear!
Respectfully submitted,
Circle Mission Church, Panama
*********
CIRCLE MISSION CHURCH ZURICH, SWITZERLAND
Circle Mission Church Switzerland.
Peace Sweet FATHER Dear! Peace Sweet MOTHER Dear!
We thank YOU, FATHER and MOTHER Dear from the bottom of our hearts for our beautiful Holy Anniversary Celebration at Zurich. YOU, FATHER and MOTHER Dear, were with us; we could feel Your Holy Spirit. We thank YOU, our beautiful Holy Parents! Wonderful, so wonderful our sweet Holy GOD!
The room was beautifully decorated with flowers and rose-colored tulle. A great heart was on the table in front of Your places. It was made of red roses and lily of the valley. Bowls with roses were on the table too, and other tables were decorated with rose tulle and red and yellow pinks. These flowers were a symbol of the Rosebuds, Lily-Buds and Crusaders. From the heart were coming out five bands on which were written: Love, Virginity, Virtue, Holiness and Love. One of the bands, 'Love', came out of the heart which symbolized Your Heart, FATHER Dear the Love which comes out of Your Heart and flows to the whole universe. The other band, 'Love', brings back our love to YOU, FATHER and MOTHER Dear!
We thank YOU, FATHER and MOTHER Dear for our wonderful place cards, a red heart with FATHER'S and MOTHER'S picture on the hidden treasure chest. Behind Your places it was full of flowers and blooming bushes.
The children came from all over Switzerland more than a hundred all together. One sister came from Eldagsen, Germany, Mrs. Lina Tegtmayer. We started the Holy Anniversary Celebration a 10 o'clock A.M. In the morning three sisters demonstrated an inspiration with the motto:
'Everything is blooming for the Holy Anniversary, everything is blooming for FATHER and MOTHER Dear.'
They wore rose, yellow and blue dresses with tulle and flowers.
We could hear Messages from our sweet FATHER, and remarks from our sweet MOTHER Dear. We all were so happy and glad in harmony of the Spirit of our Holy Parents. Wonderful, so wonderful! Hallelujah, praise Your Name and our Virgin MOTHER Dear!
In the afternoon some children demonstrated the hidden treasure chest we made a great hidden treasure chest, with a great heart and a picture of our Holy FATHER and MOTHER Dear, and with a key, all the same as the place cards were. A Rosebud opened the treasure chest with the key. In the chest were New Days, place cards, the holy Bible and 'gems' with excerpts from our FATHER and MOTHER Dear. Every child got one gem from the treasure chest. The Rosebuds made the gems.
We thank YOU, FATHER Dear, for all the inspirations and for Your blessings, and we thank YOU, FATHER and MOTHER Dear, we could see Your film our beautiful sweet FATHER with Your smiling face and our beautiful sweet MOTHER and all the children and churches there.
FATHER Darling and MOTHER Darling we thank YOU for the beautiful, so beautiful day. We thank YOU, we thank YOU. GOD is here! HE is here on the earth, hallelujah! We thank FATHER Dear for our beautiful sweet MOTHER. We love YOU, we love YOU! All the glory goes to our Holy Parents. Hallelujah, praise GOD forever! HE is present with us. Thank YOU LORD, thank YOU holy sweet MOTHER!
Circle Mission Church, Zurich, Switzerland
*************
CIRCLE MISSION CHURCH AUSTRALIA, PEACE ELWOOD, VICTORIA, AUSTRALIA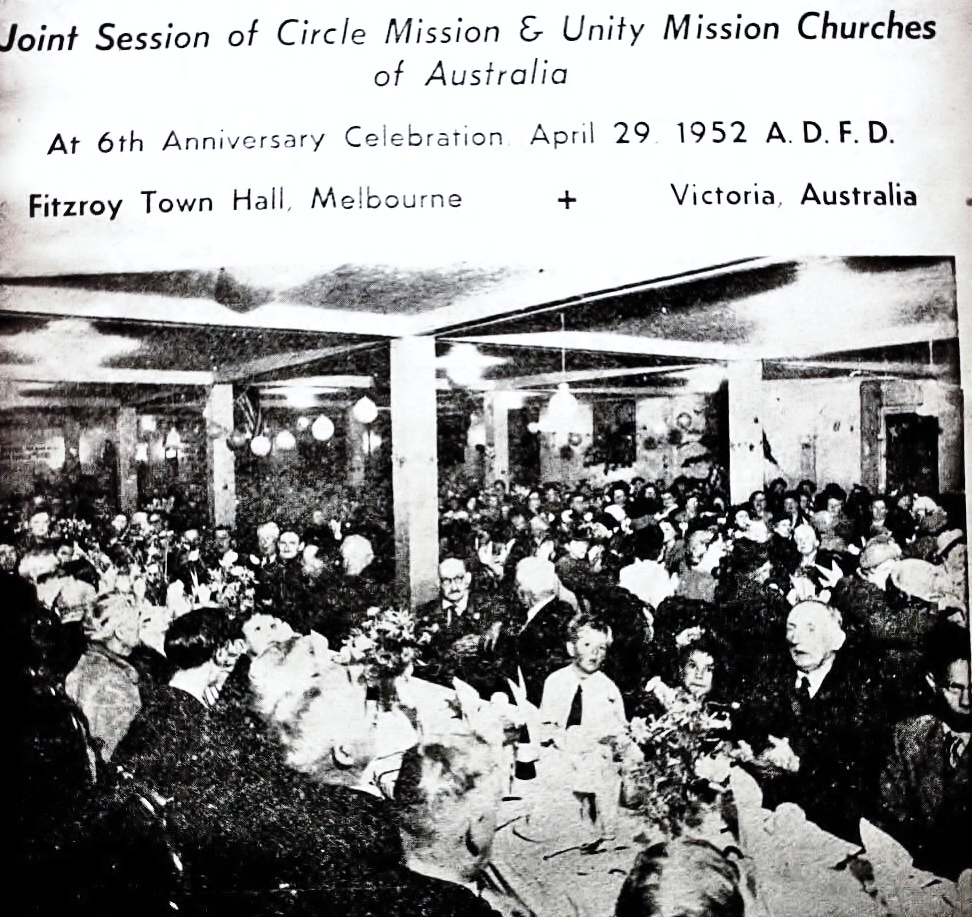 Peace FATHER Dear, Peace MOTHER Dear, Peace to all!
It's a privilege being here tonight at Peace Elwood, where we are celebrating the 19th Anniversary of Your sacred holy spiritual Marriage. Thank YOU FATHER and MOTHER for Your Presence with us. We thank YOU, Dear, we read Revelations 19, verses 5-9.
To commence to give a description of the beauty of the setting here tonight is not an easy task, but as we know all the glory goes to GOD, FATHER and MOTHER DIVINE, we feel Your infinite wonderful Love in it all.
The first motto is cleanliness, and how everything is just sparkling and spick and span. We may say, faces are sparkling too, FATHER.
We have the beautiful favors from Woodmont at each setting and love the way YOU have us in Your heart. It is wonderful!
Two large pictures, one of YOU and one of MOTHER, with a banner of 'Peace, it is wonderful!' above, attract our attention as we enter the foyer. The decorations on the beautifully carved mantelpieces, and curtains, are a joy in pastel tulle hearts, happy blue birds and butterflies. So sweet. The white wedding bells of purity blend in with the glowing chandeliers of rainbow-colored paper suspended from the chains of colored lights, interspersed with pink, blue and gold boomerangs. Lapel favors of tiny boomerangs in these colors are attached to the pastel-colored serviettes. On the back of these boomerangs is printed, 'Love Eternally', and the inspiration YOU have given, of these boomerangs, is: 'Love that comes from you to ME and back to you again!'
Also:
'Give to the world the best you have and the best will come back to you.'
The inspiration of the rainbow's colors reminds us of Your words:
'Let the nations take heed, for the complexion of people is created by GOD, like My Spirit and My Mind made the variegated colors of the rainbow; but race hatred is the evil they created. Let them rid themselves of that wickedness and the earth shall be at Peace!' Rev. M. J. Divine
The lovely flowers of pastel shades, so artistically arranged, bring us Your creation of beauty and life, and the baskets of sweets in unison with the rainbow colors so unique and beautiful, are set along all the tables.
The unfoldment of the three horses representing Righteousness, Justice and Truth (Revelations, chapter six) as depicted by the three horses, red, white and black, recently entering the grounds of Woodmont, is beautifully displayed in the center of the foyer with three chinaware horses, one red, one white and one black, on a green pasture, surrounded by pictures and mottoes of Your holy words.
We now pass to the wedding cake Yours, FATHER and MOTHER Dear and truly Your handiwork. A delicious cake is beautifully iced with the rose of Sharon in the center. On top, supported by four pillars, is a miniature Woodmont artistically designed with sugar icing, and has two tiny figures on the sun deck, representing YOU and MOTHER. Words just fail here to express the artistic beauty. Thank YOU FATHER and MOTHER for all Your talents. Yes, FATHER, the talent of cooking is in Your consideration too, we know, as the delicious meats, vegetables, salads, sweets, ice cream, and so forth, being so graciously served to us from YOU through Your waitresses and waiters, are here in abundance.
Thank YOU also for the tape recorder, and the pianist and other instrument players who support such lovely music for our praises and love songs to YOU. Thank YOU for all the blessings and for bringing us together in harmonious co-operation.
Telegrams of congratulation were received and read, from Your followers in Queensland, Western Australia, and local areas around Victoria, as well as from New Zealand. For the blessed privilege of celebrating together on this sacred occasion, we thank YOU, thank YOU, thank YOU, FATHER and MOTHER Dear!
Circle Mission Church, Australia
********************
CIRCLE MISSION CHURCH SEATTLE, WASHINGTON
MOTHER and FATHER DIVINE
Peace FATHER Dear and Peace MOTHER Dear:
We truly thank YOU, FATHER, MOTHER Dear, for the wonderful day Your Anniversary provided for us. It was glorious, FATHER, in every way.
That morning at 8:30 there was a severe earthquake, doing much damage and causing seven deaths, but FATHER Dear, not one thing or person was harmed at the church or in our immediate neighborhood. Isn't that wonderful, FATHER Dear, and we do praise YOU and thank YOU for Your protection! Truly, 'there is no hiding place' during such distress. YOU are our only protection and care. The sisters at the church did not seem unduly frightened. Each said that they immediately said, 'Thank YOU FATHER and MOTHER.' I am so glad, FATHER, and thank YOU that we will always have Your Name uppermost in our Consciousness. Thank YOU again, FATHER, MOTHER, GOD. It is all so wonderful!
Well, after that we turned again, immediately, to the preparation of the anniversary banquet. Promptly at 2 o'clock the table was full and many waiting for the next serving. Everybody happy and aware of Your Love to us and eager and ready to give praise and thanks.
This was our menu:
Rice, potatoes, asparagus, carrots, peas, corn pudding; turkey, with dressing and giblet gravy, roast beef (medium rare) fried chicken; tossed green salad, molded salad (very pretty), sliced tomatoes and cucumbers; pickles, celery, radishes, olives (green and ripe); jam, cranberries, jelly; hot rolls, butter, tea, coffee, fruit juice, cake, cookies, anniversary cake, ice cream, salted nuts, mint candy.
The table was pretty decorated with spring flowers and the lovely place cards sent by the Rosebud Studio.
Followers came from Everett and Tacoma to join with us. The Bible Class gave excerpts from The New Day and Bible on the Marriage what it means and why we are all so happy to celebrate it. Many lovely testimonies were given at both tables then continued praises in the auditorium in the evening.
At closing time we gathered again around the holy communion banquet table and enjoyed ice cream, anniversary cake, tea, coffee, candy and salted nuts. At this time we played a portion of the new recording of songs that we sent. How we did enjoy them. Many talked again, and amid much joy we closed this happy day.
There was an abundance of flowers everywhere, both for Easter and the Anniversary. Small motif and Anniversary greetings on each door upstairs, with small vases of flowers in the rooms to welcome and greet the guests. The wedding bells, figure 19 and motif completed the decorations downstairs.
With much love to YOU both we praise YOU and thank YOU from all of us.
Circle Mission Church, Seattle, Washington
**********
NAZARETH MISSION CHURCH, HOME AND TRAINING SCHOOL OF AUSTRALIA, DRUMMOYNE, N. S.W., AUSTRALIA
Peace FATHER and MOTHER Darling,
All Glory to YOU, the Lamb and the Bride!
Praise and bless Your holy name for Your actual Presence with us at the 19th Anniversary celebration of Your holy Marriage. The wonderful thoughts YOU gave us over the recording machine penetrated our hearts with deeper meaning than ever before, and filled us with love unspeakable, as we realized the Purity and Virtue that will, and now is, redeeming the whole world. Your Virtue magnified! It is wonderful and our glorious privilege to know the source of all this Virtue is Your Holy Body, pure and undefiled, yet given freely to all who will L-E-T it be. GOD, we adore, bless and praise YOU for all Your goodness here and everywhere.
The Church was decorated with large and small bells, made by Your inspiration and talent, reminding us that YOU had said YOU would use all talents. The holy communion table was a lovely picture with the glittering silver and lovely flowers, everything bespeaking love and devotion to our GOD. At each setting was placed an international Peace card, to the joy of all.
On the lower tier of Your wedding cake was a bible and the words, 'Righteousness, Justice and Truth.' Over the second tier was an arch of orange blossoms with a bell suspended from the center. On top of the cake (beneath the arch) were the words, 'FATHER and MOTHER', and a lovely open shell holding a wedding ring with a tiny dove looking in at the ring, symbolizing the legality of Your Marriage. FATHER Darling, please accept this also as our desire to be like MOTHER to love, serve and obey YOU and to live in Your Mind and Spirit eternally.
FATHER Dear, YOU surely served a delicious Wedding Banquet with the abundance of all good things.
We had many visitors, some for the first time, and all were happily satisfied and enjoyed the high vibrations, and got a glimpse of what the consciousness of GOD'S actual Presence means. One visitor, (a bio-chemist) asked for some New Days to distribute amongst people she met who had many problems New Days were given out freely.
We enjoyed having Rosebud Greta Tyson from Melbourne with us.
For all the Love and Unity that continued all day, FATHER MOTHER GOD, we sincerely praise and thank YOU. Help us all to love and appreciate YOU more, FATHER, for YOU alone have given us all the blessings we enjoy. The consciousness of Your Presence is Peace and Joy to our souls.
Thank YOU, thank YOU, FATHER MOTHER Dear!
Reverently submitted, Nazareth Mission Church, Australia
*************
NAZARETH MISSION CHURCH VIENNA, AUSTRIA
Peace FATHER Dear, Peace MOTHER Dear,
and Peace to the whole world at large!
Alleluia to the Lamb and His Spotless Virgin Bride!
'And the Spirit and the bride say, Come. And let him that heareth say, Come. And let him that is athirst come. And whosoever will, let him take the water of life freely.' Rev. 22:17
Beloved holy sweet FATHER: Almighty GOD! The GOD of all nations!
Beloved holy sweet MOTHER: Queen of the universe and Queen of the Rosebuds! In deep humility and adoration kindly allow us to transmit to our holy Parents the heartiest congratulations, Your loving children from Vienna. Blessings and blessings to the great work of the mission of CHRIST here on earth, Alleluia!
'O LORD our Lord, how excellent is thy name in all the earth! Who hast set thy glory above the heavens.' Psalm 8:1
'I will love thee, O LORD, my strength. The Lord is my rock, and my fortress, and my deliverer; my God, my strength, in whom I will trust; my buckler, and the horn of my salvation, and my high tower.
'I will call upon the LORD, who is worthy to be praised: so shall I be saved from mine enemies.' Psalm 18:1-3
Thank YOU Almighty GOD, FATHER DIVINE!
We thank YOU again for the wonderful 19th Anniversary Day of Your holy Marriage, 'CHRIST with His Church', about which please let us be allowed to give YOU a little report:
The feast was announced, beloved FATHER, for Sunday, 2nd of May, 1965 A.D.F.D., 10 o'clock in the morning. Thank YOU, oh LORD and GOD for the sudden, beautiful and warm weather. Supernatural! Wonderful! All in blossoms, splendid, while the month of April was spoiled by rain and icy cold. It is wonderful! 'I know YOU are GOD!' Our prayer reached Your holy Spirit! The atmosphere was changed!
The bells were ringing from the church towers very solemnly and continually.
'Blessed be GOD, which hath not turned away my prayer, nor his mercy from me.' Psalm 66:20
Beloved FATHER, Your Nazareth Mission Church was, as always, decorated festively, and seven red roses which were standing under MOTHER'S picture left a wonderful scent and opened during the day time, as if it were GOD'S laughing. It was marvelous to look at. Many other beautiful flowers decorated Your's as well as MOTHER'S sweet picture, and Your holy communion table was princely laid, to the joy of all dear ones present. The atmosphere was holy.
The service began with wonderful praise songs, and the vibrations went higher and higher. Afterwards there was read Rev., chapter 19, verses 1-9 from the holy Bible, for the explanation of the holy feast. Furthermore, a Message was read in German, translated from The New Day of May 25th, 1946 A.D.F.D.: 'CHRIST and the Church wonderful to be married with CHRIST.' We also heard a wonderful speech of sweet MOTHER, of Feb. 11th, 1959 A.D.F.D., in which SHE thanks with all HER heart that the Comforter has come. Such exalted words of spirit and life. Wonderful! Wonderful! We thank YOU, beloved MOTHER DIVINE!
The praises were continued till it was noon, when we took our blessed meal. Beloved FATHER, Almighty GOD, again we wish to thank YOU for the abundance of all good things. YOU are indeed the source of all supply. Alleluia! Amen! While the holy meal was taken we heard a beautiful reel of the 7th Anniversary of Your holy Marriage, in which YOU, our beloved FATHER, preached soul-stirring words of spirit and of life.
'For the word of God is quick and powerful, and sharper than any two-edged sword, piercing even to the dividing asunder of soul and spirit, and of the joints and marrow, and is a discerner of the thoughts and intents of the heart.' Hebrews 4:12
Beloved FATHER, after your most esteemed Sermon came sweet MOTHER, received with great jubilation and enthusiasm, and HER speech was charmingly beautiful and devotional toward HER Creator, His Majesty, GOD FATHER DIVINE! This was the culmination of the reel, and when at last the conviction was sung, 'I know YOU Are GOD', the LORD Himself descended from heaven with the sound of an archangel and expressed powerfully.
FATHER MOTHER GOD, for that we all thank YOU from the depths of our hearts for we felt Your holy Presence with us, at which all persons present were touched deeply. Thank YOU our LORD and our GOD for this Grace! Alleluia! Alleluia! It is wonderful, wonderful, wonderful, wonderful! Praised and lauded be in eternity the Almighty Name DIVINE! Amen!
In love and devotion and adoration always, Nazareth Mission Church, Vienna, Austria
*********
UNITY MISSION CHURCH GOEPPINGEN, GERMANY
Peace FATHER Dear, Peace MOTHER Dear, Peace, Everyone:
This is the day the LORD our GOD, FATHER DIVINE has made for us all. Let us rejoice and be glad. Our GOD FATHER DIVINE has fulfilled His Mission on earth, for HE has made the sacrifices for us all, that we may live in security, with joy, peace, happiness and victory forever.
We thank FATHER and MOTHER for Your great Love and mercy to all Your children. We thank YOU that YOU have married Your creation, and everyone of us who has the same holy conviction as our beloved MOTHER, 'I know YOU are GOD', is married to YOU Dear. Oh how wonderful it is to give up all selfish tendencies and live in that pure and virtuous conviction YOU brought down to us.
We thank YOU for Your holy condescension, coming in a perfect and immaculate, holy Body down to the earth plane to teach and to reveal to us the mysteries of heaven. We thank YOU for Your appearing in the flesh to lift us up where YOU always have been, before the foundation of the world was laid. Glory Hallelujah!
We love and appreciate Your holy Presence in the Body. This only, gave us the privilege of privileges to participate and celebrate with YOU and MOTHER the holy 19th Anniversary, the Marriage of the holy Lamb and the Bride, FATHER and MOTHER DIVINE, in all Your Churches around the globe and even in Your little Church in Germany.
We started the feast at 10:15 A.M. with the song:
'We thank YOU sweet FATHER for Your Love and care,
We thank YOU sweet FATHER, we know YOU are here.'
After that song, a sister read the 19th chapter of Revelation. We thank YOU FATHER Dear, for it is revealed now what the Bible says, for YOU have fulfilled it for us.
Then a wonderful speech on the tape recorder was given and everybody listened attentive. It was a speech by MOTHER DIVINE concerning HER conviction to the Marriage with the Lamb, GOD FATHER DIVINE. The remarks are dated April 28, 1959 and titled: 'FATHER DIVINE'S Presence at all banquets.' To the edification of all, the remarks were read in the German language. Loud applause came from all the children and the atmosphere was going upward more and more.
After a few songs and testimonies we heard another recording where FATHER Personally was speaking His profound words of Spirit and Life. The title of this Message was: 'Here I stand married to the universe.!' dated March 17, 1953 A.D.F.D. These lovely and soul stirring words were read in German too and deeply appreciated.
Now the spirit of thanksgiving came through and some children arose on their feet to give thanks and praises to FATHER and MOTHER for everything HE has done for all.
The holy communion table, as well as the church-room, was as usual beautifully decorated. Candlesticks made of silver and little dishes filled with candies graced the table between pink carnations and red roses. On each setting the 'Treasure' place card was put, which we thankfully received from Philly. Everybody was invited to take them home. We thank YOU FATHER and MOTHER, YOU are indeed the best Treasure for us all.
The banquet service was at noon and FATHER blessed us with a very sumptuous meal, cooked with love and praises and the abundance of the fullness. Just as FATHER has often said, 'One serves the other,' the dishes and plates were passed harmoniously and everything was going on quick without the slightest discord. The recording played songs from the children all over the world. Indeed it was a beautiful atmosphere here and a picture of godly peace and harmony was expressed by all.
A recording was taken for FATHER and MOTHER and others during the feast. The first part was taken on Easter Sunday when we were together with the children from Basel and others from Switzerland to sing and praise Your holy Name. The second part was taken during the Anniversary.
We thank FATHER and MOTHER, some testimonies were given concerning miraculous healings and confirmed Your actual Ever presence here, there and everywhere. We thank YOU FATHER and MOTHER that YOU brought us out of this world into that state of consciousness where troubles and every undesirable condition can't reach us anymore, because Your Ever presence is the fiery wall which protects us in our lives from all hurt and danger. We thank YOU FATHER! We love YOU and adore YOU!
At 5:00 P.M. coffee and tea with tarts and several different fruitcakes were served. Then, a Message, titled: 'Your faith must reach the height of perfection,' given on May 4, 1936, was read. We thank YOU FATHER, for YOU are not only our teacher but the keeper of this perfect standard of faith, too.
The time was well expired when the children, coming from Augsburg, had to leave for home.
We have so much to thank YOU, FATHER and MOTHER for, and we appreciate Your great Love YOU poured out on us all on this holy 19th Anniversary of April 29, 1965 A.D.F.D. Bless Your heart! We love YOU we do!
Sincerely submitted, Unity Mission Church, Goeppingen, Germany
************
LONDON, ENGLAND
Peace FATHER Dear, Peace MOTHER Dear,
Peace to the Angels, Peace to the Universe!
Congratulations and millions of blessings to YOU, our FATHER and MOTHER GOD, for a wonderful 19th wedding anniversary banquet. We thank YOU for every good thing and the beautiful foods YOU gave to all of us, sweet FATHER and GOD of all. We love YOU, YOU are so kind and true.
We thank YOU for the New Covenant YOU gave us that means so much to each and every one of us. Yes, dear LORD, we thank YOU for the unity of Your Spirit, Mind, Aim and Purpose, in fulfilling Your sweet holy words in the 31st chapter of Jeremiah in verses 31-34. And FATHER MOTHER, speaking for all, Dear, I say that we are not looking for another. We know that YOU are the One and the only One; praise and honor and glory to YOU and our holy MOTHER'S immaculate name.
Thank YOU for Your Love so dear to everyone of us since the day YOU gave us Your Light that lighteth up all our dark paths. Thank YOU to know it was YOU from the beginning and that there was nothing without YOU. Hallelujah! Thank YOU FATHER for Your never-ending Love. Thank YOU to say that YOU have proven the only FATHER and MOTHER, and that is why YOU did say YOU send the rain on the just and on the unjust. Thank YOU FATHER Darling.
We thank YOU for Your Spotless Virgin Rosebud Bride which depicts the Marriage of CHRIST to His Church and the unification of GOD to His creation. Thank YOU FATHER Darling and MOTHER Dear. We are truly grateful for Your holy Marriage to Your Spotless Virgin Rosebud Bride CHRIST married to His Church the unification of GOD to His creation. We are glad, LORD. It is so true when we see YOU as YOU are we cannot keep away from Your and our Darling holy MOTHER'S Presence. We are so much in love with YOU Dear.
We did serve the holy communion in London and had a beautiful banquet. All were served generously. We played one of Your recordings and Your sweet, sweet, loving and wonderful, wonderful voice was heard speaking to all of us. FATHER we are so happy and as usual did feel Your mighty holy Spirit, Dear. Thank YOU for Your beautiful holy Body, LORD. We thank YOU, FATHER and MOTHER. Peace FATHER, thank YOU for Your holy immaculate Love for all of us. Peace.
London, England
**************
KINGSTON, JAMAICA
Peace to our Darling FATHER and MOTHER!
FATHER Darling, thank YOU for giving us the great privilege of writing YOU these few lines. FATHER Dear, YOU have blessed us to celebrate Your wedding anniversary on Sunday, May the 9th, and we had a wonderful time. We sang some wonderful choruses, then read the Bible lesson from 1st John, 4 and Isaiah 12. We read Your Sermon entitled: 'There is not any power to prohibit the advancement of Righteousness, for if it goes down apparently in defeat, it will rise again victoriously!' taken from The New Day of February 13, 1965 A.D.F.D., page one.
FATHER Dear, we had a wonderful time. The people accepted of the place cards and table favors and everyone had a-full and a-plenty to eat and drink.
FATHER Dear, I thank YOU for how YOU are blessing the children in Jamaica that accept YOU as GOD. FATHER Dear, please continue to ever bless us because we have no one but YOU and MOTHER.
All the children join in sending love for YOU and our Darling MOTHER, FATHER Dear. We thank YOU FATHER and MOTHER Dear. Peace!
Kingston, Jamaica
************
BRITISH GUIANA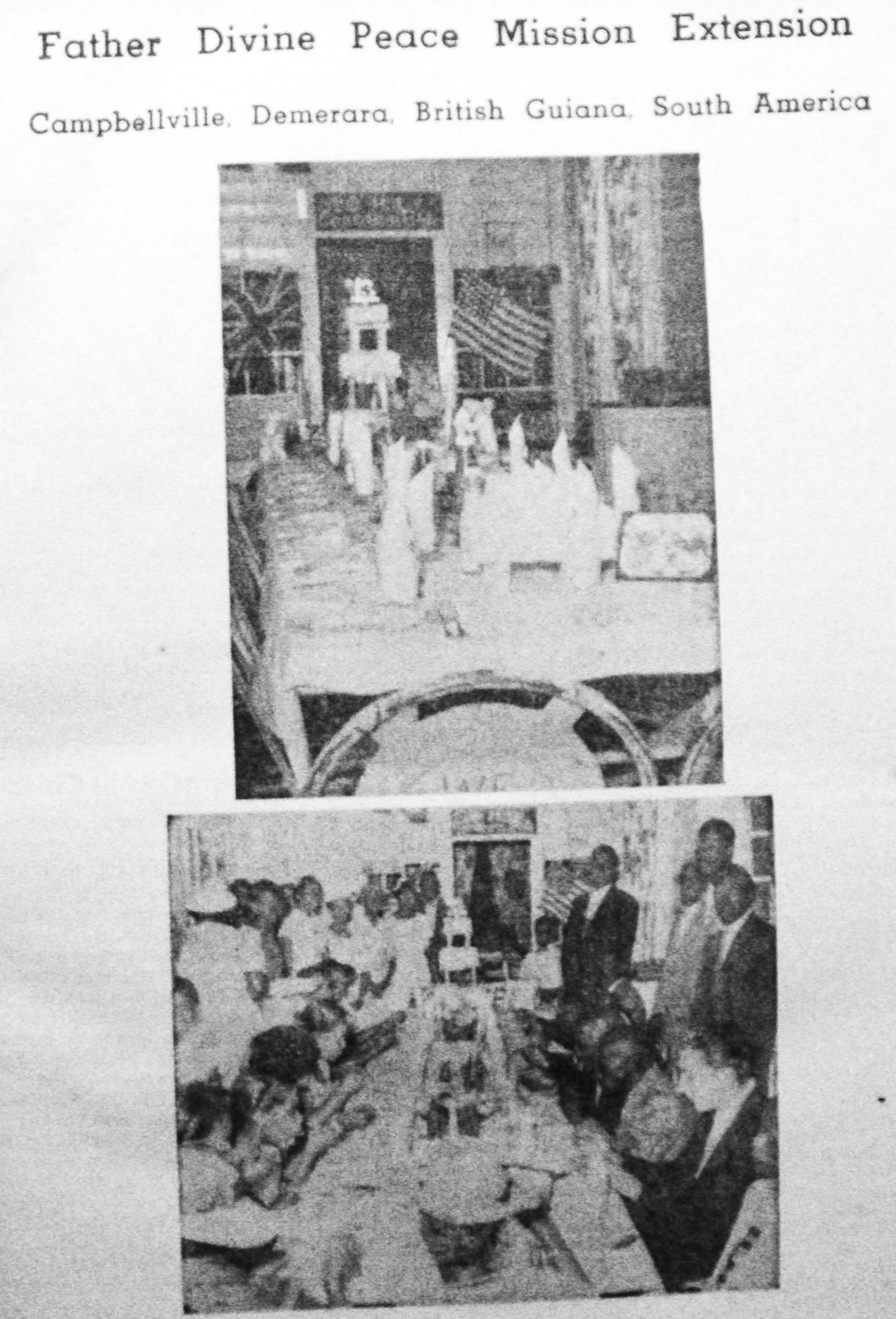 Peace to the Lamb and the Bride:
All glory, honor and praise be unto our GOD. Hallelujah!
FATHER DIVINE, GOD Almighty, we thank YOU for the privilege of joining in the universal celebrations of the nineteenth Anniversary of the Lamb and the Bride.
FATHER Dear, it was indeed a wonderful time for all and we felt Your very Presence with us. We also had quite a lot of visiting guests. Five tables were served with a-full and a-plenty.
Our menu was as follows:
Ice water, vegetable soup and bread, macaroni, cheese and fish, rice and vegetables with chicken, or with stew beef, lettuces, preserves, including olives, pickles, peppers, fruit salad and sweets, soft drinks and ice cream and cake.
Peace FATHER, Peace MOTHER! We thank YOU.
British Guiana
*****************
COLUMBIA, SOUTH AMERICA
Peace FATHER and MOTHER Dear;
We thank Thee, FATHER DIVINE GOD Almighty and MOTHER DIVINE, Your holy Spotless Virgin Bride. Thank Thee FATHER for the privilege of celebrating the 19th Anniversary of Your wedding Your holy Marriage to Your Spotless Bride. We held holy communion banquet and had a large gathering. We started at five o'clock and we enjoyed a lovely time in Thy Holy Name.
We need Your Message and testimony, thank YOU FATHER and MOTHER DIVINE, the holy Spotless Virgin Bride, in this island of San Andreas, Columbia. We thank Thee, FATHER, for Your blessing and eternal life. We thank Thee for everything thank Thee FATHER and MOTHER DIVINE!
**********
CHICAGO, ILLINOIS
The holy communion banquet table was immaculately set and perfectly beautiful, with two large bouquets of red roses and pink peonies. Two corsages of fresh flowers one on FATHER'S chair and one on MOTHER'S chair completed the floral fragrance, and at each setting was a wallet size international Peace place card.
A large square anniversary cake with inscription of 'Wedding Anniversary of the Lamb and the Bride,' graced the table. An additional table was set up in an extension room where more could be served.
The recording of YOU, FATHER, Personally ringing the dinner bell, oh GOD, that was most thrilling and inspiring to one and all! Thank YOU LORD for the many blessings. We all felt Your Personal Presence with us, with the tones of vibrations that sounded through the whole house. Praise Your holy Name!
The food was served in the usual manner, with grace and love, in Your Spirit! The banquet was delicious various kinds of meats, such as lamb, turkey, chicken; various vegetables; molds; salads; pastries, cookies, ice cream; candy; coffee, tea, and milk for the children.
Many out of town guests were present, some from Detroit, Michigan and Indianapolis, Indiana. All the children from the Mary Mystical Rose Church were present, and some Eastern Star ladies were also our guests.
FATHER'S portrait was above the head table with the spotlight directly on it.
We had a perfect day, mentally, spiritually and physically. Your Spirit did reign supremely and gloriously and Your Divine Love drew the people from everywhere, to come and share in the holy feast and to praise Your immaculate Ever Presence! The table was served three different times, also a special table for the little children.
A tape recording of the occasion is being sent under separate cover, as well as pictures which were taken during the festivities.
Many testimonies of love and praise and gratitude to YOU, FATHER, for Your wonderful Work and Mission were given, and we thank YOU once again for a glorious and beautiful day!
Thank YOU FATHER and MOTHER Dear!
Chicago, Illinois .
***********
GOD is a free gift to the world. Any and all of the material on this and other pages may be copied and reproduced.
Use the material freely but respect FATHER DIVINE'S intent, which was and is, to provide us all with the keys to eternal health and happiness without cost or price. HE truly came as a free gift to the world, gratis to mankind.
It is also nice to give credit where credit is due for through the Spirit and Teaching of FATHER and MOTHER DIVINE you are and can eternally be abundantly blessed.
From all of us to all of you. we wish you, peace and love, and many blessings, and may we all ever live in unity and brotherhood and the Consciousness of GOD'S Actual Ever Presence.
True Americanism, True Brotherhood, True Christianity, True Judaism and All True Religions are synonymous and truly Our GOD is One GOD. Amen
Thank you for visiting our page.
Thank you, FATHER and MOTHER DIVINE for allowing us to put this information on line.
Originally posted on May 11th, 2020.