Christ Died That You Might Live!
(Editor's note: This article was originally on the Libertynet website.)
"I Married That You Might Be Free!"– FATHER DIVINE
FATHER DIVINE'S Sermon Given at the Holy Communion Table
Of the Circle Mission Church, Home, And Training School, Inc. Of Pennsylvania,
764-772 South Broad Street, Philadelphia, Pennsylvania, Monday Night and Tuesday Morning,
September 30, October 1, 1946 A.D.F.D, Time: 1:40 A.m.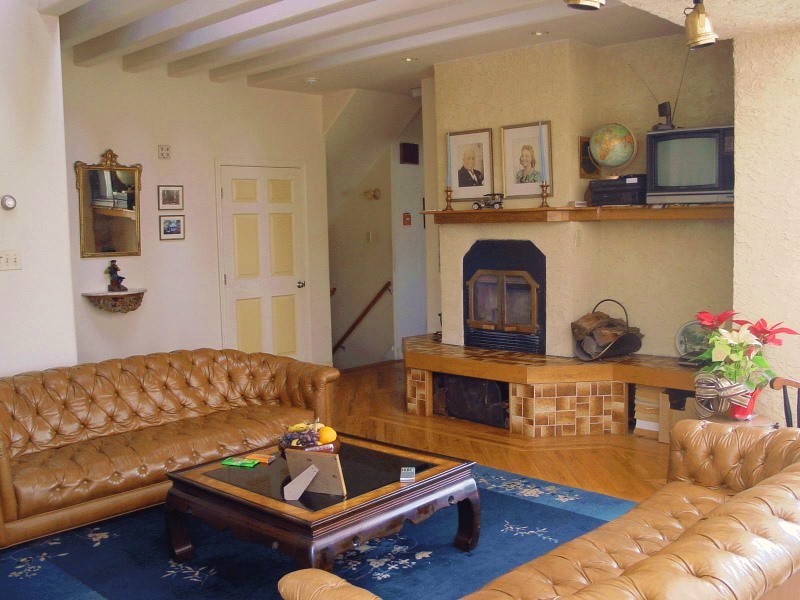 Hilltop House Living Room, Woodmont.
During the course of the Holy Communion, a beautiful testimony of praise and thanksgiving was offered by a sister unto our LORD and KING to WHOM all Glory, Honor and Praise is due. She thanked HIM profusely for His Blessings to one and all and reiterated her endeavor to stand for HIM in Righteousness in her profession even though all others opposed, for her religious conviction was for His WILL to be exercised in her to the letter. Before the conclusion of this beautiful testimony, the sister recited two beautiful inspirational poems transmitted to her by FATHER'S HOLY MIND and SPIRIT, which were facts and figures too stout to be denied!
As the sister finished reciting, FATHER arose in all His Glory and delivered this profound SERMON, well worth the consideration of every living creature, for the Impersonality of GOD is clearly depicted in that HE recognizes not the personalities of the children of men, but rather His SPIRIT that is incorruptible, undefiled and fadeth not away, for it is written:
'For all flesh is as grass, and all the glory of man as the flower of grass. The grass withereth, and the flower thereof falleth away:
'But the Word of the Lord endureth forever. And this is the Word which by the Gospel is preached unto you.'
Therefore, read this profound Sermon, for it is written that man shall not live by bread alone, but by every WORD that proceedeth out of the out of the Mouth of GOD.
For Thy Words of Spirit and Life, Almighty GOD we thank THEE!
The foregoing statements are those of the transcriber, and the following is FATHER'S glorious Sermon with FATHER speaking as follows:
PEACE, EVERYONE! Good Health, Good Will, a Good Appetite! Good Manners, Good Behavior, all Success and all Prosperity, Life, Liberty and the Reality of Happiness! These and all other Blessings, I have brought them into expression, not merely by the salutation, but as a Living Reality that shall be universally established!
When I speak into your consideration, through these Salutations, words of Life and Health and Love, I am sowing the seeds of Life that shall shortly grow. You are the imbibers of the Spirit and the Mind of your Savior as you live in all simplicity, meekness and obedience to His Commandments. You are being awakened daily, for the very words I speak, they are Spirit and they are Life.
For this cause you can Rejoice! A little while ago I thought as I often think, concerning the Life we are now exemplifying, reproducing in others, increasing and multiplying, I thought of how glorious it is to be Living Epistles, no longer dead epistles, but Living Epistles seen and read by men! It is a glorious Privilege to realize you are the Living Epistles as you imbibe the Spirit of your Savior, the reproduction of the Spirit and the Meaning of the Gospel and the Epistles of the Apostles, how you can reproduce the identical same and can bring to fruition the Life and the Nature and the Characteristics of your KING!
How marvelous it is to observe what you have actually heard and seen. Daily it is exhibited and demonstrated. Behold, you can see it definitely as you live in harmony with it. As I have often said, I do not care or believe in cremation, but I do believe in Reincarnation! I do not believe in monuments as tombstones–as a memorial, but I do believe in Living Monuments reproducing and re-manifesting the Life and the Nature and the Characteristics of the beloved ones whom you love so well! 
Reproduce The Desirable In Your Life
I have often said, when men desire to get My photograph, I have considered, if all of the newspapers, all of the press at large, would snapshot ME in their hearts and in their minds and reproduce ME characteristically and dispositionally and fulfil it in reality, that they might be living Epistles of a true Democracy–as a creator of Democracy of whom I AM now speaking–how marvelous it would be to reproduce the desirable in your own life and not merely try to take it in print, neither merely with pen and ink, for it is written of ME:
'I will write them no more on the table of stone, but on the fleshly table of your heart and by the Spirit of the Living GOD."
'Behold, HE taketh away the first, that HE may establish the second.'
The former system of conveying the Message and giving the Commandments to the children of men, I AM taking it away–no longer written on the table of stone, but on the fleshly table of your Hearts, the tablet of your Hearts; and I will write them in your Hearts! Can you not see the Mystery! I will place My Commandments upon your mind and when I write them in the tablet of your Heart, your sins and iniquities I will remember no more!
So then, as said just very recently, when I AM awakened effectively in you and you are awakened in ME, you can rise and move volitionally and let ME speak in you instantaneously and volitionally, and give thanks and praise to GOD forever, YOU CAN AND WILL DIE NO NEVER! This is not a supposition, for what said I concerning the Mystery? What says the Scripture?
'Think not to say within your heart (within yourself) who shall ascend into heaven to bring CHRIST down again from above, or who shall descend into the deep to bring him up again from the dead?'
But what says it?
'The Word is nigh thee, even in your mouth and in your heart.
'And if you will believe in your Heart and confess with your mouth, you shall be saved.' 
The Great Spiritual Awakening
I AM calling for that great Spiritual Awakening now! Aren't you glad! For that great Spiritual Awakening is significant and is the Mystery of the Scripture when you speak and move volitionally! Aren't you glad! It is written concerning the Mystery:
'If so be that the Spirit of Jesus dwelleth in you, the Spirit of HIM that raised up CHRIST from the dead shall also quicken your mortal bodies by His Spirit that dwells in you.'
You may have the Holy Ghost, but I will quicken your mortal bodies if you will allow ME to! When your mortal bodies are quickened, yea, when they are awakened by the Spirit that dwelleth in you by GOD your FATHER, the ONE that raised up CHRIST from the dead, you will be so Spiritually Awakened, when you speak, you will move volitionally and speak accordingly. And if you believe in your Heart, just believe in your Heart and speak it out with your mouth volitionally from your Heart beyond your personal control–I mean have that ignition touch of the Heart and the Soul whereby you speak volitionally beyond your personal control, you shall be saved! Now isn't that wonderful!
I say, I do not believe in cremation, but I do believe in Reincarnation, Reproduction and in bringing to fruition Perfection in persons, that you might see the Living Epistles of whatsoever you are stressing, seen and read by men! Can you not see the Mystery! Not only Living Epistles, but you will also see Living Monuments, no longer tables of stone as monuments in the cemetery, no longer any such foolishness, but as Living Epistles you see the Reproduction of the Spirit, the Nature and the Characteristics and the Disposition and the very Virtue and Holiness of your Savior transmitted; then you can live in the Joy of the Presence of the LORD all the time! 
A Glimpse Of The Mystery
Living Epistles seen and read by men! Because of this great Spiritual Awakening politically and legalistically, you can see it even from the Pilgrim Fathers of this great Democracy coming seeking New Bodies on this Earth to dwell among men! Can you not see the Mystery? One by Inspiration caught a glimpse of the Mystery and brought out a composition and Declaration:
'Old John Brown's body lies a-moldering in the clay, But his spirit goes marching on!'
It goes to show you, you must not be disturbed and you should not be discouraged by the disappearance of one with or without a bodily form, for the Spirit goes marching on and still remains just as operative and expressive as it was before it came!. Can you not see the Mystery? As with the people, so with your Savior! Aren't you glad! I have long since declared I AM JUST AS OPERATIVE WITH MY BODY AS I WAS BEFORE I HAD ANY BODY! Can you not see the Mystery! AND I WAS JUST AS OPERATIVE BEFORE I HAD ANY BODY AS I AM WITH IT! That is what I AM talking about!
When as Spirit and Spirit alone without Flesh, Body, Blood and Bones, I moved out upon the face of the water and said:
'Let there be Light!'
Light appeared from somewhere! Can you not see the mystery! And as Light appeared, the same understanding spoke into observation and into tangibilization the intangible Earth upon which we are living. The Earth was void and without form! Can you not see the Mystery! GOD said:
'Let dry land appear!'
The Land appeared even though it was intangible and invisible as GOD was intangible and invisible in the beginning there! GOD visibilated HIMSELF through and by the tangibilated and materialized and personified Earth! Can you not see the Mystery? After dry land appeared, GOD formed Man out of the dust of that dry land as being termed the ground! GOD breathed in the Man's nostrils the Breath of Life and the Man became a Living Soul! Can you not see the Mystery! 
Creation Of Man's Body
Therefore, the personified Earth was a Reality, for it was the Man that GOD had personified! Made a person out of the Earth! Can you not see the Mystery? Yet GOD was operative and expressive without him! Operating and expressive without HIMSELF as a Person! Can you not see the Mystery! But My Person shall not prevent ME! My Person shall not hinder ME! Can you not see the mystery?
For this cause you all should Rejoice and be Glad because GOD IS PRESENT in your midst! No longer emphasizing and advocating cremation, but emphasizing and advocating Reincarnation and Reproduction and the re- personification of Perfection –of the most Perfect Expression! That is the Mystery!
For this cause I have produced and reproduced Virtue and Holiness in the Land even by the first Marriage ! Aren't you glad! And I cause you by the millions throughout this Land and Country and other Countries, through and by the Virtues we promulgated and propagated and reincarnated, to be Virtuous, Holy, Honest and True! Can you not see the mystery? Therefore, you would not do things you once did! You do not do the things you used to do!
As the last speaker said, it was a Sacrifice, a universal Sacrifice I caused My Spirit in you and millions of others to make for the benefit of freeing them and others that are to come! CHRIST died that you might live! Aren't you glad! I Married that you might be free! Aren't you glad! GOD, incorruptible and undefiled and untouched with human affection, lust and passion, and is the only One that is qualified and eligible to do so and not be controlled by human affection or twist it or pervert it in any way whatsoever! Aren't you glad! But, as a matter of course, GOD on His Way, carrying out His Plan and His Purpose, redeeming the Universe at large by the SPIRIT OF HIS PRESENCE. As it is written:
'He took upon himself our infirmities and bare our diseases, and by his stripes we are healed!' 
The Mystery Of The Presence Of GOD
Then I say, Reincarnation, but not cremation! I say, no longer writing the Commandments on a table of stone, but placing them upon your Minds and writing them upon the table of your Hearts, and your sins and iniquities I remember no more! That is the Mystery of the Presence of your GOD, your Redeemer and your Savior–and the Savior of all!
What a Privilege to realize, no longer a stone will do! Aren't you glad! For even your stony hearts, I will change them from a stony heart, yea, stony hearts collectively, to hearts of flesh, and from hearts of flesh to Hearts of Spirit!
Then live in this Recognition, and when you move, you will move volitionally because you have Hearts of Spirit! No longer mere hearts of flesh, even though your hearts have been hearts of stone and changed from hearts of stone to hearts of flesh. But even the hearts of flesh are changed from hearts of flesh to Hearts of Spirit! That is why one writer said:
'Create in us a new heart, O GOD, and an upright Spirit.'
Don't you see the Mystery? And that is what I am doing for the People! I am creating an honest People in the Land that they might live and be Living Epistles seen and read by men! No longer observed on the table of stone, no longer monuments of stone to be observed or read, but Living Epistles and Living Monuments of the Reincarnation of the persons in question observed and loved so dear! Aren't you glad!
The Spirits of Just Men are made Perfect . . . and this truly is the General Assembly of the Church of the First Born, where the Spirits of Just Men are made Perfect!
Therefore, live in this Recognition and build upon this Foundation if you wish to. I will be with you as in the days of old, and as before the World began! Such a Privilege! Such a Privilege! Living Epistles, Reincarnation, yea, the Reincarnators of the Perfect Spirits of Righteousness re-produced and re- personified so that you might live and never die! I thank you!
THANK YOU, FATHER DEAR!
The New Day, October 5, 1946, pp. 3-4
**************
GOD is a free gift to the world. Any and all of the material on this and other pages may be copied and reproduced.
Use the material freely but respect FATHER DIVINE'S intent, which was and is, to provide us all with the keys to eternal health and happiness without cost or price. HE truly came as a free gift to the world, gratis to mankind.
It is also nice to give credit where credit is due for through the Spirit and Teaching of FATHER and MOTHER DIVINE you are and can eternally be abundantly blessed.
From all of us to all of you. we wish you, peace and love, and many blessings, and may we all ever live in unity and brotherhood and the Consciousness of GOD'S Actual Ever Presence.
True Americanism, True Brotherhood, True Christianity, True Judaism and All True Religions are synonymous and truly Our GOD is One GOD. Amen
Thank you for visiting our page.
Thank YOU, FATHER and MOTHER DIVINE for allowing us to put this information on line.
Originally posted on May 11th, 2020.