In 2019, Special Collections & University Archives (SCUA) at San Diego State University Library acquired approximately 500 photographs from Stephan Jones, the son of the Rev. Jim Jones. In the intervening months, SCUA processed and preserved the photos, digitized them, and, by soliciting descriptive information about the photos from former Peoples Temple members and Jonestown survivors, was able to make them accessible to the world via the Library's Ibase digital asset management system. The photos were added to already existing photographs in the Jones Family Memorabilia Collection.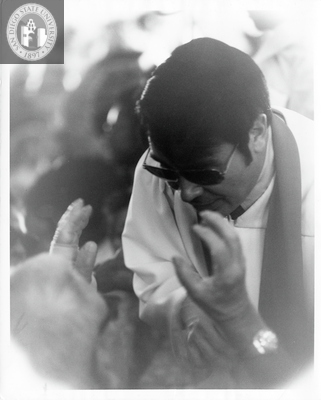 Peoples Temple took thousands of photographs of Temple members and activities, but these ~500 photos are particularly notable, important and rare because they afford an immediacy to and an understanding of Jim Jones, the Jones family, Peoples Temple, and Jonestown, not found elsewhere in the collection. The items have been arranged physically in six separate folders in Box 3 of the collection:
The photographs of Jim Jones with National, California, and particularly San Francisco politicians in Folder 6 are especially rare and important.
These new additions to the Jones Family Memorabilia Collection can be found by using the "Digital photos" links above, or by using word searches in the Ibase photo database corresponding to the folder titles: e.g. "Jim Jones with Politicians," "Loose Photographs of Peoples Temple Agricultural Project," etc.
In 2019-20, SCUA also continued its program of making historic sound recordings of Peoples Temple and Jonestown publicly accessible and available on the Library's Rohan streaming audio-visual server. These recordings are also available at the Jonestown Institute's Alternative Considerations of Jonestown and Peoples Temple website, sponsored by the Library and the Department of Religious Studies at San Diego State University. At that website, researchers will also find summaries and full transcripts of the tape recordings that will prove indispensable for their research.
(Robert Ray was head of Special Collections at San Diego State University Library until his retirement on September 1, 2020. His reflections upon his farewell are here. His responsibilities for the Peoples Temple Collection have now been assumed by Anna Culbertson. She can be reached at aculbertson@sdsu.edu.)
Originally posted on August 2nd, 2020.
Last modified on October 2nd, 2020.