(Antonio Jamal Patterson – known more familiarly to the residents of Jonestown as Jamal Lundquist – was nine years old when he died in Jonestown. His mother, Diane Lundquist, who also died on November 18, 1978, was the sister of Jonestown survivor Jordan Vilchez.
(Jordan Vilchez is a regular contributor to the jonestown report. Her other article in this edition is White Nights, Black Paradise: A Commitment to Understanding and Justice. Her full collection of articles may be found here. She can be reached at jordanvilchez@gmail.com.)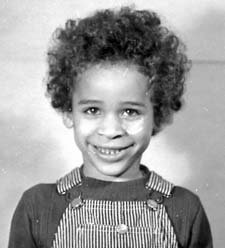 Dear Jamal,
It has been almost 43 years since I last saw you, so I suppose these words have been a long time in coming. I have always felt like when you died in Jonestown, you were gone – and there is a very real and tangible way that it is true – but I have often wondered where the essence of you, the soul and spirit of you went and how you felt about your young life ending while you were a mere child. And for sure I have wondered how it was for you in those final moments when your life was taken from you through the irreversible momentum of delusion. It's probably about time that I acknowledge both the unfortunate way in which you were raised as a child in the Temple and ultimately the wrongness of your death.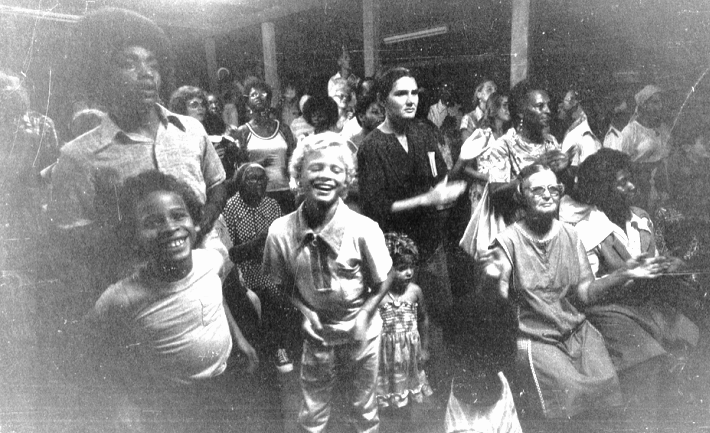 When I was small, between the age of three and seven, before I was in the Temple, I knew many things and in some ways was wiser than when I became an adult. I found this true for all of the kids my age and still believe it is true for each child. As small children we just naturally know things and we also know when things feel wonky, …off, …discordant. By the time I was 12, which was when we joined the Temple, I was already influenced away from my natural knowing.
I bring this up because this makes me wonder how you, being younger, in touch with your knowing, really felt about the Temple. Perhaps there were moments when you knew that things were not right. That might have been why you screamed your head off in in the first meeting we went to. You were inconsolable. No one in your family – including me – had ever seen you react like that. What you thought of the Temple seems like a strange thing to ponder, since you were two years old going in. But looking back now, I think that you felt the discomfort of sensing the threat which would eventually remove you, and all of us from our own personal alignment and inner knowing. I believe you did feel it on many occasions until it just became the known way of life, and the quick glances that you and your brother Dov exchanged with one another in that first year during catharsis sessions were unspoken words stressing that things were not as they should be. Since then, I have noticed in some of the pictures of the children, that among the naturally beautiful smiles, some expressions are of deep sadness.
I just want to let you know of my awareness of the wrongness of the shaming and breaking of people's spirits that was an integral part of the Temple culture, towards young and old alike. I've come to clearly see the many ways in which the children were not properly cared for nor guided well, and you were taught to go against your loving nature and hate those who were our supposed enemies. I recall a time in Jonestown that Jim publicly requested ideas from everyone – even the children – of what violent acts could be done to the our "enemies." This was a terrible thing to ask of tender, sweet, young hearts and minds. It was a grave disservice to you.
As time went on in the Temple, it seemed that we all did what we felt we were supposed to do. I was moved out of the house and into a commune when I was 14. I did not complain, but that was the beginning of a separation, of the slow dismantling of our personal intimate familial world. We were all good sports following along as we were told, trusting and doing what we felt was for the best. None of us could see what was happening. There was a desire to give, and an innocence about us, especially in your sweet mama Diane, my big sis. She always was a tender soul and she so needed community and something meaningful to belong to. She wanted the best for you. I know that the lure we felt into Peoples Temple was largely because we were all in a sort of life limbo in our lives, without an autonomous grasp on our place in the world or a personal plan set in motion. For us, the Temple represented the stability of family and a life with a vision of hope and a belief that what we did mattered. But, as I've also been able to see and understand, it was chock full of detriment and injury to our creative freedom and our fragile psyches.
* * * * *
But I have warm and happy memories of you, too, Jamal. In fact, when I think of you, my mind usually goes to the sweetest memory I have of you. It was the time when my dad – your Grandpa Bill – came up to Redwood Valley during Christmastime and brought you and Dov your new OshKosh B'Gosh overalls. You were so happy and proud to have them. You both were the sweetest little humans gracing my life. How we adored you. Diane and I nicknamed you "Bud Brown." Somehow that name fit you, but I don't think that you remembered that by the time we got to Jonestown.
You certainly don't remember your arrival into the world, but it was such an exciting time. Dov was so enthusiastic about having a baby brother. I loved the way you both adored one another throughout your short lives together. Those are the best memories of all.
Originally posted on September 13th, 2020.
Last modified on October 7th, 2020.