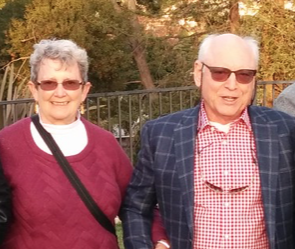 For all these years since November 18, 1978, I've avoided going through memories of my time in Peoples Temple. I often have the sensation of swimming in murky water, the images before me fragmented and distorted. That is certainly true now as I summon my memories of Laura Johnston Kohl, my friend of over 50 years.
Laura and I met after I joined Peoples Temple in 1969. The following year she moved to Ukiah and went to work at the Mendocino County Welfare Department, where I was already employed. Her commitment to people was evident even then. As an eligibility worker, she provided a level of empathy, concern, and a thoroughness in steering them through the process that was above and beyond the call.
Laura quickly found a home in the Temple. When Jim Jones called for people to become communal, she joined the first of the communal houses. Later she moved into the East House commune in Redwood Valley while I moved into West House. She always preferred living with a group of people and was never happier than when she could do so.
During her time in the Temple before moving to Guyana, Laura served as a greeter, as a counselor, as a bus driver, as head of Redwood Valley security, as a Planning Commission member – wherever she could be of use. I did not go to Jonestown so I am not aware of all she did there, but she told me afterwards that she absolutely loved it there and would have been happy to live there the rest of her life.
Laura and I got together when she returned from Guyana. She joined me and about ten others in a house on Sutter Street in San Francisco. Later, when that house broke up, she and Sandy Bradshaw and I moved together to an apartment on Vermont Street. During the year and a half we were together, we never had an argument. She just "didn't sweat the small stuff," so very little bothered her. I really could not have wished for a better partner. Whether inside or outside the home, no matter who she was addressing, Laura was always the same person, fierce in her defense of those she loved.
We were very much at loose ends trying to figure out how to live and what to do with the rest of our lives. The 80's had arrived, and computers were the coming thing. We both took courses, and Laura was the first to find a job in IT. In spite of the fact that she had a decent starting wage and was working on the preferred hardware, IBM, she did not stay at that job long at all. I was content to hide behind a monitor, but Laura needed people. She always needed people. Although she held a number of computer-related jobs, she did so in another large, structured group, Synanon. Much later she taught English as a second language because she loved teaching and interacting with students.
Ultimately she left the Vermont Street house and moved into Synanon, the next phase in her life. I didn't see her during this time or later when she joined the Quakers. But, as always, Laura cast her lot with groups of people who shared her personal values and related to each other on a very personal basis.
Years later she got in touch and suggested I start attending PT memorials on November 18 at Evergreen Cemetery in Oakland. Laura took it upon herself to email people every year, letting them know when to meet at the cemetery, when the California Historical Society would be open to PT members, and when and where we'd meet for lunch or dinner.
As a member of the PT speaker's bureau, she went on many speaking engagements and gave interviews to media of all kinds, trying to give the world at large a truer understanding of who we were. She wrote a book about her personal experience and maintained a table at the Berkeley fair every year to make it available and explain in person to anyone who cared to listen what the Temple was all about. She really never stopped extolling the virtues of the Temple she knew and loved, and she was always active doing whatever she could to get people together. To quote from her book Jonestown Survivor an Insider's Look, "All I could do was live a good life, work to make people treat people better, make the world more humane, and remember the dedication of my lost friends and our lost community." She was ever the activist.
True to form, when Laura was diagnosed with cancer and eventually told she didn't have long to live, her one wish was for a memorial while she was still alive. She wanted all her friends from all the different phases of her life to gather in one place. That's what we did. People from PT, from Synanon, from the Quakers, both colleagues and students from her teaching days all gathered at her house in San Diego just a few days before her death. Most of us came from out of town, including some from out of state. Easily 150 of us.
In all the time I knew Laura, she never said a disparaging thing about anyone. Not once. She was the kindest, sweetest, most considerate, thoughtful and compassionate person I have ever known. She was much loved in her lifetime and will be greatly missed by all of us now that she's gone.
You were the best of us, Laura. I miss you.
Originally posted on September 13th, 2020.