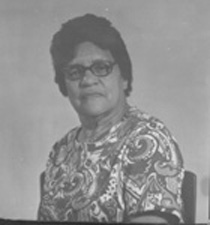 The Temple's bus trips to Los Angeles on weekends began with a Friday night service at the San Francisco Temple, followed by the ride down for a Saturday afternoon service in LA, a Sunday service in LA, and then the trip back to the Bay Area. On Sunday, September 5th, 1976, after the last Temple service in Los Angeles, Ida Marie Albudy boarded one of the buses to move up to San Francisco. Her seatmate was Edith Roller, who wrote of her: "She has nursing experience and wants to get a job at a hospital." Ida had just had her 11-year-old dog put down to make the move, and wanted to talk, but Edith was firm in saying she needed to read and sleep.
That ride (and the events preceding it that day), complete with many offerings, one taken at the rest stop on the way home, were detailed in Edith Roller's diary of September 1976.
The buses left about 5.00 [p.m.].  … We saw big lightning flashes in the bus windows and the children were impressed. Later I learned there had been a big thunderstorm in LA.

Some rain had fallen in Bakersfield and we had only a short stop to go to the bathroom.

[Jim] McElvane came on the bus to take an offering to help support the trip to Chicago.

The hostess, Marilee Bogue, took the names and ages of everybody on the bus and asked whether they were working on a paying job tomorrow. All others are expected to distribute newspapers.

We left Buttonwillow about 9.00, had a stop at 12.00 and arrived at San Francisco at about 3.00.  Ida had not got off the bus since we left LA.
Edith sat with Ida again on an LA weekend December 10-12th and said, "She was very outspoken in her advice to others, particularly children." Once again, Edith reported that when the bus arrived in LA at 1 am – after having left San Francisco at 4 pm – "Ida had not moved even to go to the bathroom since boarding the bus last night.  She also did not change her clothes on arrival."
The recollections of Kimberly White (Bruce Oliver's niece) go a long way to bringing Ida's memory back. Kimberly was one of those children on the bus, at the rest stop, and in services, who remembered warmly Ida's good-natured tending of her and other children who were part of the PT family, as Jim encouraged the seniors to do.
Ida was quite short, with a squarish build, and walked with a small black cane. The cane extended her reach when sitting among a group of children, and she used it gently, to get someone's attention. Her San Francisco residence was likely either at 1029 Geary or a senior's commune in SF, of which there were several.
In Jonestown, Ida made tool handles. Good job for a fussy person! She was also one of the many seniors in Jonestown who received Social Security checks, which were turned over to the community to aid in its survival.
Born in the year of the great quake, Ida Albudy from Waverly, Missouri, who did you leave behind, besides the dog who loved you? Your page on the website has no other remembrance, no hint of relatives, to tell the story of your life.
Originally posted on December 5th, 2020.
Last modified on October 11th, 2021.