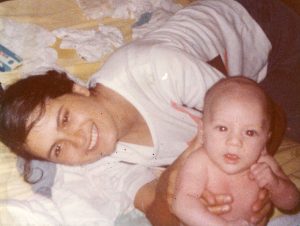 Hi sweetie. It's been over 42 years since you crossed over with Malcolm, and although we've never lost touch with each other – thank you so much for that! – I have finally reached the point where I'm willing to express my love and my grief so that everyone will know how much you have meant to me.
I was always so proud to have you as my wife, and so proud of the growth you made as a woman throughout those years. Much more growth than me! You were a wonderful mother, and I know how much it hurt you when you were away from Malcolm, even as you loved and supported me. I was a very lucky man.
You and Malcolm will always be deep in my heart, where people love their most true. I love you.
* * * * *
Hi, my precious little man. It's been 42 years since I've been able to share my love for you here. It occurred to me that I have words of memorial for others whom I cared about, but not in the same way I've always cared about you. So here goes:
There are no words to describe how much I love you. Any parent knows what I'm feeling. I have always held you in the deepest part of my heart, where you will always be safe, and protected. I love you. Forever.
(Jonestown survivor Tim Carter is a regular contributor to this website. His other stories in this edition of the jonestown report are An Embrace of Terry Carter Jones, and Missing You, Mary Lou. His previous stories may be found here.)
Originally posted on February 11th, 2021.
Last modified on October 11th, 2021.