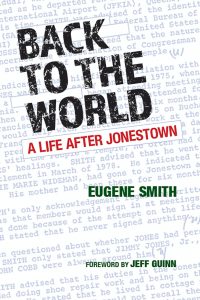 A book?
A book about Jonestown?
A book about me in Jonestown?
A book about Peoples Temple, Ollie, Martin and Mattie?
A book about my life after I returned stateside and how I survived?
At some point along the way, BACK TO THE WORLD: A Life After Jonestown was each of these. Maybe at this point, it's all of these.
The book was difficult to write. I had refused to read any books concerning Jonestown, Peoples Temple or Jim Jones. I didn't want to cloud, obscure or dilute my memories. (I) wanted to inform, warn, educate, tell (my) truth, as I experienced it in the moment. There were moments of unbridled excitement, followed by weeks of sadness, tempered in the writing.
All in all, I would do it again.
* * * * *
The pandemic has been brutal on levels I hadn't expected. One consequence was that I couldn't escape my memories or the emotions that piggy-backed onto them. Reminiscent of November 18th, 1978 and the weeks that followed, I experienced feelings of impending doom, hopelessness, agoraphobia, claustrophobia, restricted movement.
Flashback 1978: What happened in Jonestown, how many people are dead? He, she, they didn't deserve to die. The numbers increase every day.
November 18, 1978: First, there are the murders at Lamaha Gardens. That's all those of us in Georgetown know about. We are innocent, but we pay, in intense interrogation and threats by Guyanese Police officials.
November 19, 1978: The stateside Temple reports no deaths. Maybe…
November 19, 1978: Jonestown. They have found some dead, but no children. Maybe…
November 20, 1978: Jonestown. They have found more bodies, but still no children. Maybe…
November 21, 1978: Jonestown. Everyone is dead. Babies, children, adults. Everyone.
* * * * *
2020: I thought I was alone. I wasn't alone. I found out when I contacted other survivors and, to my surprise, saw that others were experiencing similar agitations. We shared feelings, as well as the emotional toll of COVID 19. We tried to move on after putting the agitation on a (high and dark shelf) in the basement, never intending them to be opened again…
I learned more about myself than I expected, then I shared it with the world. I spent the majority of my life protecting myself and trying to disappear, to go unnoticed, if you will. I shared more with the world than I had shared with those I cherished most. I had a fellow survivor tell me he had known who I was since I was 15 years old and who'd been my friend since I was 18. I was 63 years old when he told me this. He went on to said me he thought he knew me, he then added that (he) didn't know me at all, until after reading my book.
Wow!!! How does one respond to that? Do I say, thank you? Do I apologize?
Here is a twist of irony following that exchange. A random person emailed me, stating that they truly enjoyed reading BACK TO THE WORLD, and that they felt they actually knew me. They went on to describe a religious environment that had hurt them. Reading my book – my book – had given them the gumption to carry on and be positive. That meant a lot, but in the same breath, it frightened me. I'm always in a state of response. It beats reacting, but it takes a toll.
* * * *
So let me get this straight: you want to write a book? As a now-published author, let me be the one to tell you as I was told by another published author: A thousand people may say they want to write a book, but only one hundred do. And of that 100, only 10 get published. That means, you are (I am) now a member of an elite group. Please enjoy this moment and relish in it as much as you can. Your journey has only just begun…
(This is not a quote. They were much more eloquent than my rendition above…)
I want all survivors to write a book, or a short story. The world needs to see the multitude of experiences experienced by us. They (the public) needs to know and understand, there were multiple sets of survivors. And all of their (our) stories are unique and worthy of reading …
There's more. Maybe I'll write about it.
(In addition to the reviews for the jonestown report by darlene anita scott and Rev. Richard Lawrence, the book Back to the World was reviewed by Samuel Getachew of KQED, public broadcasting in San Francisco. The review includes an interview with the author.
(Eugene's other article in this year's edition of the jonestown report is … and Day His previous articles may be found here. He can be reached through this website.)
Originally posted on October 4th, 2021.
Last modified on October 12th, 2021.