The Jonestown story continues to find resonance for a number of writers, poets, painters, playwrights, and musicians, who offer artistic interpretations of the events through their own individual visions.
Jonestown in Books
• The book And Then They Were Gone has now won 10 honors/awards including four first prizes, including a first prize from Chanticleer International Book Awards, the Nelly Bly journalistic writing contest. The authors, Judy Bebelaar and Ron Cabral, who had been teachers at Opportunity High School in San Francisco when students from Peoples Temple attended the public alternative school, spoke their experiences in November 2020. As one former Temple member who attended the virtual event wrote, "[The book] made me appreciate for the first time what a refuge and a sanctuary our teens enjoyed at Opportunity High School. Those eight months or so from 1976 to 1977 capture the perfect chemistry of the students, the teachers, and the flux of the time. They sure made the most of it."
• Ed Norwood, whose family lost 27 relatives in Jonestown and whose mother, Jynona Norwood has been leading memorial services at Evergreen Cemetery every year since 1979, has published Be A Giant Killer: Overcoming Your Everyday Goliaths, a book which he describes as containing "timeless biblical truths and personal stories aimed to inspire readers how to face giants from their past that keep them achieving their highest dreams." Published in August by Frelling Publishing, the book offers a Christian perspective in offering help to face some of life's greatest challenges, including death of a relative, unemployment, divorce, and terminal illness.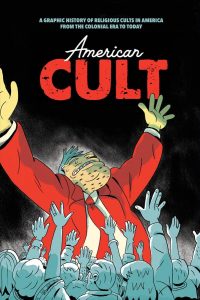 • A new graphic novel that explores the history of cults in America was published in May. American Cult covers a range of "unconventional prophets," including Jim Jones of Peoples Temple, as well as Charles Manson, David Koresh, Chuck Dietrich of Synanon, the leaders of MOVE – who all took the last name of "Africa" – and Fred Phelps of the Westboro Baptist Church. It was reviewed on March 23 on the BleedingCool website.
• Annie Dawid's novel, Paradise Undone, was named as a finalist in the Novel Slices Contest for 2021.
The novel, which has had numerous titles in the years since it was first written – and numerous rejections for publication – follows four characters through the history of Peoples Temple, including one based upon Marceline Jones, Jim Jones' wife. As Annie wrote about her work in 2010: "One day, perhaps, if Paradise Undone is a judge's first choice at one of these book contests and finally gets published, I hope it will speak to others, to the survivors of Jonestown as well as to those who have experienced 'communities' like my new/old friend, people still mulling over what happened and why."
Jonestown in Music
• The duo Bands w/ Melody chose the 42nd anniversary of the deaths n Jonestown to release their latest album, "Tol.918_11/18/78.Bw/M"which, as an arts columnist in a Savannah, Georgia news outlet reported, is "a file extension + the number of Jonestown deaths + the date of the mass murder-suicide + their abbreviated band name."
Writing in Connect Savannah, reporter Brittany Herren added, "The album, which started as a single song ("Keeping up with the Joneses") … has since grown into a five-song, melodic dive into the wretched history of the Peoples Temple. It includes samples from public broadcasting services such as the BBC that intertwines archival recordings of cult members, Rettig's vocals and canorous chambers of beats, pedals and keys."
The two members of the group were raised in Indianapolis.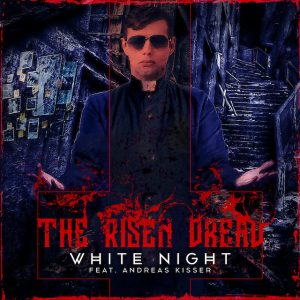 • The Irish heavy metal group, the Risen Dread, have released a single entitled "White Night," which – according to a publicity release from the band – "denote[s] a crisis within Peoples Temple (Jonestown), followed by a rehearsal of collective suicide." The accompanying video features outtakes from footage of an NBC interview with Jim Jones early on November 18, as well as headlines from the first week.
Jonestown in Movies and TV
The deaths in Jonestown provide a singular inspiration – including for the title – of the Netflix series, Midnight Mass. Even in its origins as a novel and as a film," two particular moments have remained immutable," as one reviewer wrote in September 2021 for the Den of Geek website,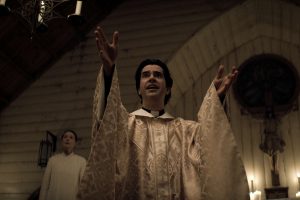 including one in the sixth episode in which a Catholic priest passes out cups of rat poison during an Easter service with the promise that the drink will help his parishioners live forever.
"[Producer] Trevor [Macy] and I share a fascination with Jonestown," series creator Mike Flanagan is quoted as saying. "The midnight mass Jonestown sequence has always been baked into the show. That's the perfect example of the most grotesque perversion of faith."
The series was also reviewed by Thrillist.
Jonestown in Theater
Love in the Time of Jonestown, a radio play, ran from November 18 – the 43rd anniversary of the deaths in Jonestown – through December 12, 2021. The world premiere play by The New Coordinates "explores the splendid ache of acceptance and the profound bliss of betrayal," according to a preview in September on Broadway World Chicago. "All we ask is that you come with an open mind, an open heart, and a willingness to dialogue. Welcome to Jonestown, we hope you'll stay."
Originally posted on October 11th, 2021.
Last modified on December 2nd, 2021.