As a mythic person in Temple history, Chris Lewis was an outsized force who served the Temple well, both in life and death.
Lewis was a large intimidating black man, a gangbanger on the streets of the Hunters Point area of San Francisco where he lived, a bodyguard for Jones inside the Temple. In working security for the church, he was rumored to provide some muscle when Jones needed it, threatening people who went against the Temple. As several survivors have said, Chris Lewis was someone you wouldn't want to see on your doorstep if you hadn't invited him over.
Although part of his family had already joined the Temple by the time he arrived on the scene, Lewis was more of a product of San Francisco street life; he became a Temple success story when he beat his drug addiction by going through a Temple rehabilitation program.
He first came to public attention in November 1973, when he shot Western Addition activist (and Temple member) Rory Hithe to death in a room full of witnesses, mostly other Temple members. The shooting itself was not the mystery, but the motive remains unclear, including any credence to the accusation that Jim Jones ordered the killing. Lewis was arrested and tried for the crime, but was acquitted on grounds of self-defense.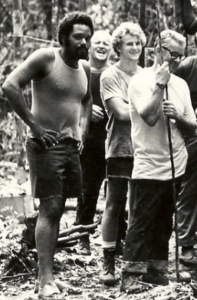 His relationship with the Temple was an never an easy one, though, and he spent as much time pursuing his own life outside as he did inside. And while many of his relatives eventually emigrated to Jonestown – all of whom died there – Chris Lewis was there only a few months as a "pioneer" during the community's early years.
Lewis was murdered in the Bayview-Hunters Point district of San Francisco in late 1977, the police concluded that the crime was either drug-related or a vengeance killing, but without a suspect, nothing could be proven. Members of the Concerned Relatives – whom had once been intimidated by the man – dovetailed him into their campaign against Jones, claiming that Lewis' recklessness had become an increasing liability to the Temple cause, and that the Temple may have had a role in his death.
As for Jones and the Temple, Lewis became a martyr who had been killed by Temple enemies. The general pledges of retribution against defectors and apostates found a focus, as several Jonestown residents urged Jones to send them back to exact revenge. Others, like Dick Tropp and Barbara Walker, wrote poems dedicated to their fallen hero.
Originally posted on March 25th, 2022.