"Paradise Undone, by Annie Dawid, will be published in November to coincide with the 45th anniversary of the Jonestown Massacre"
– The Bookseller, Sept. 6, 2023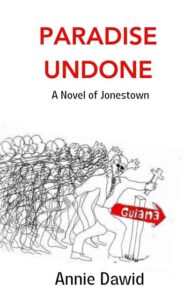 It was 19 years ago that I decided to set aside my novel about the communes of Southern Colorado and write instead about Peoples Temple. Finally, this year, on November 18, 2023, Paradise Undone: A Novel of Jonestown will be published in the United Kingdom.
Do I believe it yet? Not quite. After receiving hundreds of rejections, and having my hopes raised and then dashed 17 times as a finalist in writing competitions, I have now proofread the camera-ready final copy and seen the cover page. That means it must be true.
"Paradise Undone" came to me, proverbially, in the middle of the night, waking me up with the perfection of its title. Before then, I had two other titles. The first was "Fathom These Events," from the very poignant letter left by a Jonestown resident, possibly Dick Tropp.
It will take more than small minds, reporters' minds, to fathom these events. Something must come of this. Beyond all the circumstances surrounding the immediate event, someone can perhaps find the symbolic, the eternal in this moment – the meaning of a people, a struggle – I wish I had time to put it all together, that I had done it. I did not do it. I failed to write the book. Someone else, others, will have to do it.
I remain moved by his words, compelled by his injunction. I hope my novel is worthy of his imperative.
A subsequent title was "Resurrection City," a quote by screenwriter Don Freed, who visited Jonestown in August 1978, three months before the deaths. This agricultural compound in the middle of a jungle was a kind of miracle, Freed said, populated by urban Americans propelled there by Jim Jones.
I was happy with my Miltonesque title, until 2014 saw the publication of the novel Children of Paradise, by the British-Guyanese novelist Fred D'Aguiar, featured on the front page of The New York Times Book Review. Did I cry? Almost. I had wanted to be the first American to publish a novel about Jonestown, but the talented D'Aguilar had beaten me to it, and landed his book on the most powerful page in the United States literary world. Worse, his title was too like mine.
I read and reviewed that novel for this publication, admiring the poet's lyricism, but feeling the story of the people around Jim Jones remained to be told in a way that removed them from the shadow of the overpowering megalomaniacal leader. I'd written my book for the 30th anniversary in 2008, only to have my New York agent fail to find my place among the other Jonestown offerings for that year. Then I added an epigraph for the 40th anniversary in 2018, having had a close call with a small press whose publisher I could not work with. Now, coming up on the 45th anniversary, I think my title can stand alone.
Meanwhile, cults gained currency and evolved in the land of podcasts and social media, publishing and TV. Documentaries about the Baghwan and Nixium garnered huge audiences, and it seemed you couldn't escape the idea of cults and cult survivors, in books like Cult Trip, Cultish and podcasts like Promised Land, Transmissions from Jonestown and CultVault.
While I recognize that the term "cult" is often used in a derogatory way, and Peoples Temple in the United States did not deserve the name, what happened in Jonestown makes the use of that term unavoidable. The USA of 2023 offers a lesson in cult formation, wherein a huge number of citizens remain in the thrall of a charismatic leader whose actions are deleterious to their health.
Perhaps the long wait for publication will be propitious in the end: Now is the moment to read about human beings who, with the best of intentions, find themselves in dire straits due to their involvement with a powerful and popular man, who justifies ends with means, to the detriment of his followers.
Now, the peril and adventure of reviews loom before me. Paradise Undone: A Novel of Jonestown will meet the world on the evening of Nov. 16 at Owl Books, 207-209 Kentish Town Rd, London NW5 2J, where I will offer up my story to readers, for better and worse.
(Annie Dawid is a regular contributor to the jonestown report. Her complete collection of articles for this site may be found here. She can be reached at annie@anniedawid.com.)
Originally posted on September 15th, 2023.
Last modified on October 29th, 2023.