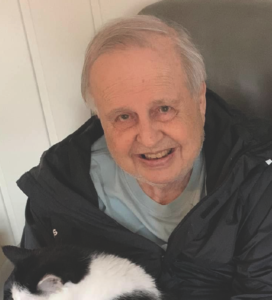 One thing I know for sure: our book And Then They Were Gone meant as much to Ron as it does to me. Ron held, as I do, a belief that the fact that the publication of our book is helping people to understand the young people we came to know all those years ago and to see more clearly what life in the Temple and their lives in Jonestown—too many of them tragically cut short—were like.
The book never would have come into being if Ron had not called me one day in 2005. He said he'd just seen the play called The People's Temple at Berkeley Repertory Theater, and suggested that we write a book about the students at Opportunity II whom we knew from the Temple in the same spirit. When I saw the play the following week, I immediately understood what Ron had appreciated: that it focused on the people who belonged Temple (thus the apostrophe in name of the play that is not in the official name of the church) and not Jones's Temple: I called Ron to say yes, let's do it!
The first version of the book was about 50 pages, with Ron's providing half of the early manuscript. He initially wrote about the Temple kids he knew on the Opportunity baseball team, which they had made possible. Tim Jones, Jimmy Jones, Johnny Cobb and Mark Sly were among them, and they recruited others. They were good athletes and good team members. My part of the book was about the Temple kids I came to know in my creative writing class, including some of their poems, which I had saved.
The book developed from that point until it was 300 pages at its time of publication in 2018. Ron was very important in getting in touch with those at Opportunity who had come to know the Temple teenagers. He and his wife Rita hosted a gathering at their house, a very special reunion. I followed up with our former students to get more of their stories. Each person I contacted gave me something new, something that changed and enriched the story. One young woman he contacted on-line, Dakota Lane, had become a writer herself and had published some prize-winning young adult books. She helped us find the voice we wanted in the book. Our student Mary Delema had saved many photographs she'd taken at Opportunity which she allowed us to use. Thanks for those contacts, Ron.
Ron's sharp memories of every game and practice with the baseball team enlivened the baseball scenes and brought out the characters of team members like Tim Jones, Mark Sly and Wesley Breidenbach. That baseball team was doubly important since so many of its Temple members became part of the Jonestown basketball team, which, as Stephan Jones put it, "saved many young lives."
I am sure Ron was disappointed that he could not be at the book launch for our book. His wife had just been sent home from the hospital for hospice care at home, and Rita needed him there. Knowing Ron, I am pretty sure he didn't say a word about the book launch, because – knowing Rita – I am just as sure she would have insisted he go. The two were married for 52 years.
Ron passed away in February of this year, with his daughter Denise, son Christopher and daughter Rebecca as well as his grandsons Langston, Evan, Peyton, Blake, Benjamin and Sean, at his side. Rebecca invited me to speak about the book at his memorial, and had And Then They Were Gone available for guests to take. I'm pretty sure he was listening in and smiling.
(Judy Bebelaar is the co-author of the book, And Then They Were Gone, about some of the Peoples Temple students whom she and the late Ron Cabral taught at Opportunity High in San Francisco in the mid-1970s. Her other article is this year's edition is Jonestown: An American Family Tragedy: A Review. Her collection of articles for this site may be found here. She can be reached at judy@judybebelaar.com.)
Originally posted on October 1st, 2023.
Last modified on October 29th, 2023.