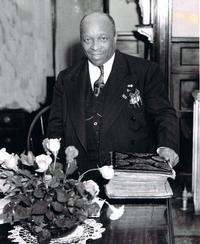 The relationship between Jim Jones and Father Divine was a complicated one. The leader of Peoples Temple visited the Peace Mission in Philadelphia a number of times between 1960 and 1971, sometimes as a student of Father Divine's techniques, sometimes as a competitor for Divine's followers, and at least once as a self-appointed heir apparent to Divine's ministry, membership and assets. The two men met on several occasions before Father Divine's death in 1965 and found themselves in agreement on issues related to integration and civil rights, even as they differed on others, such as the nature of Armageddon.
Father Divine's movement had numerous influences upon the practices and language within the Temple. Jones' practice of taping his sermons, not just for immediate consumption but for future reference and use, can be traced to what he learned during his first visits to Philadelphia. His assumption of the title of Father – and of Marceline as Mother – mirrored those of the Peace Mission leaders. Jones' admonitions to his own followers that sexual relationships distracted them from the loftier goals of the movement – especially during the final years in Jonestown – had their roots in Father Divine's commands that members of the Peace Mission abstain from sex altogether.
The booklet "Pastor Jones Meets Rev. M. J. Divine" reflects this complicated relationship. It both praises and criticizes Father Divine, although its descriptions of Divine's followers are, without exception, positive. It speaks of the lessons Jones learned from the Peace Mission, even as it also details the moment when he realized he was "in a hot bed of error." Published in 1959, and with an introduction by Associate Pastor Rev. Russell Winberg, this is one of Jones' few extended writings.
Jones' last trip to the Peace Mission in June 1971 ended badly when he made a direct play to take over leadership of Divine's movement – even going so far, according to Raven, as to claim that he was "Father Divine in a new body" (p. 140) – and Mother Divine firmly rebuked him. The Temple contingent with Jones was forced out of Peace Mission lodging in the middle of the following night – there are conflicting rumors as to the direct cause of the final rupture – and they never were allowed back. Even as late as 1976, however, the Temple's cross country bus trips always passed through Philadelphia, and Jones' invitations for people to join his cause – such as this sermon from 1976 – included language directed at members of the Peace Mission.
"Pastor Jones Meets Rev. M. J. Divine", RYMUR 89-4286-BB-17-O-1 – BB-17-O-33
PDF
Text
The Peace Mission's reflections on the deaths in Jonestown were published less than a week after the tragedy.
Other resources that explore the relationship between Father Divine and Jim Jones include "The Divine Inspiration of Jim Jones," by Adam Morris in the Spring 2015 edition of The Believer. Modern Religious Utopias is a 2013 video lecture by Amy Koehlinger at Oregon State University comparing Father Divine's Peace Mission and Jim Jones' Peoples Temple.
A number of articles on this site about the relationship between Father Divine and Jim Jones – as well as comparisons of the Peace Mission movement and Peoples Temple – appear here.
Originally posted on February 17th, 2013.
Last modified on November 30th, 2023.