Richard Tropp's Last Letter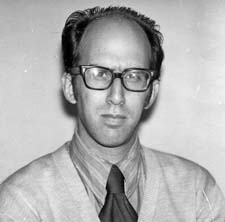 (Nota del editor: una traducción al español de esta carta se encuentra aqui.)
This handwritten unsigned note recovered in Jonestown describes the community in death in eloquent, almost poetic terms. It was written in a small Guyana Exercise Book, and extends over eight pages. The author is almost undoubtedly Richard Tropp, whose handwriting sample – uncovered by Denice Stephenson of San Francisco – is similar to the writing in the note.
There are other indications that Richard Tropp is the author. The writer is somewhat removed from what is going on at the pavilion, indicating a position of trust and leadership. The fact that the last line refers to "darkness" also suggests that the person was in the leadership group, most likely in Jim Jones' cabin – where a group of up to 20 people were deciding who would leave Jonestown with a briefcase of money to give to the Soviet Embassy in Georgetown – after most of the murders/suicides had ended late that afternoon. The choice of words and writing style would indicate that the person is educated. The language indicates that the person saw Jonestown as a political refuge, as opposed to a religious commune or a utopian experiment.
Richard Tropp meets all of these criteria.
One Jonestown researcher asserts that the handwriting on the unsigned note matches that of Jones' wife Marceline, and indeed, the only aspect of the note that argues against Richard Tropp being the author – and this is a purely subjective judgment – is that the tone of the note seems more feminine than masculine. It is a personal note, almost intimate, yet seems a step removed from a letter that Marceline might write. Only a few women – Ann Moore, Carolyn Moore Layton, Maria Katsaris, and Richard's sister Harriet Tropp – meet all the other criteria set out above, including a presence in Jones' cabin on November 18. Ann Moore was already writing a note, so it is probably not her. Maria Katsaris' rhetoric was not known to be as overtly political as that of Carolyn Layton or Harriet Tropp. Certain sentences – "Jim Jones and this movement were born too soon" – are reminiscent of letters Carolyn wrote to her parents, such as one in which she described Peoples Temple as being born out of time; yet the handwriting is different. By process of elimination, this would leave Harriet Tropp as the only real alternate candidate.
Absent a sample of Harriet's handwriting – which we have yet to obtain – the assumption must remain that Richard Tropp is in fact the author.
Richard Tropp's last letter, November 18, 1978, RYMUR 89-4286-X-1-a-54
PDF
Text
Spanish translation, by Luis Ángel González Rocha 

Originally posted on February 17th, 2013.
Last modified on October 14th, 2018.