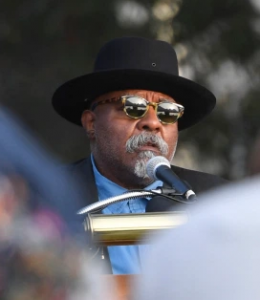 Eugene Smith joined Peoples Temple in 1973 and lived in the Temple's San Francisco commune before leaving for Jonestown in fall 1977. He was in Georgetown on November 18 clearing items from customs. Numerous members of his family – including his mother, wife, and infant son – died in Jonestown.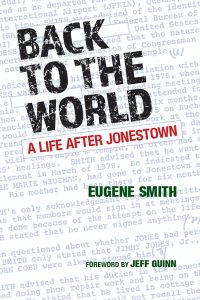 Eugene is the author of the 2021 book, Back to the World: A Life after Jonestown (Fort Worth, TX: TCU Press, 2021). In conjunction with the book's release, he was interviewed on Bay Area public broadcasting station KQED by reporter Samuel Getachew on June 30, 2021, and by Preston Jones of the Military Response to Jonestown website. The book has been reviewed for this site by darlene anita scott and Rev. Richard Lawrence.
He can be reached through this website.
Eugene Smith also participated in a forum on Peoples Temple hosted by the California Historical Society in November 2015, along with Temple survivor John Cobb, reporter Marshall Kilduff and author David Talbot. The forum was recorded and later broadcast on C-SPAN.
Eugene's address on November 18, 2018 at the 40th Anniversary Memorial Service at Evergreen Cemetery in Oakland, California is here.
Originally posted on March 9th, 2013.
Last modified on August 4th, 2023.