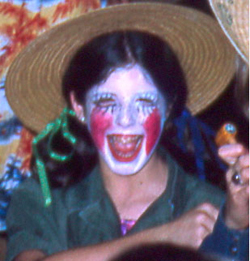 (Don Beck was a member of Peoples Temple for ten years. He directed the Peoples Temple children's choir during its Redwood Valley years and made several trips to Guyana during its pioneer days. Beginning about 20 years after the tragedy, shortly after this site went online, he became one of its most dedicated researchers, transcribing Edith Roller journals, reviewing and analyzing Jonestown records released through the Freedom of Information Act, and compiling them for the first section of documents on the Jonestown Research page. He also contributed numerous articles and remembrances. Most of those writings may be found here.)
(Don died on July 9, 2021, following a lengthy illness. He was 78.)
Remembering Liane always brings a smile, for she seemed to have a winsome manner about her wherever you might have seen her. Though she might seem scattered at times, overall she was a serious and thoughtful person with a great sense of humor – a delight to know and work with.
Liane always brought an abundance of creative ideas to anything she did. She was especially good with children, perhaps because she was often left in charge of Martin and Christa when Sharon was busy on assignments, and worked in caring for the children in meetings. Not the kind to sit back, if Liane saw something needed fixing or doing, she got on it. She also enjoyed working in skits and other performances at meetings.
Temple records which the FBI assembled showed that Liane worked in Jonestown as a teacher at all levels: elementary, junior and high school. Complementing her creativity, she could be supportive or strict, as needed, always closing with a smile leaving a person with a good feeling. She also taught "Political Enlightenment" classes – as socialism classes were called – at night. And she was a leader with the WRSM – Women's Revolutionary Socialist Movement.
Edith Roller's journals mentions Liane directly six times – once in 1976, the rest in Jonestown in 1978 – and always positively. (excerpts below)
Edith taught both high school-age students and adults in Jonestown, but was better with the adults. It was in her high school classes that Liane came to her aid, stepping in quietly many times. Edith appreciated her assistant's work, and hoped she could have her help more often.
Liane's pleasant manner and instincts working with students were her great strengths. She could explain things and made sure people understood. Everyone liked her; her presence brought a cooperative spirit into any activity. She was a natural at teaching and would have been a teacher all her life, formally or informally.
Below: Residents of Cottage #20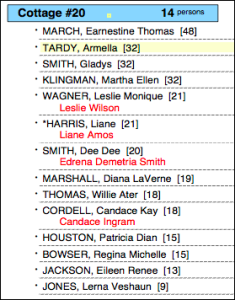 Below: Partial entries about Liane from Edith Roller's journals
Liane mentioned in Roller Journals:
29 Oct Fri 1976 Liane Harris makes suggestion about rewarding children for good homework and distributing newspapers. Older children to supervise.
11 Feb Sun 1978 We had a general discussion with Liane Harris who, teaches in the elementary school. She is fascinated by her teaching experiences and open to experimental, creative methods.
1 May Tue 1978

Women's Meeting

: Liane Harris presided…[WRSM- Women's Revolutionary Socialist Movement: Instituted to raise women's self-awareness, this program focused on overcoming the perceived subservient roles of women in of US culture, especially in dating patterns and interactions between teenage girls and boys.Entries: April 11 Tues; 18 Tues; 26 Wed; May 1 Mon; 10 Wed; June 7 Wed]
5 May Fri 1978 A large number came to the adult class today, though I had made no announcement. I resumed work on reading, telling my aim to take care of 3 categories with those who can't read and write, those who can read and write a little, and those who read fairly well but don't write well. For this lesson I tried to give material which might interest all three groups. At the end of the class period I found that Liane Harris had been in the group. She realized I was going to need help and offered to give her services. She uses very innovative methods in the junior high and I hope she can work with me.…We had a long meeting. [Richard] Tropp emphasized striving for reading ability based on Jim's literacy drive. He made it plain that though instruction can be based on news, it should not be a mere dictation and writing down news items. When discussion turned to behavior problems and class inattentiveness, Tropp felt that it was possible to awaken motivation by various means. Their experience in the US schools and television had reduced the attention span. Liane Harris attended as she is going to help Jann [Gurvich], overburdened with junior high teaching with her basic class. I am not sure she will have time to help me with the adults. We spent a good while talking to students one by one who had misbehaved in class.
12 May Fri 1978 Liane Harris who has been assigned to monitor the high school classes was present at the beginning of the second period. They entered in a rowdy mood. Though I had come early and put material on the board, what we had prepared yesterday, some acted as if they had no idea what to do with it and wouldn't give me a chance to explain. They were bored and insolent. While Liane was still there. I, very embarrassed, spoke indignantly of their of their attitude. Some perhaps a majority, quietly tried to do the work, but the rest were uncooperative. I was very distressed, knowing the situation would be presented before Tropp and the teachers.Returned my material to the school office and got my dinner plate. We had watermelon.At teacher's meeting Liane reported, in not too caustic terms, her impressions of my class. Tropp said they were testing to see who was going to control the class, a common situation here.
15 August Tues 1978 Liane Harris and Joan Pursley carrying hundreds of dollars were accosted by a robber who demanded it. They laughed, said they didn't have any. He went away.
Originally posted on July 25th, 2013.
Last modified on July 24th, 2021.