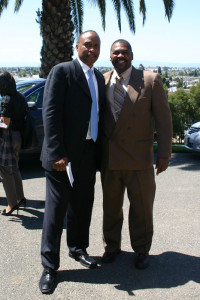 When I think back on the days growing up, I think about my parents. How my father would go hunting and always bring back some type of game or fowl. My mother would be in the kitchen cooking it no matter what it was. I could not wait until all of us – me, my parents, and all my brothers and sisters – were sitting around the table. Those were the best times in my life.
Later my mother joined the church. And since we all loved our mother, we joined too. We wanted to be with her wherever she was. We all went to Jonestown. A few of us were away on the afternoon of November 18 – I had left on a boat that morning with Clifford Gieg on Temple business – but the rest of my family died. And for 32 years, there was no single place I could visit that listed all their names.
That's why I am so grateful for the plaques honoring all our loved ones who perished in Jonestown. With their names engraved on the plaques, they are no longer anonymous part of that large incomprehensible number. From now on, they will always be remembered – my mother, three brothers, two sisters, three cousins, one niece, and one nephew, all eleven of my family members – as individuals.
I thank everyone involved for putting it together. It means so much.
(Herbert Newell is a Jonestown survivor. His complete set of writings for this site may be found here. He can be reached at Herbnewell58@gmail.comm.)
Originally posted on July 25th, 2013.
Last modified on April 15th, 2021.