The Names
by Kathy Barbour (Tropp)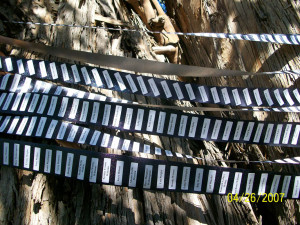 I was 31 when they died. On November 18, 2009, I was 62. Exactly half my life had been lived since the day it all came down. I determined to do something on November 18 to honor our family who died in Jonestown in 1978. As close to sunrise as I could, at their mass grave in Evergreen Cemetery in Oakland, across the Bay from where I live, I would display all the names, and read them aloud.
I asked the Evergreen office if I could drape some ribbons around the great eucalyptus tree that overlooks the hillside and our family's mass grave. They said it would be fine. The Names, printed in bold on small white labels, were mounted on 10 gray/black metallic streamers, 25 feet long. By morning, I was immersed in and infused with memories of Them. Watching the sun come up, waiting for the cemetery to open, I wondered whether They knew I was at the gate, or welcomed the warm sun on the hillside, or the majestic view of Oakland below it. Evergreen suddenly felt very much like home. I hung the ribbons on the tree, trying to be sure every name could be seen, and left, intending even then to do it better next year.
(Kathy Barbour [Tropp] joined Peoples Temple in 1970 with her companion, Richard Tropp, and was living in the San Francisco Temple on November 18, 1978. Her other articles in this edition are Remembering Dick Tropp and What have we learned in 32 years? Her complete set of writings on this site can be found here. She can be reached at barbourkr@gmail.com.)
Originally posted on July 25th, 2013.
Last modified on December 18th, 2013.