McCOY, Carol Ann Cordell

McCOY, Lowell Francis, 2nd

McCOY, Patty Ann

McCOY, Leanndra Renae

McCOY, Marcenda Dyann

Photos Courtesy of California Historical Society, MSP 3800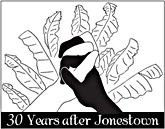 Yes, we remember very well: It was thirty years ago when we heard on the news that there had been a mass suicide in Guyana. We were immediately very concerned as we knew some our family had gone there. The waiting to know of just who and how many and could it be our loved ones? We had men putting insulation in our home that day, and they listened to the news along with us.
Then it was confirmed: among the dead were Edith Cordell, my husband's aunt who he lived with since he was six months old and who adopted him; and my husband's adopted sister, Carol Ann Cordell McCoy; and Carol's four children, Lowell, Patty, Leanndra and Marcinda McCoy; and other cousins. Altogether 20 members of our family died that day.
We all were stunned. The first thing we did – after getting in touch with our brother-in-law Bill McCoy – was to provide information to the government to help in identifying the dead. Edith and Carol Ann were identified, and their bodies were flew back for burial here in Indianapolis and we had their funeral before Christmas 1978. They never did identify the kids. They were buried with all the others in a mass grave in California.
It was hard on all of us to think something like this could happen, as we had all been very close. We had four children ourselves, and this tragedy has affected them as well. Carol Ann was only five years old when my husband and I were married in Edith Cordell's home. It will soon be 60 years that we have been married. We attended services at Peoples Temple in 1957, but we left because we felt things just were not right. Jones had changed his doctrine and Sunday school literature.
Jones also would call me on the phone about 7:30 a.m. when I was busy with my three babies, and give me a list of things he wanted my husband to do for him when he got home from work at 4 pm, like working on his cars and keep them running. He also wanted Gene to get a church choir together. Jones was popping in at the Cordell home place anytime he chose.
Most people have been shocked to know what happened to our relatives, and others act like they wanted to leave us alone when they heard about this.
We are very cautious about hearing of a new religion or church starting up. We have stayed in our same church that we went to in 1957 after leaving Peoples Temple. Our minister Rev. Urshan helped us through this difficult time.
We know everybody needs to be aware of cults. We do feel that Jim Jones started out in his ministry okay, but he was already going wrong before he left Indianapolis. You need to watch when a minister takes a drastic change in his literature, in his temperament, giving shots to his congregation and trying to run your daily duties and also tell you can not associate with your own family and interrupt you on the telephone when you talk with your family.
This is something we will never get over, but we have not let this sway us from what we believe in the Bible. Stay true to Jesus and not man.
(June and Gene Cordell can be reached at EJcord@aol.com .)
Originally posted on July 25th, 2013.
Last modified on March 6th, 2019.