To read the German translation of this article, click here.
Eine deutsche Übersetzung dieses Texts finden Sie hier.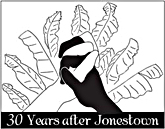 I was a seventeen-year-old recent high school graduate living in the Sunset District of San Francisco and a member of a Baptist church in the Western Addition when I was introduced to Peoples Temple. Jim Jones and his congregation visited the church that summer and my life was never the same. I was skeptical and curious about all of these people who appeared to want to be a part of our church. We were an all African American congregation and were not very comfortable with this integrated group. Slowly we came to understand that they were genuinely friendly, however, and could be trusted. Jim Jones was full of charm and, without a lot of effort, he had many of us looking forward to a visit to Redwood Valley. I really enjoyed the children and the young adults.
Sometimes when I remember those early encounters I struggle to understand how it all could have ended in such a disaster. It is so painful to remember the people that we loved and cared for so much. I wonder what they would be like today if they had escaped the madness. Since I left the church before the migration to South America began, I can only imagine.
I like to remember the good times, before all of the bizarre behavior started. I remember my little niece Ava, her mom Alice, and her best friend Eileen. I remember the summer of 1970. I remember swimming in Cold Creek and the trips to the county fair. Peoples Temple always had a booth at the fair and we all took shifts working in it. I loved making the sand candles and jewelry to sell at the fair. It was a long lazy sweet summer. Although it has been thirty years, I can still remember the long tables with every kind of Jell-O, salad, and cakes that you could imagine.
I remember the plays that Jim Pugh wrote and that we would perform before attentive audiences. I remember the Saturday choir rehearsals, Loretta playing the piano, and Don Beck directing the youth choir.
I miss the people of the Temple. I can remember worrying about their well-being after we defected in 1973. Somehow I always had an uneasy feeling about what would be the long-term outcome of the group. I was a member of the Planning Commission during the early stages and I often left the meetings with a sickening feeling. The worst part about that was there was no one that you could trust to discuss these feelings with. God forbid if you mentioned it to someone who wanted to trade your confidence for some "dedication" points.
I can remember feeling a deep sadness when I heard about the death of Bob Houston. It was especially sad to learn of the way he died, crushed between train cars at a railway yard. I remember him playing in the band, and he and Phyllis raising their little daughters. That same sadness washed over me when I heard of the death of Curtis Buckley. I can remember how Dave and Janet spent so much time with him and how they opened their hearts and home to this child that needed so much love and reassurance.
I left Peoples Temple several years before the large migration to South America began. I also left without the concept of a future. Somewhere in the midst of the communal living and the working for "utopia," I lost the ability to dream. I knew that I did not like the situation I was in, but I could not visualize myself anyplace else.
I went into the Temple as a teenager before I knew what I really wanted to do with my life. I was fortunate to have had a biological family that was willing to forgive me for all the cold words that I had bestowed upon them during my years as a PT member. Following my departure from the Temple, I went into hiding for a few months before returning to the Bay Area. I was exhausted from all the guilt and other burdens that I cannot name. At first I was self-conscious when I was out and around other people. I felt as if they somehow knew that I had basically been in social isolation for several years.
I never mentioned PT to anyone other than close family members. Other members know this as well: I was not ashamed of the church, but I did not want people to know that I was a part of it. I did not want to hear criticism of my decision to join and belong to Peoples Temple. I still felt that I needed to defend the church from the "Outsiders," even though I was no longer a member.
My family gave me refuge to rest and try to put some sense of direction back into my life. I was blessed to have them. But I credit PT for teaching me to care about others on a level deeper than I was on before I became a member. It had been nearly thirty years, but when I heard Melvin Johnson's song "Walk A Mile In My Shoes" at the end of Leigh's reading of her play, it brought hot stinging tears from my heart. I also found that some of the things I learned in Peoples Temple gave me the ability to cope in the "outside world."
I returned to the traditional religion that I was with before meeting Jim Jones, but I also valued some of the teachings that I learned while in the Temple.
I was able to complete my education and begin a successful career. My husband and I have raised our three wonderful children in the San Francisco Bay Area.
(Vera Washington lives in Northern California. Her complete collection of writings for the jonestown report may be found here. She can be reached at reginav8@yahoo.com.)
Originally posted on July 25th, 2013.
Last modified on October 8th, 2019.