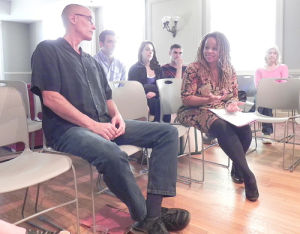 "So we beat on, boats against the current, borne back ceaselessly into the past." – F. Scott Fitzgerald
Around the time of the 30th anniversary of the mass deaths in Jonestown, I became obsessed with this story again. I had been rocked by it when it first happened in 1978, when I was a new teenager and my family had just returned from a four-year stay in Guyana. The events of November 1978 unfolded before me and the entire world, and – for a time – Guyana, Peoples Temple, and Jim Jones moved from positions of relative obscurity on the world stage to front and center. In the intervening years, the stories of what happened in Guyana have diminished in American memory, and what seemed unforgettable in 1978 now seems largely forgotten.
1978: I left Guyana having received a dramatic first kiss from a sweet Canadian boy whom I had a crush on the entire time we lived there. Bill was smart and funny and liked to hang out at our house. In Guyana, we did a lot of hanging out, just talking, reading, listening to music, walking around downtown, getting horseback riding lessons from a broken English woman named Mrs. Miller (whom I remember as being completely oblivious to the flies that crawled ceaselessly over her), taking trips to the market, and, most prominently, spending long, long afternoons in the pool at the Pegasus Hotel. When we left Guyana that spring, we did not know that nearly 1000 Americans were living in what we all called the interior. We had even landed on the airstrip at Port Kaituma where about a year later, Congressman Leo Ryan and four others would be shot down in cold blood, and still, we hadn't known about the American settlement only six miles away.
* * * * *
It has felt strange and potentially problematic for me to write about the Jonestown stories. Even though there are particular overlaps with my own story, their story clearly is not mine. So it was with some trepidation that I set out to explore the trajectory of the people of Peoples Temple and the events of Jonestown. In the spring of 2009, poems about these narratives seemed to find a life of their own, almost demanding to be written. My book, Jonestown: A Vexation, was published when it was selected as the winner of the 2011 Naomi Long Madgett Poetry Award. The summer after the book award was announced, I had my first contact with Fielding "Mac" McGehee, who, with his wife Rebecca Moore, are the primary archivists of the Jonestown story. I had, of course, learned about their archival website and found it a phenomenal and primary resource while I was researching for my poetry collection, but was surprised and honored when Mac asked me to write about my book for the jonestown report. Later, when I considered the possibility of creating a lecture series and class about Jonestown and Peoples Temple at Bucknell University – where I teach and also direct the Griot Institute for Africana Studies – he was the one I turned to for advice and contact information.
The Griot Institute had organized other series prior to the Jonestown/Peoples Temple semester, which we scheduled for the spring of 2013; however, as I began to contact the various individuals Mac suggested, I realized that planning this series, specifically inviting these speakers, was not the same as any other. I knew that they would likely be willing to participate – that their desire to give humanity to the people who died in Jonestown would make them receptive to my request – but there was still a part of me that cringed at the thought of intruding on people's deeply painful personal experiences in the way that this series would ask of them.
I remember the first time that I called Stephan Jones after making e-mail contact with him. It was a warm summer day in Pennsylvania, and I went outside on my deck to talk, so as not to disturb my husband, who was writing inside at our kitchen counter, the most familiar and common spot that we often shared. I was very nervous. Although I had not written a poem about Stephan in my collection, he has always been a focus of my thinking and feeling about the Peoples Temple/Jonestown story. He features prominently in every book that has been written about the Temple. I knew what people had written about his family, as well as his own account of his experiences and, perhaps most powerfully, I had seen countless videos and documentaries in which he was featured. In each encounter, I was always astonished by what seemed his incredible resilience and humility. He always seemed so centered and sure, so alive and clear.
From the beginning of our conversation, it was incredibly easy to speak with him. Our exchange was profound for me and confirmed my initial impressions of him. Stephan agreed to participate in the series, but wanted to make sure that what we created would be a conversation, not a lecture.
Each of the encounters I had with the guests in the Jonestown series was equally open and rich. Eventually, Mac and Rebecca, Stephan, Stanley Nelson, Leigh Fondakowski, Jordan Vilchez, Tim Carter, and Julia Scheeres, all graciously agreed to participate in the series, which is now a part of the Jonestown/Peoples Temple archival record. All of the lectures and conversations can be found here on the Bucknell website. Additionally, the students who enrolled in the Jonestown class I taught in conjunction with the series have given voice to their understandings of this narrative, and I hope they will continue to share their transformed understandings of the significances of the story to others in their generation.
The personal thread of this narrative twisted in unexpected ways for me, as all inevitably must. On October 4th, as my husband helped our five-year old open her birthday presents, he received a call from his doctor. His physical earlier that day had revealed that his white blood cell count was ten times what was normal. He went immediately to the emergency room, where he was diagnosed with stage-four cancer. Four short months later, on February 11, 2013 my husband died.
My husband's illness and my grief following his death meant I was not to meet most of the guests we had scheduled for the Jonestown/Peoples Temple series, but their stories and, most importantly, their determination, humanity, and generosity have taken on a previously unavailable resonance for me. I did have the honor of meeting Tim and Stephan, and their love and openness was a lifeline for me at what was the darkest moment of my life. When I asked Stephan how he had survived all that he had been through, he said that he grew tired of being in pain and so discovered how to live. Yes. One of the truths that I have derived from my ponderings about Guyana, Jonestown, and Peoples Temple is, ironically, an affirmation of the endurance of the human spirit as exemplified by the intentions of its members and by the lives of its survivors and their families. The students, scholars, and artists, like Leigh Fondakowski and others, who are drawn to explore this story, do so because it is necessary and essential work. I hope I have contributed to this effort, and that this story will continue to honor the live s of the dead and the living.
(Carmen Gillespie was a Professor of English and the Director of the Griot Institute of Africana Studies at Bucknell University until her death on August 30, 2019. Her complete collection of writings for the jonestown report may be found here.)
Originally posted on October 13th, 2013.
Last modified on October 15th, 2019.