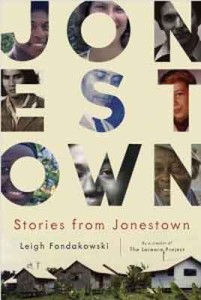 Stories from Jonestown, a book by playwright Leigh Fondakowski based largely upon interviews she conducted in the course of researching her play, The People's Temple, was published earlier this year through the University of Minnesota Press.
A contributor to the jonestown report for several years, Leigh's reflections about the book – and her speaking engagement at Bucknell, where students read the book as part of a semester-long class on Jonestown – are here.
The book has been well-received critically. Reviews of Stories From Jonestown included:
A collection of pre-publication reviews – written for the 2012 edition of the jonestown report from different segments of its readership – appears here.
Originally posted on October 13th, 2013.
Last modified on May 15th, 2020.