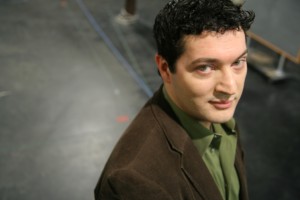 In the summer of 2002, a group of diverse theatre artists and I gathered together in Washington, DC to discuss national events that needed exploration on stage. We believed that theatre artists could offer the country a unique examination of modern American events by conducting first-person interviews from inside a community at the heart of an event, and theatricalizing their words on stage. Artists have always conducted fieldwork, but typically research becomes the launch pad into fiction. Our goal was to use the words themselves.
Theatre allows both artist and audience to gather together in a room to reflect on human behavior. Not unlike a church service, theatre is a vehicle for a community to reflect on human behavior. Human experiences become three-dimensional: life is recreated right in front of you. A great performance can affect change inside us like no other art form on the planet.
Out of the many topics discussed, our group landed on the epidemic of school shootings, and after four years of interviews and workshops, we created columbinus, a documentary play on modern adolescence through the lens of the 1999 shootings at Columbine High School in Colorado. During our conversations, though, we had considered Jonestown, but I specifically remember thinking, "This story is way too complicated and not as relevant." In 2004, I met Leigh Fondakowski, who told me that she was developing a documentary play on Jonestown and Peoples Temple. I couldn't believe it. I was in awe, and wanted to help.
About the same time, I was appointed Artistic Director for Perseverance Theatre in Juneau, Alaska, and the following year, I invited Leigh and her colleagues up to continue refining the play. The People's Temple had a profound impact on Juneau, undoubtedly made more so by its surprisingly similar qualities to Jonestown: a very isolated community in a rain forest accessible only by boat or plane.
When I became Artistic Director at American Theater Company in Chicago, I asked Leigh to bring the play to life again, and during the course of its run, Claire Janaro, Laura Johnston Kohl, and Nell Smart attended a performance. Watching the play with these remarkable women was one of the most moving experiences I have ever had in the theatre. Life and art met in one room. Its impact on me was significant and, at the time, seemed the perfect end to my journey with Peoples Temple.
In 2010, American Theater Company launched a new education program called Youth Ensemble. We provide Chicago Public School students with a passion and talent for acting with a professional training program and mentorship toward a career in the arts. Our goal was simple: prepare the students for college. We want to shape artists who are driven not only by a desire for success but also to tap into the power of community service. Our students come to realize that the true artist is not in it for himself, but to inspire change in others. We believe the best way to pursue this mission is for the students to present a documentary play on an American event. Part of their experience is to travel to the location of the play and engage community members who are featured in the play.
This past year's ensemble was an extremely diverse group of artists. I immediately thought of Leigh's play, but frankly, I was also worried it would be too complex for teenagers. Could they handle the emotional weight of this story? Would they understand this turbulent period of history? Could we do the piece justice?
When I presented the selection of The People's Temple to the ensemble, most of them looked at me in confusion. "What's Jonestown?" they asked. I realized that they weren't even the age that their parents had been when Jonestown occurred.
Their first task was to research the event. After hours of online research, the students unpeeled the first layer of the onion: "Oh, they were a religious cult that killed themselves in the jungle." My fears had begun; they needed to experience the people of Peoples Temple. After much fundraising, I chaperoned a company of thirteen young actors out to San Francisco for a research trip that would eventually change their lives.
On the first day, we spent the better portion of the day with Mary Morganti and Marie Silva from the California Historical Society. Mary and Marie generously laid out hundreds of photos and historical documents. For the first time, the students could see the faces of the Temple, read its words in letters and publications, and touch artifacts from Guyana. At lunch, they told me that it was not a play that they were rehearsing, but a part of history.
Their conversation with Laura Johnston Kohl brought the first dose of reality. Her honest and open perspective not only made them feel the loss of friends but the loss of a vision for the community. Afterwards, we spent the night talking about the substance of community in America.
On the second day, we spoke with Tim Carter over Skype. Tim helped give perspective on the rise of the Temple in a time of great social change and turmoil in America. Tim told them why so many members were attracted to the Temple, and why San Francisco was at the heart of this story. The complexity of the pain in the wake of Jonestown echoed in Tim's words.
After lunch, we traveled to Oakland and met with Eugene Smith. This was so important for the ensemble. Eugene's passionate and straight-forward telling of his journey with the Temple brought the perspective of a member brought in by his mother, Mattie Gibson. Eugene's words spoke to the African American experience and his path toward healing, which had a profound effect upon Michael Morrow, the actor who played Eugene in the play.
We spent an unforgettable evening with Stephan Jones, gathered in a church basement near the Haight-Ashbury. His honest examination of his experience helped the young actors understand the psychological complexity of his father. Stephan allowed them to see history as a living, breathing, multi-faceted human experience. While history is often summarized in black-and-white terms, Stephan shared that even at the core of kindness can lie a layer of darkness. His kindness and honesty made a tremendous impact. He even played a game of basketball with the boys in the gym upstairs.
On the third day, a profound moment happened around 10 a.m. Before we left for Ukiah, the students wanted to pay their respects at Evergreen Cemetery. When we arrived, we were unexpectedly greeted by Kathy (Tropp) Barbour. She had placed the photos of the Jonestown victims at the grave and told her story to the students. Sitting on that peaceful hill with Kathy, I could see the emotions running deep within all of them.
Garry Lambrev lit up their morning by traveling with us to Ukiah. Garry's gift of teaching helped frame the early days of the Temple in California and gave context for the Temple's social and political interests. When we got to Ukiah, we met Alan Swanson, who joined our motley crew, sharing stories and pointing out the history of the Temple in Ukiah. The students saw the commune buildings, the church building which Peoples Temple had built as its own, and Jones' homestead. We even went to the Christ Church of the Golden Rule's beautiful refuge, where the Temple first held services in California. The harmony and beauty of the countryside was eye-opening for the students, a majority of whom had never been to California. They reflected on how isolation and connection to nature fuels the spiritual journey.
Our nightly debriefings during the trip helped them process what they experienced, and that night, the students were filled with emotion, ranging from sorrow to confusion to anger. The sight of the faces of innocent children, their age and younger, deeply affected them. They voiced their frustrations that most people do not know the real story of the Temple. They also were furious about the loss of so many Americans, particularly African Americans, and how this major event in history is so widely misrepresented and misunderstood. They were filled with passion to tell this story – the whole story – at least to educate their own generation. As their teacher, I saw that the penny had finally dropped.
On our last day, we spent the morning with Marshall Kilduff of the San Francisco Chronicle, who gave us the media perspective, although the students were by this time more discerning about media coverage than they might have been when the process began. Because of the collective efforts of the many survivors and researchers who had met with them, the students had learned to dig much deeper into what they see and hear in the media.
For our final California experience, we took them along Geary – passing the site of the Temple near Fillmore – to the beach. For most of them, it was their first time seeing the Pacific Ocean. As they ran around on the beach, I couldn't help but think of the Temple. I watched this little community of diverse artists enjoying their youth, fueled with a mission to affect some change.
* * * * *
Leigh's extraordinary play contains several songs from the Temple. We spent quite a bit of time in traffic on this trip, so the kids got to practice their songs. Two of those moments stand out. Driving north on 101 from San Francisco to Redwood Valley, with seventeen of us in a packed van – including Alan, Garry and me – the kids started singing "Something's Got a Hold of Me" in four-part harmony. It was surreal. Forty years seemed like yesterday. And I will not forget the kids – filled with emotions and complex thoughts – circled around the gravestone at Evergreen, holding hands with Kathy and me singing their version of "Amazing Grace." I don't have fitting words; I don't suspect I need them. Garry later pointed out that Jones hated that song… and that seemed fitting as well.
When we returned to Chicago, they were on a mission. I do not think I have ever seen a group of young people have so much drive. After five exhausting, emotional, and exhilarating weeks, the students created an extraordinary production. Every night we spoke with a former Temple member who gave us inspiration and encouragement. In addition to speaking to Laura, Eugene, Garry, Tim, and Stephan again, Vern Gosney called us from a beach in Hawaii. The joy and love in his voice brought smiles to all their faces. On the last day, Claire Janaro's infectious laugh shared so much love with them. They finally stopped worrying about getting it right, because they knew they had the story in their hearts. Besides exceptional acting and a maturity rarely seen in teenagers, their largest compliments came from adult strangers who knew very little about Jonestown. The students had become the teachers.
Stephan pointed out that performing this play with these 13 teenagers from diverse walks of life would be a powerful and unique experience. It comes closest to seeing history alive. I direct a lot of plays. I've also written plays about tragic American events. But my experience with The People's Temple will forever stand out. I was reminded of the passion and idealism of youth. There is an engine inside each one of them saying, "I can change the world." For many of us as we grow older, that passion is tempered and for some it wanes. But this summer I felt that fire inside of our new friends on the West Coast. It's still there – in each of them – and it's infectious. It's not the events of Jonestown that makes Peoples Temple unique; it's the souls of the people. It's an engine deep inside of them that is built out of kindness, community, service, and joy. We felt the power of that this summer.
To Laura, Tim, Garry, Eugene, Kathy, Alan, Vern, Claire, and Stephan, I cannot thank all of you enough for shaping the lives of these young artists this week. They are all a bit changed, a bit matured, a bit humbled, and extremely passionate to tell your story. Thank you for sharing your joy and your bravery, in the face of the unimaginable. Your story has deeply affected them. They have now become the change they want to see in the world around them.
(PJ Paparelli is the Artistic Director of American Theater Company in Chicago. Previously he ran Perseverance Theatre in Alaska and was the Associate Director of the Shakespeare Theatre Company in Washington, D.C. He conceived, co-wrote, and directed columbinus and is developing The Project(s), a documentary play on the history of public housing in Chicago.)
Originally posted on October 13th, 2013.
Last modified on November 24th, 2013.