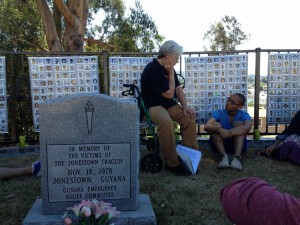 I knew that the actors in the youth troupe from Chicago were going to talk with other former Temple members in other places – Laura at the CHS archives, Eugene in Oakland, Garry and Alan in Ukiah, Stephan in a church basement and on a basketball court in San Francisco – so I decided to meet them when they planned to visit our hallowed ground at Evergreen Cemetery.
I went early that morning, taking the photo-mats and laying them out with candles, finishing up just as the troupe arrived. What an impressive group they were. I was unprepared for them to be more interested in me than in the mats. The young man who would play Dick wanted to know all about him, and I didn't realize until later just how much he looked like him, a totally earnest brainiac type. I told him how pleased Dick would have been to be played by an African-American. The guy who was playing Jack Beam and another student stayed to pump me for more info about their characters and almost missed their bus. "Think Norman Schwartzkopf," I hollered after him as he ran to catch up, and didn't realize till later that at his age, he probably has no idea who Schwartzkopf is.
I really enjoyed meeting them and am so glad others helped them get firsthand information on the Temple. That they cared enough to come out here and research their subject before performing Leigh's play, and were preparing by reading her book, made me confident they'd do justice to their subjects.
(Kathy Barbour [Tropp] joined Peoples Temple in 1970 with her companion, Richard Tropp, and was living in the San Francisco Temple on November 18, 1978. Her other articles in this edition of the jonestown report are Photo Book of People of Jonestown Nears Completion and The United States of Jonestown. Her earlier writings on this site can be found here.)
Originally posted on October 13th, 2013.
Last modified on October 29th, 2022.