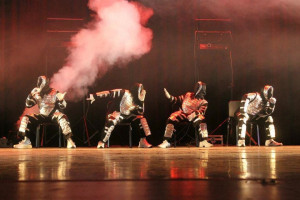 In 2008, Producer Tommy "Fayzo" Washington and Director Mikel Fair started production on the full-length documentary film, Strutters For Life: The Untold Story of Medea Sirkas, scheduled to be released in 2014.
Medea Sirkas is a historic dance group from the San Francisco Bay Area whose roots can be traced back to the 1970's. Its current members – Fayzo, Boogaloo Dana, Charlie Rock, Zulu Gremlin, and Eartha Carroll – actively perform worldwide and have been featured in music videos for Justin Bieber, Usher and Paul Wall. Strutters for Life is the untold story of Medea Sirkas and the rich history of the dance style called strutting which originated in the San Francisco Fillmore district almost 40 years ago.
The robotic movements of characters from science fiction programs, films, and cartoons from the 1970's have had a profound impact on the dance style of Tommy "Fayzo" Washington, the leader and founder of Medea Sirkas. But he was also influenced in his early years by dancers like James Brown, Robert Shields, Charles Marshall and Black Velvet, a dance group that performed at Peoples Temple.
Most films about Peoples Temple tell the story of Jim Jones and the Jonestown Massacre on November 18, 1978. In contrast, this film considers the impact of music, dance and the culture of talent exhibitions in attracting members to the church during the late 60's and 70's. Included in the film are interviews with former Temple members who have never spoken publicly about their involvement in the church until now. Fayzo himself talks about his Temple experience, ranging from his face-to-face meetings with Jim Jones to his first public dance performance on the Peoples Temple stage in 1972.
(Tommy "Fayzo" Washington's previous article in the jonestown report is here. He can be reached at fayzo2000@gmail.com.)
Originally posted on October 13th, 2013.
Last modified on November 12th, 2018.