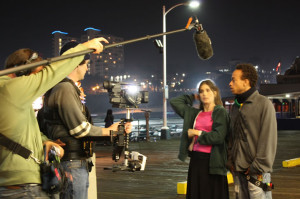 It has been five years since I completed the trailer for my script, White Night: Survivors of Jonestown. After being shopped in Hollywood – which resulted in an option and placing in two film trailer festivals – I have yet to bring the project to fruition. As the Jonestown massacre nears the 35-year anniversary, however, it continues to resurface in the media, whether it be interviews with Jackie Speier after Congresswoman Gabby Gifford's shooting, the 2011 memorial wall, or the rightwing commentators exposés on Jim Jones and his ties to current California Governor Jerry Brown and others. Regardless of the political stance, the point is, there is still interest in the subject.
In an effort to get this project completed, I have reduced the budget further with re-writes. This means an even deeper focus on the character development (like a stage play) to cut location costs.
White Night has always been a character driven drama, based on a blended and interracial family of survivors. The main character is Lindsey, a 26-year-old female, who escaped with her mother and infant half-brother on November 18, 1978. The memories haunt her and begin to resurface after years of suppression. She lives with her half brother Jason, who – while having no memory of Jonestown – has witnessed the trauma's impact on his sister and mother. Both siblings' fathers were presumed dead in the massacre. Melanie, 60, a former leader in Peoples Temple, their homeless mother, reveals the truth that, not only is Jason's father alive and well, he is a successful politician named Russ Devlin who is running for mayor. Devlin left Jonestown six months before the tragedy and has buried his past. Even as his son seeks him out and a political rival hires a bitter, ex-Dan White ally era PI, to dig into his past, and the doors open up to a cold case murder, inspired by the actual death of Temple dissenter, Bob Houston, in 1976.
What makes this fictional narrative take on the Jonestown story unique, is that through the investigation, the stories of Peoples Temple and Jim Jones' shady dealings, as well as his ties to the San Francisco power structure, slowly emerge. Flashbacks and dream sequence of the mass suicide begin to haunt Lindsey's memory, in such a way as to engage the audience of the true story of Jim Jones beyond the sensationalized clichés.
With a partial budget in place, my main strategy is an attempt at crowdfunding and a change of locales out of state. Nevertheless, it will remain a San Francisco Bay Area story. Should you receive a kickstarter pitch in the coming months, I encourage you to donate or forward to someone who may be interested. Despite controversy, this film will tell the true story – unapologetically so – of Jim Jones in his pre-Jonestown SF days. Up until this point all monies invested have been my own. As a filmmaker I was extremely disappointed that the movie Milk failed to even mention Jim Jones and the Moscone-Milk connection. I was further disappointed in the SF Film Society refusing to even read my script five times , after a trip to LA by their associate encouraging independent films that have a strong connection to the SF bay area and a disenfranchised group to apply for their grant. These things prove to me censorship is alive and well, but it has only reinvigorated my drive to get this film completed.
I thank you who have contacted me and offered encouragement. I invite everyone to visit our site at http://www.whitenightmovie.com/, and I welcome your thoughts, both positive and negative. I can be reached at Alex.Skycycle@yahoo.com.
Originally posted on October 13th, 2013.
Last modified on November 24th, 2013.