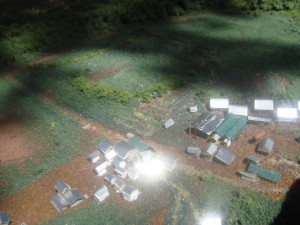 In the past, I have designed scale replicas of figures associated with the Peoples Temple and Jonestown story, ranging from a figurine of Jim Jones, fully garbed in his preacher's robes, to the NBC cameraman who came to Jonestown with Rep. Leo Ryan during that final week. More recently, as I wrote in last year's edition of the jonestown report, I have turned my attention to the creation of a small-scale model of the Jonestown community as it appeared from high above.
Using familiar photos from that time, I'm close to completing my 1/12 scale recreation of the main pavilion stage. This project should provide for some good photos once I set everything up.
For the larger community model, I used small scale greenery, paints, sand, and cut and sanded wood as well as various tins and aluminum cutouts from old pop cans. I am also using a blown-up photo that I printed off Google as a guide to creating this desktop model. I plan to have a clear case made for display along with a title plate. This is the first time that I've done this type of work. However, it has generated a great deal of curiosity from folks who have seen me working on it and tell me that they are impressed with it.
This model is a prelude to a larger more detailed version that I plan to start on later this year. In fact, I consider the current project to be a model of a model. These photos show my progress on the model without the clear-case top. I am pleased that an artist exhibition in California has approached me about displaying this work, and I look forward to working on it in years to come.
(Daniel Russell can be reached at russellscaledown@gmail.com.)
Originally posted on October 13th, 2013.
Last modified on November 24th, 2013.