Peoples Temple in the News 2014
Thirty-six years after the deaths in Guyana, Peoples Temple and Jonestown continue to make the news on a regular basis, usually in the form of cultural references and political commentary. The tragedy made news in its own right a few times in 2014, however, the most important including:
• Nine sets of cremains from Jonestown were discovered in an abandoned funeral home in Dover, Delaware in August. The story, with links to some of the widespread press coverage, is here.

• A lawsuit filed in May 2011 by the Guyana Tribute Foundation in an effort to force Evergreen Cemetery to remove four memorial panels at the mass grave, was dismissed in May 2014. Dr. Jynona Norwood, the head of the foundation, has since appealed the decision. A story about the lawsuit is here.

• The main library in Georgetown, Guyana received a donation of 30 books related to the Jonestown tragedy early this year. Until the receipt of the books, according to Antony Arcusa who arranged for the donation, the library had fewer than five. A related story appears here.
Other major stories from 2014: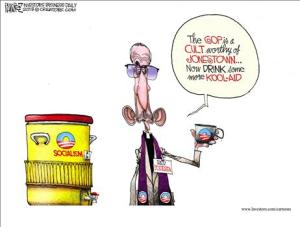 • John Podesta, a longtime Democratic Party adviser and official in several Democratic presidential administrations who was appointed White House counselor at the end of 2013, made news at the time when he compared the Republican-led U.S. House of Representatives to Jonestown. "[Administration agencies] need to focus on executive action given that they are facing a second term against a cult worthy of Jonestown in charge of one of the houses of Congress," Podesta told Glenn Thrush of Politico Magazine in December.
Podesta apologized to House Speaker John Boehner two days later, but the comments triggered a firestorm throughout Washington, D.C. Among the reactions:
New White House advisor compares Republicans to 'Jonestown' cult, Fox Business, December 19, 2013

A panel of Fox News analysts dissect Podesta's comments on this video clip.


'A Cult Worthy of Jonestown'? Hey, Democrats Embraced Jim Jones!, by Jim Geraghty, National Review Online, December 19, 2013

"The comparison of today's GOP to Jim Jones's followers is deeply offensive and obnoxious, but also ironic, considering how some of the Democrats still on the scene today were all too eager to embrace Jones when he could provide political assistance."


Media Report Podesta's Apology for Jonestown Quote, Ignore Jim Jones's Strong Democratic Ties, by Mike Bates, News Busters, December 19, 2013

"[C]omparing House Republicans to Jones's cult was particularly shameless, given his Democratic connections. The media could have pointed that out, but of course chose not to. They've consumed their own kind of grape punch."


"Republicans drink the bitter 'tea' just like Jonestown Kool-Aid," by Barry Ellsworth, December 19, 2013. (Editor's note: This article was published on a website that has since gone defunct.)

"[Podesta] called the Republican Party a "cult worthy of Jonestown," but he's wrong. In Jonestown, they drank poisonous Kool-Aid; the GOP drinks tea laced with bitterness and a blinding distrust of government."


John Podesta and the Imperial Presidency, by David Weigel, Slate Magazine, December 21, 2013

"Republicans pounced on the incoming White House counseler's comparison of Republicans to the Jonestown cult… [but they] missed the forest for a particularly stupid-looking tree—the more intriguing part of Podesta's theory of Republican intransigence was that he wanted the executive to find more ways around Congress."


Jonestown Revisited, by Lloyd Billingsley, FrontPage Magazine, December 23, 2013

The author takes the opportunity afforded by the comments to repeat a number of sensationalistic charges against Peoples Temple, its leadership, its members, and – worst of all, given the editorial viewpoint of the online magazine – its connection with well-known Democrats.


Podesta's comments out of line, Opinion, Minot Daily News, January 2, 2014

"Rest assured that if a leading Republican compared Democrats in Congress to members of a murderous cult, there would be calls for the offender to be shunned in Washington. No amount of apologies would suffice for President Barack Obama, Democrat leaders on Capitol Hill or liberal media pundits."


Podesta's Climate And Environmental Agendas Will Add To Obama's Executive Disorders, Opinion, Forbes Magazine, January 5, 2014

Saying that Podesta's comments show "little respect for constitutional separation of powers or for policy opposition," Forbes added that the adviser "can be expected to push Obama to act upon his executive authority to circumvent a Congress which the administration sees as unwilling and unable to pass legislation on climate change or much else."
This story was also covered by USA Today, Headline & Global News, and Examiner.com.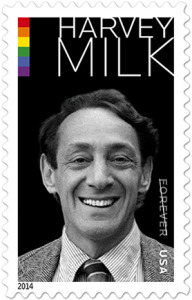 • Harvey Milk, the first openly-gay man to be elected to the San Francisco Board of Supervisors in 1977 and who – along with Mayor George Moscone – was assassinated in November 1978, ten days after the deaths in Jonestown, was honored on a U.S. forever postage stamp in May 2014. Criticizing the USPS' decision to issue a stamp depicting the "homosexual activist," WND, a news organ of the political right, described Milk's sexual relationships with teenage boys and quotes another WND critic as saying, "[h]is chief cause was to do away with the Judeo-Christian sexual ethic."
But most of the article's criticism of Milk – as well as of the segment of the political spectrum represented by WND – was over the politician's long-standing association with Jim Jones. Quoting such Temple opponents as Lester Kinsolving and Daniel Flynn, the column reminded its readers that neither the presidential statement honoring Milk, nor the eponymous movie released a few years earlier, noted the link between the supervisor and Peoples Temple, which the columnist then proceeds to document.
In addition to these news articles, Jonestown and Peoples Temple is often mentioned in the mainstream media both as cultural icons and in serious considerations of religious and political issues.
Jonestown in Guyana News
The bloodshed of Jonestown and Essequibo
Opinion, El Universal (Caracas, Venezuela), November 28, 2013
Noting that Jonestown was located in "the jungle of Essequibo, the territory claimed by Venezuela," and that "the true successor of the Peoples Temple in Essequibo is another, more dangerous and powerful, sect: organized crime of the international drug trafficking," this Venezuelan newspaper calls upon "both parties, Venezuela and Guyana, [to] find a satisfactory solution for the practical arrangement of the territorial dispute."
"Jonestown could be restored"- say Port Kaituma residents
by Zena Henry, Kaieteur News, November 28, 2013
"Jonestown could be saved, restored and 'despite the disaster of it, Jonestown is a part of Guyana's history and should be preserved.' Captain Rodwell Astil Paul, one of those spared on that dark November 18, 1978 day, introduced the idea of revitalizing the potential historical site, and the people of Port Kaituma have seconded it.

"In a visit to the North West District last week, residents expressed their support to have the area restored. They said that not only will it be good for their community, but it will also be beneficial to the country, since annually, Jonestown guarantees a number of visits, especially from large church congregations. This, they continued, is despite the overgrowth of bushes and difficulty in accessing the area."
Jonestown in Political Contexts
Tennessee Lieutenant Governor says Islam advocates violence and Muslims refuse to condemn 9/11 hijackers
a blog by Chas Sisk, The Tennessean, December 5, 2013; uploaded to Islamophobia website, December 6, 2013
"Lt. Gov. Ron Ramsey says in an interview with the student journalism program at Middle Tennessee State University that the Sept. 11 hijackers were members of a cult and he doesn't think other Muslims are willing to call them that.… He goes on to draw an analogy between Jim Jones, the man behind the 1978 Jonestown murder/suicide, and the 9/11 hijackers.

"'Jim Jones in Jonestown had everybody drink the Kool-Aid. He did that in the name of Christ. Well, that's not Christianity. That's a cult," he said. "And that's what I was talking about. When they take their religion, and they distort it into something nobody meant it to be, then I don't know what else you call it.'"
Jonestown in Cultural Contexts
Jellyfish Jonestown
Browsing the Atlas, a blog by Juliann Wetz, April 9, 2014
In her description of the scores of jellyfish which had washed up on a beach on Tybee Island, Georgia – which she says were "somehow menacing even as they died," the blogger adds:

"They fascinated me. I took picture after picture of each and every one… Everyone else just walked around them. They made a minefield along the water's edge where some of the corpses were collected in groups we dubbed 'Jellyfish Jonestown.' It looked like they'd gone together, whole families who'd veered too close to land."
Commentaries on Jonestown and "Drinking the Kool-Aid"
Film maker Joey Cotroneo is urging Staten Islanders not to drink the 'Kool Aide'
by Kiawana Rich, Staten Island Live, March 21, 2014
This column analyzes the expression "drinking the Kool-Aid" as one of those "repetitive expressions of disgust that have become clichéd to the point of boredom," adding that "Any column that is remotely political brings the inevitable Kool-Aid comment."
Horror of Jonestown tainted Thanksgiving 35 years ago
by Christopher Harper, The Washington Times, November 27, 2013
A reporter who traveled to Guyana 35 years before reflects on what the country has learned – and what it hasn't – from the Jonestown tragedy, and concludes:

"Many of those who died at Jonestown did not blindly follow Jones to their deaths. It upsets me that people don't know that. On this Thanksgiving Day, I thank God I have had the opportunity to tell people about evil, including [Jim] Jones, Saddam Hussein, Ayatollah Khomeini and many others."
Coverage of 35th Anniversary of Jonestown
Mass Suicide of Peoples Temple Cult at Jonestown Turns 35
by Michael Gryboski, The Christian Post, November 19, 2013
Retrospective of Peoples Temple and Jonestown story
Relatives Remember Jonestown, 35 Years After the Killings
by Joshua Johnson, KQED News Fix, November 18, 2013
San Francisco Public Radio station coverage includes recorded conversation with Jynona Norwood, who leads an annual memorial service at Evergreen Cemetery in Oakland
The Forgotten, Non-Kool-Aid Drinking Victims of the Jonestown Massacre
by Justin Peters, Slate, November 18, 2013
Retrospective of events of November 18, 1978 focus on Rep. Leo Ryan and his aide, now-Rep. Jackie Speier
35 Years Later, Jim Jones Cult Leaves Lessons for Believers
by A. James Rudin, Religious News Service, November 15, 2013
"Even as the Peoples Temple fades into history, Jonestown is a bitter reminder of what happens when people surrender their emotional and moral independence and become spiritual slaves to evil leaders who guarantee salvation, eternal life, utopia either here on earth or in outer space."
The Long Division of Jonestown Survivors
by Sam Levin, East Bay Express, November 13, 2013
"Thirty-five years after the horrific mass suicide in Guyana, former Peoples Temple members and relatives of the deceased are conflicted on the best way to honor the dead at the East Oakland gravesite."
Build a Jonestown memorial
by Court Haslett, San Francisco Bay Guardian, November 12, 2013
An Opinion piece decries Peoples Temple's lack of recognition in San Francisco's history. "There is a memorial in Oakland's Evergreen cemetery, where over 400 people from the massacre are buried in a mass grave, but San Francisco, the place where the seeds of this tragedy were sown, hasn't seen fit to honor the victims of Jonestown in any way."
Originally posted on September 27th, 2014.
Last modified on December 29th, 2021.